Patient Stories
Apr 10, 2023
Katrina's secret ingredient: How one mom found the recipe for a happy and resilient family
---
Just a few weeks ago, Katrina was in her kitchen baking a cheesecake. With each step of the recipe, she would take a photo to document the process and send it to her online culinary school. Nearby, her 2-year-old son, Richie, played by himself. It was a peaceful, productive moment that seemed nearly impossible to Katrina just a few years earlier.
In 2020, Katrina was pregnant with Richie and in an abusive relationship. She was filled with worry about her baby's future for a safe and healthy life. That was when she enrolled in the Milwaukee County Healthy Start Program. She saw it advertised and knew it was a resource for pregnant women in Milwaukee County. Katrina was quickly connected to Tina Klos, a Healthy Start maternal child health navigator. Tina helped support Katrina by connecting her with resources like food share and parenting classes. She also introduced Katrina to Healthy Start's mental health consultant, who joined their visits.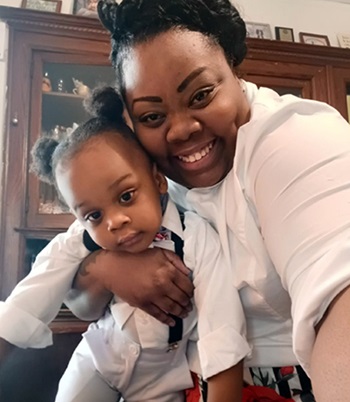 "I was scared and depressed — I never planned to raise a baby by myself — but I knew I wanted something better for my son," said Katrina. "These people really cared about what I was going through and were there for me. They helped me find a sense of security and confidence when I needed it most."
Children's Wisconsin is a community partner of the Milwaukee County Healthy Start Program, which works to eliminate prenatal health disparities for African American women, their children and male partners in Milwaukee County. Healthy Start provides connections to preventive services, health insurance, prenatal and medical care, mental and behavioral health, baby care basics, parenting resources, housing, safety, transportation and employment. All services are offered free of charge.
"Katrina worked hard to do everything she could to give her baby a strong start," said Tina. "She said yes to every resource that was sent her way."
Katrina left her relationship. She stopped smoking. And she started managing her stress through meditation, self-care and positive affirmations. She created a wall of positive quotes that she referred to when she needed some motivation. Through it all, Katrina gained a newfound sense of calm and confidence that helped her move forward with her life.
"I was hard on myself at first, but I knew I had to quickly come to terms with that and make peace with my past," she said. "I always wanted to be a mom, and I knew I could be a good one. I focused on what I was walking toward rather than walking away from."
It takes a village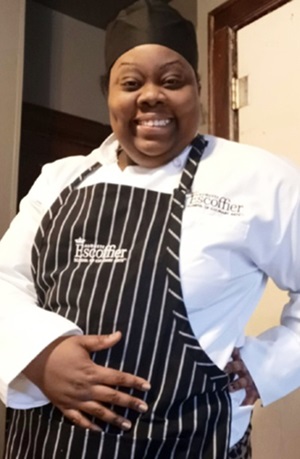 Katrina has a strong community of family and friends who help support her in raising Richie. Her older sister and Richie's Godmother, Shannon, lives nearby. She has two sons of her own, and they come over often to play with Richie and build his social circle. Katrina is not comfortable with Richie attending daycare, so she relies on their help and support when needed.
Richie turns 3 in July and they are currently working on potty training. Katrina recently showed him how to use an electric toothbrush, and she jokes that he just might have a future as a dentist. Richie is sweet and friendly and cuddly. He loves cars and the color yellow, and he is working on counting and patterns. His favorite food is his mom's homemade fluffy pancakes. Katrina laughed, "Once you've had them, you'll never want to go back to pancakes from a box." Katrina loves spending time with Richie and being present to celebrate all his milestones and moments.
"Right now, my life is all about Richie and finishing school," said Katrina. "I'm still working on maintaining balance, but I'm not beating myself up when life comes up short. Life happens, and I've learned to stop and smell the roses."
Katrina recently graduated from the Healthy Start Program, a celebrated step that comes when services and support are no longer needed.
"I didn't hear from Katrina for a little bit," said Tina. "A few weeks later, Katrina called me. She apologized for not being in contact with me, but she explained that she wanted to see if she could 'take her training wheels off' and feel confident and empowered on her own, which she did."
Katrina is also close to graduating from culinary school. She hopes to fly to Colorado and walk across the stage to get her diploma in person. After that, she plans to open a food truck in Milwaukee. She says she is excited about the future, and she's made peace with the past. Every decision she has made since she was pregnant with Richie, she has made with his — and their — best interest in mind.
"I feel so blessed and fortunate to have so many caring people supporting me. I have regained my personal strength, and I'm living life on my terms," said Katrina, "It's been really good for both of us."
Resources for families 
It's everyone's responsibility to support kids and families. And children benefit most when parents and caregivers feel supported. Visit this page for family strengthening resources.