Patient Stories
Aug 09, 2018
Children's Wisconsin clinics bring mental health care to schools
---
A distraught kindergartner clenches her fists and gets an angry look on her face. Crying, she stands up and pushes over several chairs that crash to the floor as her classmates turn to look. Then she runs out of the classroom.
Episodes like this became more and more frequent for 6-year-old Takiya Anderson, a student at Knapp Community School in Racine, as the 2017 school year began. By Thanksgiving, Takiya's mom, Khaliah, was getting calls from her daughter's teachers several times a day.
"Then one day, she bit a teacher," said Khaliah. "That was really surprising and I was very worried."
"Takiya was struggling with the expectations of school," said Jessica Cole, Takiya's teacher. "And it was certainly keeping her from learning." Takiya was also having trouble getting along with other girls, and was easily upset when Jessica gave her corrections on her work.
Khaliah, who has three other children with special educational needs, thought maybe it was time to ask for an evaluation for special education services for Takiya. But Takiya's teachers suggested that first she try seeing Kristine Jacobs, a licensed clinical social worker and therapist at Children's Wisconsin who works full-time at Knapp's mental health clinic through a partnership between Children's Wisconsin and the Racine Unified School District.
Community challenges
In 2012, a group of Racine community organizations, led by the Johnson Foundation at Wingspread, came together to address the emerging crisis of kids' mental health. Children's Wisconsin staff were among the leaders of the coalition, helping to champion the idea that early intervention for kids with mental health challenges can have a lifetime of positive impact on children, families and communities.
Research funded by the Johnson Foundation found that up to 20 percent of children ages 5 to 17 had a diagnosable mental health disorder and 80 percent of them were not getting needed treatment. In addition to startling mental health statistics, the Racine Unified School District serves a population in which 90 percent of kids qualify for free and reduced school lunch, and 95 percent are covered by Medicaid. High poverty levels in the district are accompanied by transiency, homelessness and crime. These challenges mean many students experience childhood trauma, which can lead to mental health issues.
The group's research also discovered a lack of coordination of services and learned that many families in the community simply didn't know how to access mental health resources. Adding the fact that some local therapists would not see kids with Medicaid resulted in a serious lack of care. The group named itself the Racine Collaborative for Children's Mental Health and dedicated itself to two priorities: the coordination of mental health services and access to care.
Early intervention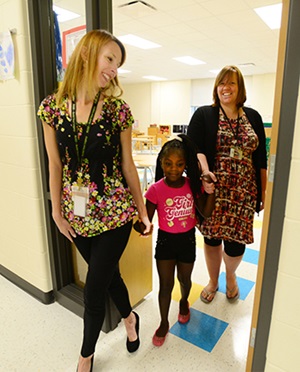 By partnering with Children's Wisconsin, the collaborative was able to support the first two school-based clinics in 2015, which has grown to five in 2018. Each clinic location serves the kids and families of that school and is staffed by a full-time child and family therapist from Children's Wisconsin.
Early intervention for kids with mental health issues not only improves their ability to learn, but has long-term impacts on kids' well-being and productivity. Kids with untreated mental health problems have higher absentee, expulsion and drop-out rates than their peers. And they are also more likely to be involved in the criminal justice system.
By bringing mental health services to the school-age children, Children's Wisconsin aims to make an impact on their long-term health. "What we are doing is really groundbreaking," said Jenny Miller, manager of school-based mental health services for Children's Wisconsin. "We are putting services at the center of families' lives in a place they already know and trust — their kids' school."
The partnership is a natural fit for Children's Wisconsin, which emphasizes the physical, social and mental health of kids. Children's Wisconsin provides mental health care in many settings, including in clinics and primary care offices throughout southeast Wisconsin, through its foster care and adoption programs and in community settings throughout the state.
But bringing therapists directly to kids and families in schools was something new — and is making a huge difference for kids like Takiya, whose mental health challenges may be keeping them from getting the most out of their education.
"By providing direct service to students and families in schools, we are removing barriers that often prevent kids from getting care, such as the difficulty of finding a provider, financial constraints, and transportation," said Jenny.
No family is turned away for an inability to pay. Services are funded through a combination of school district monies and grants. In addition, the Knapp Community School clinic is funded by the local United Way. Children's Wisconsin also subsidizes fees for uninsured and underinsured families through its financial assistance program, funded in part by the Children's Wisconsin Foundation.
The program is also possible in part because of recent legislation that raised Wisconsin's Medicaid reimbursement rate for mental health services. Prior to the change, the state's rate was the second lowest nationwide. Leaders and staff at Children's Wisconsin were strong advocates of this change to help expand families' access to quality mental health care.
Meeting families where they are
Kristine's office is large and sunny, full of comfortable chairs, a colorful beanbag, games and art supplies. It's at the heart of the school just next to the main office and near the playground. As she walks to classrooms to pick up her clients, Kristine stops to talk with teachers and parents.
For Takiya, weekly sessions with her therapist are just an extension of her regular school day. When Kristine arrives at her classroom door, Takiya leaps up with a big smile on her face.
Every week since November, even throughout summer school, Kristine has worked with Takiya to teach her strategies to calm herself and recognize when she needed a break. "Her focus and concentration were struggles and she was easily frustrated," said Kristine. "She's come a long way since then."
For Takiya's mom, getting therapy for her child at school is a lifesaver. The mother of four works full time and doesn't have a driver's license.
"Getting Takiya to an appointment would be so hard, because we'd have to take the bus. I would miss work and she would miss school," said Khaliah. "Having these services right at school is great."
Real results
After eight months of seeing her therapist, Takiya has learned strategies around self-control, talking about her feelings and calming down.
Once, Takiya brought home a strategy she had learned at school. Pulling out a paper triangle that she uses in the classroom to remind her of calming strategies, Takiya explained to her mom how to put her finger on the corners of the triangle while she inhaled, exhaled and counted to herself. "See, you can use it too, mama!" she said.
"She was so happy and excited to be teaching me," said Khaliah.
Takiya's teacher, Jessica, also noticed changes in the classroom. "Takiya started asking to take a break or go to a special spot we had designated for her. It has made a huge difference in her ability to learn," she said.
Jessica also appreciates the support she receives from Kristine. "It's great to have a mental health professional right here in the building, another adult that we can talk to and use as a resource."
Takiya's success isn't unusual. Data from the clinics for the 2016-2017 school year indicated a 38 percent decrease in negative behaviors in kids being seen in the clinics compared to before starting therapy. It also showed a 38 percent increase in positive behaviors and a 39 percent decrease in emotional stress.
Improving the day-to-day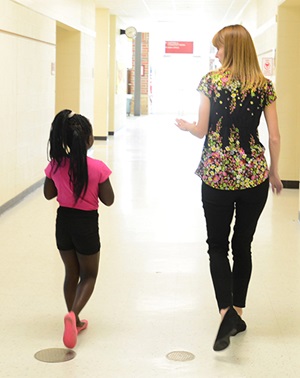 Knapp principal Rich Wytonick says the clinic has made a positive impact in the school's climate in just one year. "At first we were worried that we wouldn't be able to fill the spots in Kristine's caseload, but that happened fast." Kristine sees 30 children with another 10 on the waiting list — about 10 percent of the school population.
"We've already seen fewer 'frequent flyers' — kids who are often sent to the office for behavioral problems," he said. That's because kids are getting their underlying emotional and mental health needs met, rather than simply being disciplined for bad behavior. "It's also really valuable to have a common language of talking about trauma and behavior that all of us can share."
Rich recalls an incident that brought two police officers to the school and Kristine's presence made a difference in the outcome. "The child's teachers and therapist were able to work together with law enforcement to diffuse the situation because they understood where the child's behavior was coming from, and how to help," he said.
In addition to seeing students daily, Kristine has open office hours for staff to discuss strategies, students and their own vicarious stress. "At first, when we start talking about childhood stress and trauma as the root of negative behavior, it sounds like an excuse," said Kristine. "Then, as we learn more as a community, the lights start going on and all of a sudden there's this boost. Before, teachers may have said, 'That kid has something going on.' Now they can understand what's going on, and have more strategies to support those kids."
Fourth grade special education teacher Katie Paulmeyer agrees. "Kristine is a great support, giving teachers skills and strategies to help our students. And on days when kids have extreme behavior, she takes the initiative to help them in the moment and follow up with them. For my kids who see her, it's something they look forward to," said Katie. "It's another positive relationship they can count on."
A model for others
With educational and legislative leaders paying more attention to the mental health needs of students, the partnership between Racine United School District and Children's Wisconsin could be a model for other districts to follow. Jenny Miller has received many phone calls from other schools who are interested in what Children's Wisconsin is doing.
"These types of programs have great potential and seem to be most successful in communities that come together to find funding sources to support this work," she said. "Because reimbursement from insurance doesn't cover the cost of services, it's also critical that we continue to advocate for a better way to ensure kids get the care they need."
As a teacher, Jessica thinks mental health in schools is essential. "Every school should have a community of professionals focused on all aspects of child care," she said. "Mental health has traditionally been overlooked, but it's so important. All kids should have this."
Takiya's mom agrees. "There are so many kids out there who don't have someone to talk to. They might have a lot going on in the household. But having a therapist at school for kids to talk to — they can understand these kids and change that."
Services like those provided by our therapists in schools are critical to helping support the mental and behavioral health of kids. Our partnership with the Racine Unified School District is just one example of our many community services that are made possible by donor support. Help us help other kids like Takiya by donating today.