Patient Stories
May 12, 2021
Miracle Marathon: One dad shares how Children's Wisconsin provided hope for his son
---
On Sept. 16, 2020, our 16-year-old son, Quinn, was diagnosed with Stage 4 Hodgkin's Lymphoma. At that moment, our world clouded over with doubt. But one thing became crystal clear: Children's Wisconsin was where he would go for treatment.
A bit of background. Quinn was an active teen in his junior year of high school. He just recently passed his driving test. He ran cross country and played lacrosse. And when he wasn't participating in those activities, he was composing music and playing jazz on his bass guitar. 
Quinn had been unusually tired and sometimes even lethargic during late summer and early fall of 2020. We thought he was a typical teenager going through a growth spurt and dealing with the COVID-19 craziness. But then he developed a nagging cough. On the morning of Sept. 16, he had a strong coughing fit and coughed up small amounts of blood.
Later that afternoon, we brought him into our doctor's office for a COVID-19 test and some blood work. That's when things started to move very quickly…downhill. 
The blood work showed that his white blood cell count was unusually high. That led to a chest X-ray. Which led to a CAT scan. Then, about 40 minutes later, the doctor told us Quinn had malignancies on the lymph nodes in his lungs. We left the doctor's office in shock, with the understanding that appointments would be set up in the next couple of days with an oncologist in our area.
That evening, our trusted family doctor of nearly 30 years called to tell us that he'd sent Quinn's information down to the MACC Fund Center for Cancer and Blood Disorders at Children's Wisconsin and discussed his situation with one of the oncologists there. He recommended that we head down to Children's Wisconsin that night. So, we packed a few overnight bags and made the drive from Appleton to Milwaukee without delay.
When we arrived at Children's Wisconsin around midnight, it was a scary, unfamiliar place. Our fears were immediately calmed when a smiling face welcomed us at the Emergency Department check-in desk. 
Our first impression of Children's Wisconsin became our lasting impression of Children's Wisconsin. From the transporters to the nurses, the oncologists to the cafe cooks, the social workers to the education specialists, the volunteers to the executives…everyone at Children's Wisconsin has cared for Quinn as if he was their son. 
We are so grateful.
Waffles and strawberries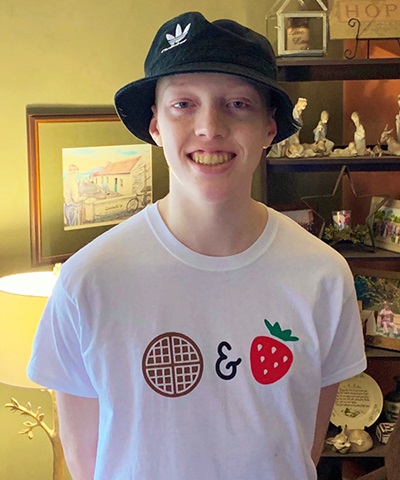 Al McGuire, the late Marquette University basketball coach, had a phrase that he used to describe when everything was going well and life was good. His phrase was, "seashells and balloons."
When Quinn was going through his rounds of chemotherapy in the MACC Fund Center, a favorite treat for him was waffles and strawberries with a mountain of whipped cream made by the wonderful staff at Café West in the Children's Wisconsin lobby. So, when Quinn was having a good day, we'd describe it as a "waffles and strawberries" kind of day. Again, a testament to the fact that everyone at Children's Wisconsin has a positive impact on making the experience as good as it can be for the patients and their families.
Fast-forward through a biopsy, a port implant and seven rounds of chemotherapy, to where we landed at the portion of Quinn's treatments that involved radiation. Though we could have opted to schedule his radiation treatments closer to home, our trusted team was at Children's Wisconsin. So, for 21 days in March and April, we made the daily, early-morning drive to Milwaukee. Quinn never skipped a beat and either slept or did homework in the car. He then went off to school missing only a few hours in the morning every day. Again, a testament to his positive outlook and the support provided by his entire care team.
We are thrilled to share that Quinn is now in remission. He's not out of the woods yet, but we are confident that he will be fully cured. That confidence comes from the capable caregivers at Children's Wisconsin. 
Being in the hospital with your teenage son is not the place you'd ever want to be. But, if you find your child in need of care, Children's Wisconsin is the place you'll want to be.
Every donation makes a difference
Our family is honored to be one of many asked to share our story during this year's WKLH Miracle Marathon for Children's Wisconsin presented by Accunet Mortgage broadcasting live May 20-21. This is WKLH's 23rd amazing year of hosting the radiothon, which has raised more than $27 million since it began.
Pledge your support: Make an online donation right now.
Tune in to 96.5 WKLH or listen live on wklh.com during the Miracle Marathon to hear many incredible Children's Wisconsin stories from families like ours. Everyone can help support this great organization, and every donation makes a difference. When you do, you help kids and families in our community, which means the world to one. Thank you.