Patient Stories
Apr 24, 2023
Tatum's miracle moment: A "heart-i-versary" to remember
---
As a veteran TV news reporter, Portia Young covered her share of Children's Wisconsin stories, listening to heartfelt accounts of young kids triumphing over challenging odds with the help of outstanding pediatric care.
"All these stories kept coming toward me," she said. "All these people came into my life right before I knew I was going to need Children's Wisconsin. It was kind of preparing me for what we had in store."
Then in 2012 came Tatum, her first child. Soon after Tatum was born, a nurse in the hospital noticed an irregular whooshing sound in the little girl's heartbeat — a murmur. A few days later, Michelle Linsmeier, MD, a pediatrician at the Children's Wisconsin Bayshore Pediatrics primary care office detected the murmur, too. "You're going to have to go to Children's Wisconsin," she said. 
Portia and her husband, Chris, waited anxiously through Tatum's first echocardiogram at the Herma Heart Institute, watching as the sound waves from their daughter's tiny chest were translated into pulsing images on the monitor. The imaging test seemed to take forever, and Portia's panic mounted. "We're brand new parents, we don't know anything about anything," said Portia. "We were tired, we were stressed, we were scared." 
Finally, they got the news: Tatum had a ventricular septum defect (VSD), a hole between her heart's lower chambers. On a scale of 1 to 10, Tatum's VSD measured about a 5 or 6. Doctors said the hole could require surgery, but it might also close on its own over time. "So that began our journey," Portia said.
Over the next few years, Tatum's heart checkups with Peter Bartz, MD, a cardiologist at the Herma Heart Institute at Children's Wisconsin, showed that the hole had shrunk a bit. But it was also causing problems. 
"The hole had actually kind of pinched itself off and created two holes," Portia said. "And Tatum's issue was not so much the hole, it's that the blood was shooting to the other side of the heart with such force that it was creating like a callous. It was making her heart imbalanced."
Although Tatum was feeling fine at that point, the team at Children's Wisconsin recommended surgery to repair the VSD and the thickened portion of heart tissue. Without surgical intervention, it was possible that Tatum would develop more serious heart damage and eventually valve failure.
Fixing Tatum's heart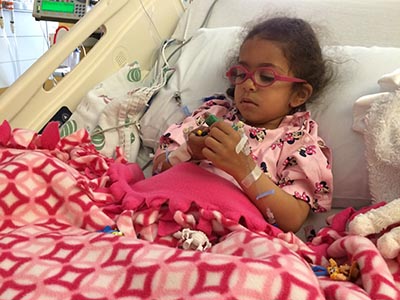 When the topic of surgery first came up, Portia immediately assumed they'd have to leave the state to find their daughter the best heart care. Then she discovered that Children's Wisconsin is one of the nation's top-ranked programs for pediatric cardiothoracic surgery. "And that was a fact that I didn't know," she said. "I knew Children's Wisconsin was good, but when it's your own child, you want the best."
On May 19, 2015, 3-year-old Tatum went into the operating room for open-heart surgery. Her surgeon was the late James Tweddell, MD, who was then the Herma Heart Institute's internationally renowned director of pediatric cardiothoracic surgery. During the seven-hour procedure, the lung-bypass machine took over the work of Tatum's heart and lungs while Dr. Tweddell patched the hole and removed the damaged heart tissue.
"It was a very scary time," said Portia, who was 24 weeks pregnant with her second child at the time. "I was just a nervous wreck and hoping I wasn't going to go into preterm labor. It's a very helpless feeling when you have a sick child. Having a child already teaches you that you're not in control. But this was even beyond what I thought I could control, and that sense of loss and just helplessness can really be overwhelming. But with the doctors and nurses reassuring me that it was going be okay and that she was in great hands, that's what I could lean on. And then our faith, of course. I just had to put it all in God's and Dr. Tweddell's hands."
Portia still tears up remembering her first glimpse of Tatum as she was wheeled out of the recovery area. "She just looked like she had been through a lot, and when I saw her little chest stapled up, that was rough," she said. "It was hard to see my baby like that."
She'll never forget Tatum's four-day stay in the hospital, either. "She had all the tubes and wires and needles and pokes and prods. But through it all, she was a trooper, and the nurses were just so good with her and so gentle.  They just know how to talk to the little ones. They decorated her room with her favorite characters, which were Frozen and Toy Story at the time, and just made us feel at home away from home — as much as you can in the hospital," Portia said. "I'm just so happy and grateful that we were in the right place at Children's Wisconsin and so well cared for."
Giving back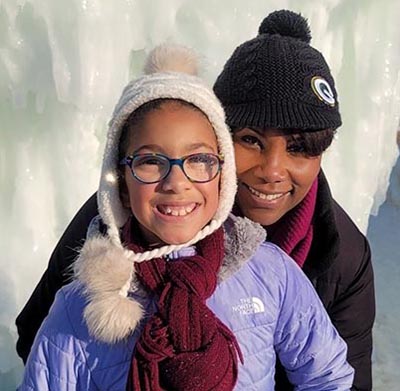 That experience inspired Tatum's family to give back however they can. They donated her heart tissue for research so that the Herma Heart Institute can continue to study congenital heart defects. The family is also committed to telling Tatum's story. In 2015, during Tatum's hospital stay, Portia shared their story live on the air during the WKLH Miracle Marathon.
"After listening to the Miracle Marathon for years, I never thought I'd be one of the grateful parents that Dave gets to talk to," she said. "Telling the story helps raise awareness and helps other parents who are going through it know that there is a wonderful place where you can go if you ever have a sick child. Children's Wisconsin is there for them, and they're going be in great hands. So, I do it as part of the awareness and advocacy, but also so that Tatum remembers that it's part of her story, and it's a great part of her story."
Every May 19, the family celebrates Tatum's "heart-i-versary," as they call it. Tatum brings a special treat to school and tells her story. To mark her five-year heart-i-versary, she narrated a short video for her classmates. Another year, the family arranged for a Children's Wisconsin cardiologist to speak to the class about congenital heart defects.
When a position opened up on the Children's Wisconsin Foundation Board, Portia jumped at the opportunity to deepen her engagement. "Absolutely anything I can do to help promote and advocate so that we continue to be the premier hospital for children in the Midwest — that's what I need to do," she said.
Donations to Children's Wisconsin benefit current and future generations. "If we have healthy children, we have a better future for our community, for all families across the whole region," Portia said. "Children's Wisconsin is an incredible gift, and it's one that we should never take for granted. It's one that has been built through decades of support from this community. And I just pray that it continues, that people continue to rally around Children's Wisconsin, its stories, all of the grateful parents it has served. It really makes our community a great place to live and raise a family. I can't imagine my family without Children's Wisconsin."
Now 11, Tatum is doing great and is "not even just a bit sassy," her mom said with a laugh. The family refers to Tatum's chest scar as her "zip line," and every time Portia catches sight of it, memories of Children's Wisconsin come rushing back.
"I tell Tatum that her scar means that 'mommy and daddy love you.' It's all still like it was yesterday, and it was almost 10 years ago," she said. "That's how profound of an impact that whole experience was. It will always be a part of me. And every time I look at her, I know the miracle that she is and the blessing that we have."
25th annual Miracle Marathon
Tatum's story is just one of the hundreds of stories that have been told in the past 25 years as part of the WKLH Miracle Marathon presented by Mars Family Foundation. Be a part of the celebration!
Become a Miracle Club member by committing to a monthly donation of $25 or more or make a one-time donation now.


Create a fundraising page and share your own inspiring Children's Wisconsin story on social media using hashtag #MyMiracleMoment to help spread awareness and raise money for this amazing event.


Listen to the Miracle Marathon live on 96.5 WKLH and on WKLH.com May 18-19 to hear incredible stories from kids and families who have received life-saving and life-changing care from Children's Wisconsin.