Patient Stories
Sep 19, 2016
Sweet Send Aways helps grieving families say goodbye
---
A heart-shaped tattoo adorns Dawn Meisinger's left forearm, reading "Joseph" and the dates "01/09/06" and "01/17/06."
The inking is an everlasting reminder of her son who died 10 years ago at 8 days of age in the Neonatal Intensive Care Unit (NICU) at Children's Wisconsin.
In the years to follow, Meisinger yearned for a way to commemorate him.
"I struggled with not so much the grief, but just not feeling like I was done with him. He needed a legacy," she said.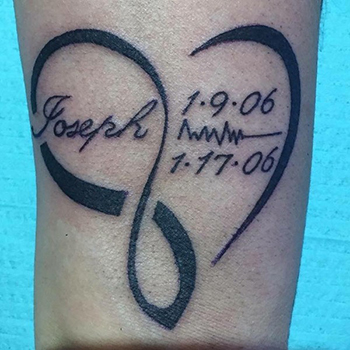 So, in 2014, Meisinger created Sweet Send Aways.
The nonprofit, which is modeled after a similar program in Texas, provides infant-sized outfits made out of donated wedding gowns to Children's Wisconsin. NICU nurses give them free of charge to parents whose babies are at the end of life to wear for baptisms, bereavement photography or burials.
"There's so many things you have to think of when you're in that situation, and finding something to bury your child in is the last thing you want to have to worry about," said Meisinger, who did not have a special outfit for Joseph to wear.
Sweet Send Aways alleviates parents from that concern.
Over the last two years, Children's Wisconsin bereavement coordinator Nichole Schwerman estimates 50 to 100 outfits have been given to patient families. The outfits are for both boys and girls and typically range in age from 0 to 12 months.
"It's painful sometimes," said Meisinger, tearing up. "There shouldn't be a need for it, but my heart feels good that we can do this for grieving families. I will do it until there's no breath left in me."
Schwerman said the outfits mean a lot to families for many reasons.
"There's the practical level of receiving an outfit that you may not have thought about or have been able to afford," she said. "There's the emotional and psychological level of creating memories, and then there is the whole level of knowing that someone cared enough to celebrate the fact that a child lived. It's hard for someone who hasn't lost an infant or known someone who has to understand, but that infant's life was significant and to have someone recognize that is huge."
Schwerman calls the death of an infant, especially one who may have only lived hours or minutes, "disenfranchised grief," meaning that society does not place enough value on the grief process.
"Society expects you to get over your grief really quickly because society might not recognize the loss as someone's beloved child, and you have just as much love for them as you would if they had lived 100 years instead of just hours or days," she said.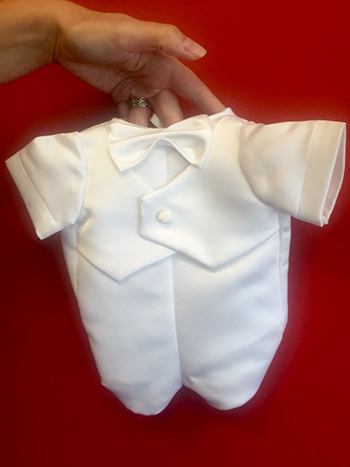 Meisinger has not yet met a family who received a Sweet Send Aways donation, but she sees from the organization's Facebook page how much the gifts mean.
"On August 16th we lost our sweet baby girl at Children's Wisconsin in Milwaukee," wrote one mother. "I was not prepared to send her away, and had nothing for her to wear with me. The hospital asked if I would like a dress for her, and I accepted. I've never heard of this being done before, and I would like to thank from the bottom of my heart the people that have donated their dresses and their time to make them. It sure was a beautiful dress, and she certainly gained her wings in style."
Sweet Send Aways has become so successful that Meisinger has expanded the program to include other items like barefoot sandals, tutus and bowties.
"When your child is at end of life, it's not just all about the tubes and medications," Schwerman said. "It's important to create fun family experiences, and having the fun, silly pictures is part of that experience because that's what is going to help sustain them and help them with the healing process."
Also what helps the families are the linking objects Sweet Send Aways creates.
Linking objects are tangible objects that "link" families to the deceased. Older children who pass away had favorite stuffed animals, toys and cups that their loved ones can remember them by, but newborns and infants do not.
Thus, Sweet Send Aways offers parents things like pillows, handkerchiefs or stuffed animals for their babies to use or be photographed in.
"When you no longer have the child in your presence, having something tangible to see, hold or touch helps with that healing process," said Schwerman, adding that Sweet Send Aways has given the hospital 400 to 500 linking objects to give to grieving families.
The outfits and objects Sweet Send Aways creates are made by a team of five volunteer seamstresses, including Meisinger's friend Terri Nowicki.
"I always thought of sewing as a chore, but when I do it for Sweet Send Aways it's enjoyable," Nowicki said.
Meisinger and the seamstresses collect donated gowns from people all over the country, including Texas and New Jersey. Some have even come from Canada.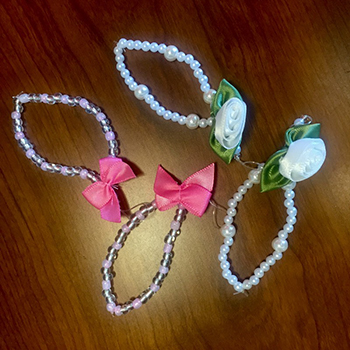 The dresses vary just as much, with some being modern and others vintage. One donated dress was 72 years old, and another gown came from a woman who survived an abusive relationship.
"She said she wanted her dress to stand for something good," Meisinger said.
Although she is presently not in need of any more dresses, Meisinger is grateful to those who have donated, whether it has been gowns or gift cards to assist the seamstresses in the cost of materials like ribbon and thread.
"If you could do something for a family that's facing the worst day of their life, why wouldn't you want to help?"
Most of the Sweet Send Aways donations are stacked up in the office of Children's Wisconsin bereavement coordinator Nichole Schwerman.
For more information on Sweet Send Aways or on how to make a monetary donation or to be a volunteer seamstress, visit the organization's Facebook page.