Patient Stories
May 27, 2021
A cyber safe space: The new way we're delivering mental health care to kids
---
Haley Miller, LCSW, a child and family therapist at Children's Wisconsin, was sitting at her desk at work completing notes about a client she had just seen when her manager stopped by her office. She told her she might want to take her computer and anything she was working on home because there were whispers of a state-wide work-from-home order coming soon. Haley remembers walking out of the large office building and into the mostly empty parking lot with more than four very full bags she was struggling to carry. 
This was March 2020. 
A few days later, Emergency Order #28, the Safer at Home order, was put into effect.
"At that time, we had no knowledge of virtual services," said Haley, "We were just told we would not be seeing clients and would need to communicate via phone."
The need for mental health services is increasing, as reported by the Wisconsin Office of Children's Mental Health. It's been a painful year of trauma, isolation and other mental health concerns for everyone, including children.
Pre-pandemic, in a 2017 annual report, kids and teens in Wisconsin were hospitalized for a mental health condition at more than four times the national rate. At the same time, Wisconsin's youth suicide rate increased more than the national rate from 2015 to 2016, and remains significantly higher than most of the United States.
Children's Wisconsin has recently identified $150 million to use towards detecting mental and behavioral health needs sooner, improving access to services, and reducing the stigma around the illness.
As a mental health therapist at Children's Wisconsin, Haley worried a lot about her clients and was relieved when she heard that they would be offering virtual services. Haley even helped pilot some of their initial virtual services and remembers feeling overwhelmed and unprepared, but she was also overpowered with excitement to finally be able to "see" her kids.
"The first few months of telehealth were really exhausting as I was trying to be good at something I had never done before so there was constant learning in place," said Haley.
The sense of exhaustion was shared by her clients, too. As she worked with the children on Zoom calls during their appointments, she could see how detached and unengaged most of them were on the telehealth interface.
Haley shared that while the past year has been one of true growth for her, she, like her kids, also struggled with maintaining boundaries between work and home life since they were now in the same place. Due to stress from the pandemic, Haley found herself experiencing clinical levels of depression and anxiety. After talking with her doctor to find ways to better ways to address her mental health, she worked really hard to intentionally reach out to people, get outside, exercise and practice self-care.
"As therapists, we may seem like we have our lives together or seem like we never struggle with mental health because mental health is our job," said Haley. "However, this was a really difficult year for everyone, kids and adults alike."
Uncharted waters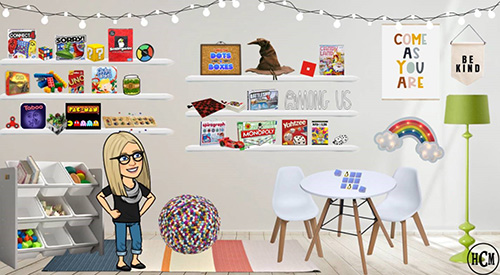 Like the rest of the world, Haley had no idea how long things would remain virtual, but she knew she had to get creative. Mental health was a struggle for her clients before the pandemic. The pandemic merely amplified everything, while taking away the supports in place. Children's Wisconsin knew it had to do more to engage the children and families who needed the mental health therapies in place, especially during times like these.
Haley joined many Facebook groups for therapists and teachers to try to get some ideas on how to engage clients in the virtual setting. She found a post about virtual therapy offices and found herself fascinated with the rooms that people could create in the virtual space.
She started collecting resources that people had been posting, visiting the virtual therapy offices ("Zoom rooms") of others, and working on virtual therapy office rooms for her kids. Once she was satisfied with an initial draft, she started to use them with clients, and then she showed her project to colleagues. Once she saw the reactions of others, she knew it was something she needed to continue to pursue.
She connected with another child and family therapist, Alecia Corbett, MSW, LCSW, who had also created her own Zoom rooms. Alecia works with older children while Haley works with younger kids, and between the two of them they had a comprehensive spread of resources covering the entire age and developmental spectrum.
"It has been useful to connect with someone else to see how they are using their rooms in a different setting," said Haley. "We each had different rooms with different resources, so putting our things together gave us some super rooms."
Alecia said the transition to the virtual world was relatively smooth for her because she already knew how to use Zoom and many different features in Google. And being able to swap ideas and tech tricks with Haley was a wonderful collaboration.
"My a-ha moment was joining Facebook's social media groups to enhance virtual experiences, and when I first built my virtual office last summer, in 2020, I saw lots of possibilities and was excited to form better connections virtually," said Alecia.
These two innovative-minded therapists and, thanks to them, the greater Children's Wisconsin mental and behavioral health team, took tele-therapy to the next level by creating these virtual therapy offices.
Virtual safe spaces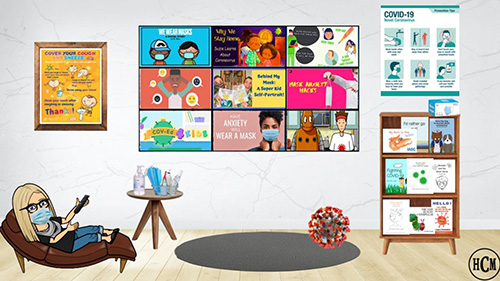 These "Zoom rooms" are kid-friendly, interactive web interfaces that kids and parents can explore with their therapist. Each room has different themes, décor, and interactive resources that kids and teens can manipulate and explore. With these interactive rooms, kids are fully engaged and are given a safe, familiar space they can feel comfortable in and are free to navigate as they please.
When a child logs into Zoom for a therapy appointment, they enter the virtual office and are able to click on a variety of different buttons that take them to different rooms. Kids can visit the Library Room that has a shelf full of books and when they click a book, it automatically opens up a YouTube video of that book being read aloud. There is a Mindfulness Room full of creative, virtual activities such as painting, a sand tray, Light Bright and coloring pages. There is a Yoga Studio and a Music Room, as well as rooms for feelings, diversity and inclusion, trauma informed care, adoption and foster care, potty-training and COVID-19 coping.
"The virtual room I built for trauma focused cognitive behavioral therapy for the adolescent population has been very engaging and efficient," said Alecia. "I am able to access different learning and teaching styles through this format, and it's super helpful to show parents how we are doing the work with visual examples of the experiences."
One mother, Kelly, said her child, Desmond, loves the Zoom rooms.
"Anyone can ask 'How's your day going,' and then have the kids zone out," said Kelly. "But with these Zoom rooms that Haley designed, it keeps him tuned in because it's interactive, which helps when you're dealing with a 10-year-old's attention span."
Desmond said he likes the game room, where, over a game of Connect Four with Haley, he's gotten more comfortable and now likes talking about his feelings.
"It takes the pressure off of talking about deep things while keeping them active and focused," said Kelly.
Kelly said they use that strategy as a family, too, incorporating what she sees Haley doing with Desmond in the Zoom rooms into their everyday lives. Together, they bond by talking about feelings and emotions during painting nights, yoga for kids, and other activities that don't involve screens.
Desmond says his favorite room, however, is the library. He and Haley read stories and they often end up relating strongly to situations he's going through in his own life.
"It helps him relate to the characters in these books, see things from a different angle, and from there, they get a better idea of how to manage these challenges in life," said Kelly. "The time they spend together in these Zoom rooms has been impactful."