Patient Stories
Dec 02, 2022
A safe haven: Where to turn when your child's mental health can't wait
---
Akilah knew something was off. It was March 2022 and her 11-year-old daughter, Abbi, was getting ready for bed. Normally talkative and open, that night she was quiet, distant. Akilah could tell something was bothering her.
"I asked her if she was okay, but she didn't want to tell me about it," said Akilah, "so I didn't push."
The next morning, Abbi's school alerted Akilah that her email communications were flagged. Abbi broke down and told her mom the disturbing story. 
Abbi had a friend who was attempting suicide and had been sending her emails throughout the evening. Not only was she sharing details with Abbi, she was encouraging Abbi to join her.
"She was very distraught and emotionally torn when she told me what was going on," said Akilah. "Her friend was found unconscious, so this was a very serious situation."
"I didn't know what to do that night my friend and I were talking," said Abbi. "She said she needed my help but I wasn't sure how to help her."
Akilah knew Abbi should discuss the ordeal with a mental health professional, but she didn't have a regular therapist.
"I told my dad what was going on and I remember him saying 'This can't wait, you've got to her in to see someone today,'" said Akilah. "I knew he was right."
So, she grabbed her cell phone and searched for urgent mental health help. That's when she found the Craig Yabuki Mental Health Walk-In Clinic. It had just opened the day before on the Children's Wisconsin Milwaukee Campus. Abbi was one of the first kids to walk through its doors.
Listening to families and opening the walk-in clinic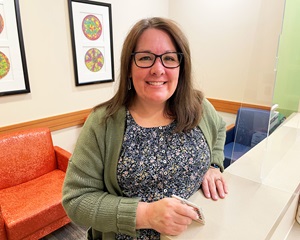 The Craig Yabuki Mental Health Walk-In Clinic is open seven days a week from 3-9:30 p.m., when many other resources are closed for the day. It was evident to Tammy Makhlouf, LPC, manager of the Craig Yabuki Mental Health Walk-In Clinic, that this resource was especially needed when kids returned to school this fall. Some kids had not been in-person since the pandemic began, and others are still feeling behind.
"We have seen a lot of school anxiety and school avoidance issues pretty consistently since September," said Tammy. "Kids are having panic attacks and just need help coping with everything they've been through."
Every child is welcome, whether they have insurance or an established mental health provider. Staff first does a safety evaluation and then the child has a session with a licensed therapist. Before the child leaves, the team helps them create a safety plan and provides them with additional mental health resources, either through Children's Wisconsin or in the community.
"We're not only providing immediate support, but we're helping families navigate the mental health system, which can be overwhelming," said Tammy. "Connecting them to additional resources has been huge for many families."
How Abbi is doing today
"The clinic was exactly what Abbi needed that day," said Akilah. "A therapist talked her through what happened and it helped to know they were there for us."
"It was great talking to someone about all the things I was feeling," said Abbi. "We made a plan to get through the night and made a list of things I can control and things I should reach out to adults for help with."
The team also connected Abbi to Haley Miller, MSW, LCSW, the behavioral health consultant at her pediatrician's office — the Children's Wisconsin Bayshore Pediatrics primary care office. She had two follow-up visits with Haley, which Abbi said were also helpful.
"From the moment we arrived, the staff was so kind and helpful. They really took care of us," said Akilah. "We are so grateful to have this in our community."
Kids in Wisconsin are experiencing a mental and behavioral health crisis, and many families are unsure how to address it with their children. That's why Children's Wisconsin is committed to helping parents and caregivers get the answers they need. To learn how you can play an active role in your child's mental and behavioral health, visit our Shine Through website.