Inclusion, diversity & equity
At Children's Wisconsin, we have a long-standing commitment to support all children. We are dedicated to providing the best possible care experiences and outcomes for kids and families, creating a strong and united workplace culture, and building a better world so our children can grow up healthy.
As a leading pediatric health care system, with over 2 million touch points per year with kids and families, we know how many lives we impact on a daily basis. We take our responsibility to uphold values and standards relating to inclusion, diversity, and equity seriously.
We believe these principles are essential to our vision that the kids of Wisconsin will be the healthiest in the nation. That's why we are working together every day to ensure we are an organization that is listening, learning and driving positive change. Children's Office of Inclusion, Diversity and Equity (ID&E) empowers and supports our workforce, the families we serve, and our community to advance our mission of Care, Advocacy, Research, and Education.
Our inclusion, diversity, and equity work is guided by the following objectives:
Enhance our steadfast commitment to inclusion and health equity for the children and families we serve.
Increase the diversity of our workforce and leadership with a special focus on underrepresented populations.
Enhance our culture of respect, equity, and inclusion for all aspects of diversity.
Provide leadership in the community on topics of diversity, inclusion, and health equity.
Central to this work is our commitment to anti-racism. At Children's, we have no tolerance for racism and discrimination. This includes racism within the workplace, within the child and family experience, or in any of our care settings.
Read our blog: How to talk to kids about race and racism.
Through listening sessions, panel discussions, work groups and inclusion resource groups, our teams are working together to ensure our environments are places where everyone feels valued, understood, and welcomed.
ID&E leadership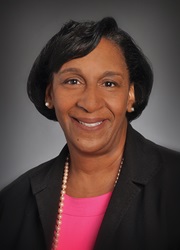 ID&E work at Children's is led by Theresa Jones, vice president, Inclusion, Diversity & Equity. In her role as vice president, Theresa leads in the development of our ID&E strategic plan, and ensures strategic and tactical alignment across all parts of our health system. She will advise our senior leaders and medical/operational leaders on ways to address inequities and promote opportunity for our workforce, culture, health equity, and community. She also leads in the development of metrics to help us track movement toward success.
Theresa has over 15 years of leadership experience, including management of director-level and large professional teams. Prior to joining Children's, she served in the role of chief operations officer at Parklawn Assembly of God in Milwaukee for three years. Prior to Parklawn, she held positions as director of Human Resources and vice president - Diversity and Inclusion at Wheaton Franciscan Health Care. She has also held progressive leadership roles with Milwaukee Area Technical College and Firstar Bank. Theresa received her Bachelor of Arts degree in Management and Communication from Concordia University and a Master of Science in Organizational and Leadership Development from Norwich University.
Theresa lives in Brown Deer and is active with many organizations throughout the Milwaukee area, particularly those focused on diversity and cultural competence. She is often featured as a panelist and presenter at conferences and has been a board member in a variety of Wisconsin organizations.
Have feedback?
We're constantly looking at ways to improve the care we provide and ensure an excellent experience with us. Your feedback is important to helping us provide the best care for kids. If you have a concern about patient care or any interaction with us, we encourage you to let us know. We will use your feedback to try and address your concerns, and to make experiences better for other kids and their families.
Read about our non-discrimination practices.