Inclusion, diversity & equity (ID&E)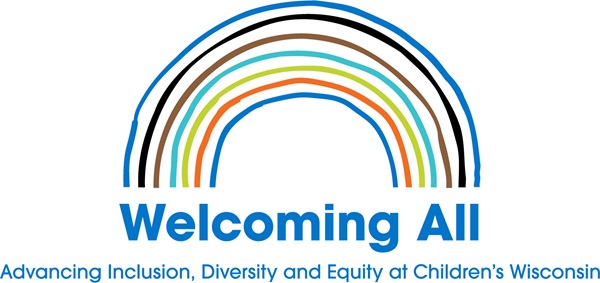 Our vision
Children's Wisconsin inclusion, diversity & equity vision is to create an environment and culture that is intentionally inclusive, diverse and anti-racist, resulting in better outcomes for all we serve. Aligned with our values, every action and interaction at Children's Wisconsin will promote health equity and positive experiences for our staff and providers, kids and families, volunteers and the communities we serve.
Our commitments
Our inclusion, diversity, and equity work is guided by the following commitments:
Enhance our steadfast commitment to inclusion and health equity for the children and families we serve.
Increase the diversity of our workforce and leadership with a special focus on underrepresented populations.
Enhance our culture of respect, equity, and inclusion for all aspects of diversity.
Provide leadership in the community on topics of diversity, inclusion, and health equity.
Inclusion resource groups (IRGs)
Inclusion resource groups support Children's in fostering a diverse and inclusive workplace. The IRGs focus on activities and initiatives to support the needs of their affinity population or area of interest.

Inclusion, diversity, & equity (ID&E) teams
ID&E teams exist to drive the development, implementation, and delivery of inclusion, diversity, and equity and cultural competence strategies and tactics at an entity, geographic location, department or service line level. ID&E teams align their work to Children's health system vision and strategic objectives as well as that of their entity, geographic location, department and service line goals and objectives.
Chorus Community Health Plan (CCHP)
Corporate services team
Community services team
Primary care team
Hospital team
Nursing team
Provider team
Health equity
An important component of our commitment to our community is health equity and removing obstacles so everyone has a fair and just opportunity to be healthier. This concept is essential to achieving our vision. Many of our colleagues, including leaders, front-line staff, physicians and other providers, are already working to eliminate inequities and reduce obstacles to health for children and families. Everyone on our team, no matter their role, plays a part in ensuring kids have access to equitable care and services.
Workforce development
We partner with community organizations and build relationships to seek out diverse applicants and provide training opportunities. Here are some of our community partners:
All-In Milwaukee
Center for Healthcare Careers of SE WI
Cristo Rey Scholars
DOD Skillbridge Program
Employ Milwaukee Workforce Development Board
Herzing University
Hmong American Friendship Association (HAFA)
Hire Our Heroes
Hispanic Professionals of Greater Milwaukee HPGM)
Metropolitan Milwaukee Association of Commerce (MMAC)

MKE United
MKE LGBT Community Center
Milwaukee Boys & Girls Club
Milwaukee Jobs Work
Milwaukee Public Schools
Project SEARCH
Summer Earn and Learn
Waukesha County Business Alliance
Waukesha Ozaukee Washington (W.O.W.) County Workforce Development Boards
Wisconsin LGBT Chamber of Commerce
Wisconsin Hispanic Scholarship Foundation (WHSF)