Our vision, mission & values
Our vision
The children of Wisconsin will be the healthiest in the nation.
Our mission
CARE: Care, Advocacy, Research, Education
Our values and guiding behaviors
Our five values guide and inspire us. The guiding behaviors describe how we pursue our mission and vision. These actions demonstrate our passion, and show how much we care for and about children and families and each other.
Purpose - We act in service of children and families.
I focus on what matters most to children and families.
I am passionate about providing the safest, highest quality and most equitable care and services.
I hold myself and my colleagues accountable for high performance and resource stewardship.
Collaboration - We work together to care for and about children, families and each other.
I respect and value diverse backgrounds, styles and perspectives.
I invite and recognize the strengths and contributions of others.
I include people in decisions that impact them.
Integrity - We build confidence and trust in all interactions.
I assume positive intent and treat others with respect, equity and compassion.
I listen for understanding and communicate openly and honestly.
I follow through on commitments and decisions.
Health - We are at our best.
I make choices to achieve balance and well-being at work and at home.
I cultivate a sense of belonging through connection, appreciation, respect and care.
I am aware of my own moods and cast a positive shadow.
Innovation - We commit to improvement with breakthrough ideas and solutions.
I learn from children, families, colleagues and the community.
I embrace curiosity and change through the open exchange of feedback and diverse perspectives.
I create an environment where it is safe to learn from experiences and try new things.
Healthier kids, healthier community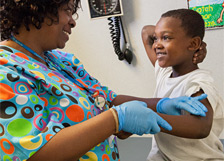 Find out more how Children's work in the community benefits kids around our state.