Become a patient
The Feeding, Swallowing, and Nutrition Program at Children's Wisconsin takes a truly individualized approach to treat every child.
Find more details on what to expect in your first appointment with our Feeding team, so you and your child are ready for your appointment by reviewing this inforgraphic.
While treatment plans vary, our team of specialists has developed a typical treatment path that will guide your child's care in our clinic. Learn more about what to expect from your first Feeding team appointment and the types of treatment paths below.
Recent research efforts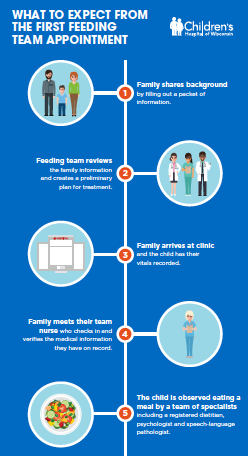 Below is further explanation of the infographic above. Read the step by step on what to expect in your first appointment with our Feeding team, so you and your child are ready for your appointment.


We will have your child's medical records sent to us, and your family will fill out informational forms prior to the first appointment. We like to hit the ground running when it comes to getting your child healthy, and that means gathering as much information as early in the process as possible.

Our team then makes an initial assessment based on the medical history provided. We determine what tests, if any, are necessary (such as blood work, radiology, endoscopy, etc.) and what initial treatments meet your child's needs. Our goal with this initial assessment is to help identify any potential medical issues that need to be addressed before moving forward with further evaluations, therapies or treatments.

If your family is traveling from out of state to visit our clinic, we may contact you by phone before this visit to gather additional information. This helps to ensure that the Feeding Program is the appropriate clinic for your child.

Your family arrives at our clinic and your child has his or her vitals recorded to ensure we have the most accurate information on file. This will also help to track progress during treatment.
Your family meets with the team nurse. Your nurse verifies all the medical information we have is up to date and addresses any preliminary questions you may have about the appointment.
Your child eats a meal while your child's registered dietitian, psychologist and speech-language pathologist observes. These team members evaluate your child's eating habits through the lens of their expertise to determine where your child needs the most help.
Following the meal, the three specialists meet with the team physician and provide their assessment of the meal.
A physician may meet with you and your family to discuss any medical needs your child may have, and answer any questions or concerns that you may have.
Following a review of any medical needs, your team physician regroups with the speech-language pathologist, dietitian and psychologist to discuss your child more in depth, now that the full assessment is complete. Our team compiles the assessment and determines the best path of care. This treatment plan will be highly individualized to your child, and may include components such as a special diet, skill-building, mealtime scheduling, and/or medication.
Following the assessment, the team creates a letter that's personalized for your child and family. This letter includes the assessment from the specialities, treatment recommendations and follow-up appointments. This ensures your family is clear about what the plan is moving forward.

One of your team members will recap the meeting and review the plan with you and your family to ensure next steps are understood. Once the team has determined a treatment plan, it is time to work with your family to put your child's plan into action. This may include one or more of the following approaches:

Outpatient treatment
Intensive outpatient treatment
Intensive inpatient treatment

You can learn more about the various treatment types below. During this time, your child will need the support and encouragement of his or her family the most. Change can be hard, especially for kids, so it is important for your child to understand that these changes are necessary for his or her health and happiness.
Recent publications and presentations
When should I arrive?
Please arrive 15 minutes prior to your scheduled appointment to fill out paperwork before meeting with our Feeding team.
How long will my appointment last?
If you have been referred or have established care with a gastroenterologist, your child will be scheduled for an initial visit with the Feeding team. Our team includes a gastroenterologist, a behavioral psychologist, a registered dietitian, a speech-language pathologist and a nurse. This appointment will last approximately two hours.
What does a follow-up appointment look like?
Follow-up appointments are dependent on the outcome of the initial assessment by the team. Based on the child's individual needs, a combination of providers may be included in follow-up appointments. A recommendation and instructions for follow-up appointments will be provided after the initial assessment by the Feeding team.
Where does the Feeding team see patients for appointments?
Feeding patients are seen at Children's Wisconsin's Clinics building on the 7th floor inside the Gastroenterology, Liver and Nutrition Clinic.
Do other Children's Wisconsin clinic locations offer feeding services?
At this time, the feeding clinic is at the Milwaukee clinics location only.
What is the process of getting an appointment with Feeding team?
To get an appointment with the Feeding team, a family can self-refer to the program or a physician can refer a child to our team. Once a referral is received, the Feeding team will do an initial review to ensure that the child is appropriate to be seen by our Feeding Program. The family will be asked to complete a comprehensive packet that answers questions about medical history, feeding history, food preferences, and meal time practices. Once the packet is completed and sent back, the team will review and follow-up to schedule an initial appointment.
How long is the wait for an appointment?
The Feeding Program is a multidisciplinary team with a high demand for assessment and ongoing care for both local patients and children nationwide. Therefore, the current wait time for a new patient is approximately 4-6 months.
What goes on during these appointments?
During your initial appointment, the multi-disciplinary team will ask questions and observe the patient to develop an initial assessment of the patient's current nutrition intake, eating habits, skills and behaviors. Our team will then debrief with the family to develop goals and a plan for next steps. The team will continue to monitor how the child is progressing during each follow-up appointment and will discuss the plan with the family and make revisions as necessary to ensure that the child is working towards their goals.
Will my insurance cover care provided by the Feeding Program?
It is important for a family to check with their insurance provider to see what services are covered by their insurance. Here's a list of insurance companies that cover Children's Wisconsin.
*Please note that not all services provided may be covered and that's why it's important to have a conversation with your insurance provider.

How often will my child have to return for appointments?
All appointments are individualized to your child's needs, so appointments can vary.
Recent advocacy efforts
Outpatient
The majority of our patients see improvements in feeding through this route of treatment alone. This approach is the most common and what every patient experiences even if they end up needing one of the intensive treatment options. Outpatient treatment is performed through clinic visits with your treatment team at a frequency that is determined to be best for your child. Healthy habits start at home, so it's important to us that your family gets into the habit of practicing your child's treatment plan at home as soon as possible.
Each of our providers contribute to the care of your child during this phase of treatment.
Medical issues are addressed and treated by the physician
Nutrition issues are optimized by the dietitian
Feeding skill concerns are attended to by the speech-language pathologist
Behavioral issues are cared for by the psychologist, who also supports the parents/guardians
Intensive Outpatient
Intensive outpatient treatment is available for children who need a little more help making changes to their daily feeding. Through this program, you and your child receive treatment and guidance through 3 meals a day over the course of 5 days in our clinic. Families who travel a distance for an evaluation may also stay for an extended visit.
Intensive Inpatient
Intensive inpatient treatment is only considered if it is medically necessary and appropriate for your child. This part of our program involves a 2-week stay in the hospital. This stay involves ongoing assessments with 24-hour supervision, intensive feeding therapy, close medical and nutritional monitoring as well as training and education for families to maintain successful oral feeding at home. Learn more about our Inpatient Behavioral Feeding Program.
Leaders in research and advocacy
Research and advocacy is integral to what we do. Learn more about the latest work our program is doing to ensure we are providing the best care to our patients and families.