Our program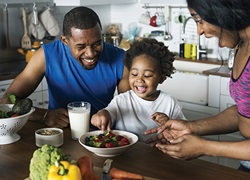 The Feeding, Swallowing and Nutrition Program is one of only a handful of pediatric programs in the country that offers a truly interdisciplinary approach to feeding, swallowing and nutrition disorders. We specialize in medically complex children, and our team's vast experience, interdisciplinary perspective and commitment to research makes our program a destination for families seeking the best care for: 
Team-based, family-centered care
The feeding team at Children's Wisconsin understands that no two feeding issues are the same. Specialists at Children's take an interdisciplinary, team-based approach to care for children with feeding disorders. Children and families have the benefit of meeting with an entire team of specialists, in the same room, at the same time. That means your child gets the fastest, most comprehensive care, designed just for him or her. Our Feeding team includes a variety of specialists all trained in pediatrics:
Physicians
Nurse clinicians
Registered dietitians
Speech and language pathologists
Psychologists
Medical assistants
Other specialists may be consulted as needed. In addition, we work closely with your child's primary care physician, therapist or other specialist to ensure consistency of care.

See the full Feeding team.
While we offer a complete team of specialists, no one is a more important member of your child's treatment team than you and your family. We are here to help your child get well, and your support, encouragement and guidance will keep your child on the path to a healthy life.
Approaches to treatment
All new patients are first seen for an interdisciplinary evaluation where an individualized outpatient therapy plan is developed. This may include further medical workup, skill based feeing therapy, behavioral feeding therapy, or a combination of those options.
There are times when children need a little more help meeting the goals that were set in outpatient therapy. In those cases, you child's team may consider your child for the intensive inpatient or outpatient program.
Intensive outpatient
Intensive outpatient treatment is for children who need additional help generalizing gains from the clinic to outpatient home environment. In this case, your child has several appointments with us over the course of 5 days.
Intensive inpatient
A very small percentage of children enter this program, which involved a 2 week stay. This stay involved ongoing assessments with 24-hour inpatient care.
Leaders in research and advocacy
Research and advocacy is integral to what we do. Learn more about the latest work our program is doing to ensure we are providing the best care to our patients and families.