Aortic stenosis supravalvar
Provided by "Pediatric Heart Surgery — a reference for professionals"
Patient families can visit our aortic stenosis page for more information and answers to common questions.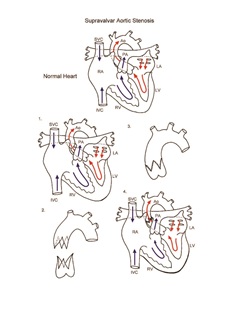 Pathophysiology
As the name suggests, supravalvar aortic stenosis indicates a narrowing of the junction between the aortic valve and the ascending aorta. This is an uncommon form of left ventricular outflow tract obstruction and is encountered in patients with Williams syndrome or as a familial form. Obstruction to the egress of blood from the left ventricle to the systemic circulation results in left ventricular hypertrophy and its sequelae, including left ventricular dysfunction, ischemia, and risk for sudden death. Surgical intervention is indicated when the pressure gradient across the area of narrowing is wide.
Surgical technique
Repair of supravalvar aortic stenosis requires cardiopulmonary bypass and aortic cross-clamping. The aorta is incised into each sinus of valsalva. Counterincisions are made in the aorta above the area of obstruction, and the stenotic segment is removed. The two segments of aorta are interdigitated (see diagram) and anastomosed with monofilament suture. Following weaning from cardiopulmonary bypass, pressures in the left ventricle and peripheral artery are compared, and transesophageal echocardiography is performed to assess the adequacy of repair. Cardiopulmonary bypass time and aortic cross-clamp time required for completion of repair are usually short to moderate.
Postoperative considerations
The postoperative course following repair of supravalvar aortic stenosis is usually benign. Invasive monitors used include arterial, central venous, and left atrial catheters. Non-invasive monitors might include NIRS (near-infrared spectroscopy) probes to assess adequacy of regional and global perfusion and traditional pulse oximetry. Vasoactive infusions required for hemodynamic management are usually aimed at reduction of systemic vascular resistance. Excessive bleeding is an uncommon postoperative complication. Arterial oxygen saturation and intracardiac pressures following surgery should be normal. Systemic hypertension is often encountered during the postoperative period. Anti-hypertensive medications are usually required to control this and might include a beta-blocker and/or captopril or enalapril. Length of hospital stay required following repair averages 5 to 7 days.


Physician consultation line
Staffed 24 hours a day.
Refer a patient
Discuss a case
Arrange a transport
Direct admission
(414) 266-2460
Toll-free: (800) 266-0366