Case study: Two tracheas
A patient was born in Iowa and was initially discharged home after delivery. However, she returned to the hospital two days later in full respiratory arrest requiring intubation. Intubation failed, and she was placed on ECMO. A CT scan showed an extremely rare anomaly: two tracheas, one anterior to the other. The anterior trachea was responsible for 2/5 of the ventilation; the posterior for 3/5. Both trachea and bronchial trees were severely stenotic.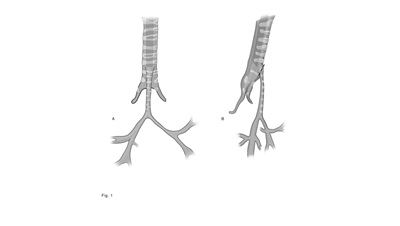 Surgeons at other children's hospitals refused the case. Nobody had successfully reconstructed such a malformation, and they believed nothing could be done. The Iowa team had read case studies and publications from the Children's Wisconsin
team and reached out.
"We've done several very complex tracheal reconstructions in newborns and because of that experience we were confident we could offer a reconstructive option," says Dr. Mitchell. He adds that his confidence is backed by strong institutional support and a well-honed multidisciplinary team.
The patient was transported on ECMO to Milwaukee, where the team was waiting. They carefully dissected the trachea using her CT scans as a guide in order to fully mobilize the trachea, define the anatomy and confirm what they saw on the scans. They performed a tracheal unifocalization, painstakingly bringing the anterior and posterior tracheas together longitudinally, and then anastomosed the tissue. Initially, each trachea was 1.3 mm in diameter (a normal neonatal trachea is 3 to 5 mm). The procedure doubled the size of the airway to almost 3 mm.
The patient remained on ECMO during the surgery. She was able to come off ECMO in the operating room immediately after the surgery was complete. She was successfully extubated two days later.
It was a challenging case, Dr. Mitchell says. "What scares people is how tiny the airway is. A long suture line in a tiny airway is always difficult to manage because if there is any imperfection, we can't ventilate the patient and there is a very high mortality rate." While conceptually the reconstruction appeared "pretty straightforward," Dr. Mitchell says, "it was intimidating because of how small the airway was and how unusual and complex the anatomy."
Today, the child is a healthy toddler. Her reconstructed trachea will continue to grow with her and no additional surgeries are anticipated.
Below is the process of tracheal unifocalization, a procedure to bring the anterior and posterior tracheas together: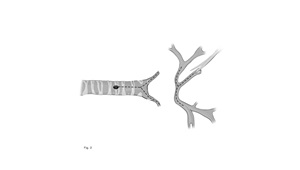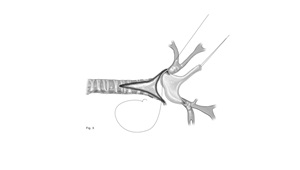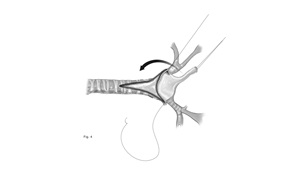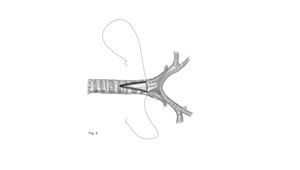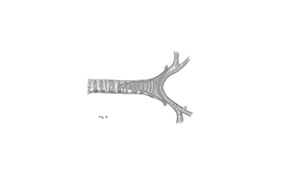 Experts in complex tracheal surgery
Tracheal abnormalities in neonates are often difficult to diagnose and life-threatening. The prevalence of congenital airway malformations is estimated between 0.2 and 1 in 10,000 live births. Just a few centers in the United States are equipped to provide the complex surgical reconstruction these newborns require. In addition, many of these children live far away from those centers, preventing them from getting the care they need. The Children's Tracheal Disorder and Reconstruction Program is never satisfied with the status quo. That's why it is continually developing new techniques and expanding services to address complex anomalies.
ECMO transport expands access
Until recently, only children born within a three- to four-hour radius of Children's Wisconsin could be transported to the hospital if they required extracorporeal mechanical oxygenation (ECMO), as many with severe tracheal abnormalities do. But in 2018, Children's partnered with Innovative ECMO Solutions, the nation's only non-facility, non-military-based extracorporeal life support transport team, to provide fixed-wing ECMO transport. Today, Children's can accept children from anywhere in the United States, including Alaska, Hawaii and Puerto Rico.
Contact us 
Children's Tracheal Disorders and Reconstruction Program provides referrals and consultation for children of all ages.
To make an appointment, call (414) 266-2460.
For consults, referrals and transport, call our Physician Call Center at (414) 266-2460.
For outpatient specialty appointments, call Central Scheduling at (414) 607-5280.