Scimitar syndrome
Provided by "Pediatric Heart Surgery — a reference for professionals"
Pathophysiology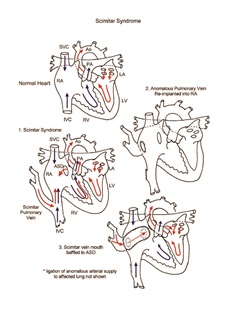 Scimitar syndrome is a rare congenital anomaly in which there is an anomalous pulmonary vein drain- ing most or all of the right lung into the inferior vena cava near the entrance to the atrium. The name is derived from the curved appearance of the anomalous vein on chest X-ray, which resembles a "Turkish sword" or scimitar. An anomalous arterial supply to the affected lung arising from the descending aorta is commonly associated with scimitar syndrome, as are intra-cardiac defects, particularly secundum atrial septal defects. Hypoplasia of the right lung can occur, with consequent rightward displacement of the mediastinum.

Depending on the degree of left to right intracardiac shunting and right lung hypoplasia, the patient with scimitar syndrome may present with recurrent respiratory infections and mild exertional dyspnea (older children and adults), or with severe disease in infancy. The latter presentation is characterized by cyanosis, respiratory distress, congestive heart failure, and pulmonary artery hypertension.


Surgical technique
Achievement of unobstructed drainage of pulmonary venous return to the left atrium is the goal of surgery. In addition, the anomalous systemic arterial supply to the abnormal pulmonary lobe(s) is ligated. Associated intracardiac defects also are addressed at this time. When isolated scimitar syndrome is not associated with intracardiac defects, right thoracotomy with direct reimplantation of the anomalous pulmonary vein to the left atrium can be done without the need for cardiopulmonary bypass. When associated with intracardiac defects, or when direct anastomosis of the anomalous pulmonary vein to the left atrium is not possible, cardiopulmonary bypass is used. Usually, the scimitar vein is anastomosed to the right atrium, and an intracardiac baffle or patch is constructed to redirect the anomalous venous drainage across an atrial septal defect to the left atrium. Alternatively, when the insertion of the anomalous pulmonary vein is near the mouth of the inferior vena cava, an intracardiac baffle may be all that is required. Any additional intracardiac defects are addressed at this time. Cardiopulmonary bypass time required to complete repair is usually short to moderate. In small patients, however, a brief period of deep hypothermic circulatory arrest may be required during the portion of the repair at the inferior vena cavoatrial junction.

In cases where there is marked pulmonary parenchymal change and/or severe hypoplasia of the right lung, right pneumonectomy is a reasonable option. Pneumonectomy eliminates the left to right shunt and anomalous arterial supply.
Postoperative considerations
The postoperative course following repair of scimitar syndrome is related to the degree of congestive heart failure, respiratory compromise, and pulmonary artery hypertension encountered preoperatively. Older patients who present with mild symptoms will likely have an uncomplicated recovery. Infants presenting with severe pulmonary artery hypertension are likely to have a more involved and prolonged postoperative course.

Invasive monitors used include arterial and central venous catheters. An LA line is used when needed for hemodynamic management. LA pressure acts as a surrogate for left ventricular end diastolic pressure, an excellent indicator of left ventricular performance. Non-invasive monitors include NIRS (near infrared spectroscopy) probes to assess adequacy of regional and global perfusion and traditional pulse oximetry. Vasoactive agents might include epinephrine and/ or milrinone. Numerous other agents are available and are tailored to the specific needs of the patient, targeting adequate oxygen delivery to the tissues of the body and optimization of cardiac output.

Postoperative complications can include phrenic nerve injury, as the operative field is adjacent to the right phrenic nerve. Postoperative bleeding is uncommon. Thoracic duct injury is a rarely encountered complication. Prolonged mechanical ventilation is a potential complication for the infant who presents with severe symptoms. Cardiac rhythm disturbance is uncommon, but more likely in patients who have repair of associated intracardiac defects.

Intracardiac pressures should be normal following surgery. Patients who present with pulmonary artery hypertension may have persistence of this for some time postoperatively.