Heart Safe School designation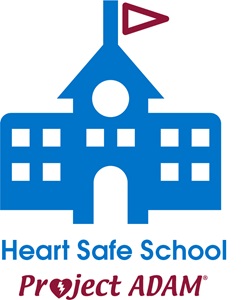 Project ADAM Heart Safe School designation is attained by schools upon successful implementation of a quality sudden cardiac arrest program of awareness, training and effective emergency response to promote a heart safe environment for students, visitors and staff as outlined within the Heart Safe School Checklist. For educational Heart Safe School program resources and videos and to learn about our national program, please visit Project Adam.
What is the need?
Sudden Cardiac Arrest (SCA) is a leading cause of death in the U.S., taking the lives of over 326,200 every year in the community.
The current average survival rate of SCA in the community is approximately 10.6%.
Approximately 20 percent of a community is in its schools on any given day, including students, teachers, staff and family members. A focused effort on cardiac arrest preparedness in schools is critical to protecting our children and others in the school community.
What is a Heart Safe School?
A school that is prepared to respond to a sudden cardiac arrest by:
Ensuring AEDs are available and accessible.
Having a written plan and team of CPR/AED-trained staff ready to act in an emergency.
Conducting cardiac emergency response practice drills.
Heart Safe School designation is active for three years. Project ADAM support is available for schools looking to renew their designation.
What are the benefits?
Being prepared to appropriately respond to sudden cardiac arrest on campus, increasing the potential to save the life of a student, staff member, or visitor.
Free school consultations, templates and videos to support schools in earning their designation.
Heart Safe School celebration and a personalized school banner to promote your designation.
How does a school become Heart Safe?
In collaboration with your school administration, conduct a Cardiac Emergency Preparedness Assessment of your individual school.
After the assessment, reach out to your Project ADAM team for any questions or assistance.