Patient story
A child's visit to a hospital can often be made positive by providing a few added touches.
Sam's story
When Heather Haas describes what it's like taking her son Sam to medical appointments, words like "easy" and "carefree" don't often come up.

Sam is autistic and primarily nonverbal, making long waits in the doctor's office a problem. When it gets to be too much for him, Sam has been known to just get up and leave, and now that he's a strapping 175-pound 15-year-old, it's not so easy to persuade him otherwise.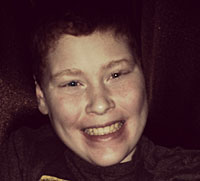 So, along with the normal anxiety that came with being told her son needed an MRI to examine a mysterious swelling in his chest, Heather and her husband, Joe, also had to worry about keeping Sam calm through the whole ordeal. In the past, Heather had told other providers ahead of time about Sam's special needs, but she never got the sense her concerns were being fully heard. Many seemed to think she was exaggerating.

Then came the call from Suzanne Ducett, a pediatric imaging nurse at Children's Wisconsin, three days before the appointment.

"She wanted to talk with me about how they could make it as easy as possible for Sam, and honestly that is the first time anyone has ever done that with us," Heather said. So before we even arrived, we were incredibly impressed.

Heather said Suzanne also made calls to other medical professionals at Children's, coordinating efforts to make sure the family's visit went as smoothly as possible.

When it came time for talk to become action, the team at Children's didn't disappoint.

"I don't think my husband or I even sat down before they just came and took Sam into his room," Heather said. From the time we walked into Imaging, and when they took him in for his MRI, it was probably five minutes. That is absolutely outstanding.

Thanks to all the preplanning, Sam's check-in process was expedited, he was wheeled into the department – his preferred mode of transportation – and he took his electronic tablet in with him until it was time for the scan. An anesthesiologist also was ready with a shot in case Sam needed sedation before going under. In every other instance, Heather said, he had needed that, but this time, the team had the anesthesia mask on before Sam had a chance to even worry about it.

Meanwhile his parents were able to relax while they waited, getting regular updates from staff that everything was going just fine.

By the time, Sam woke up from the anesthesia, the Imaging team had his shoes on, because they learned from talking to his mom that Sam would want to leave right away. The family was out the door and on their way home with no setbacks. The success at the appointment spilled over to the rest of the day as well.

"Usually when he comes out of that anesthesia or any sedation, he is very unhappy, and he just wasn't at all that day," Heather said. There was no fussiness. The rest of the day was great, and it went very, very well.

The best news came just a couple days later when the family received word that Sam's scan revealed nothing out of the ordinary.

Suzanne said calling families before appointments is just a typical part of her day, all with the goal of making sure Children's delivers the best and safest care. Also pretty standard is hearing comments like Heather's about how it's the first time any hospital has taken the time to do make that call. "I get that a lot," Suzanne said.

"There are a lot of children out there who need a little bit more in the way of planning and service, and we want to make sure we're providing that," Suzanne said. We want to keep their child as safe as we can and let them know they're in good hands and that they're confident that they're in a good place. If we can do anything to help these families and make their day go a little bit smoother, then that's what we should be doing.

Center of Excellence


Children's Wisconsin's imaging department was re-designated as a Diagnostic Imaging Center of Excellence by the American College of Radiology. Our imaging department was the third children's hospital in the nation to receive this prestigious credential.