Castle.Proxies.HeroBannerViewModelProxy?.GoogleAnalyticsEventAction
Same-day care from Children's Wisconsin
Available online and in-person
If your child needs care today, don't delay. Children's Wisconsin offers several safe and convenient same-day care options to treat everything from minor injuries and illnesses to emergencies. As the state's only health care system 100% dedicated to kids, you can trust Children's Wisconsin to provide the best and safest care for your family.
Need help deciding?
Resources are available to help you decide where to get your child care. Learn more.
Need help deciding?
If your child is experiencing a medical emergency, call 911 for help now.

Use our symptom checker to help make informed decisions on what kind of care your child might need.

Children's Wisconsin's urgent care does not provide preventive care services like physicals or vaccines. Your child's primary care doctor can provide these services.

The Emergency Department is for more serious illnesses and injuries. Below is a general guide to help you determine whether to seek urgent care or emergency care. You can also read this blog post to learn more about how to decide between taking your child to an urgent care clinic or to the ED.
Seek urgent care for:
Earache or ear infections
Sore or strep throat
Sinus infections
Colds or flu
Pink eye or mild eye complaints
Urinary tract infections
Persistent cough not accompanied by breathing difficulties
Minor vomiting or diarrhea
Mild abdominal issues
Minor burns or cuts
Hives, rashes or bug bites
Diaper rash
Bruises or sprains
Lice, scabies or ringworm
Minor drug reactions
Minor injuries
Mild asthma exacerbations/mild wheezing
Croup
Seek emergency care for:
Major injuries
Severe pain
Worsening of a chronic illness or problem
Chest pain
Severe headache
Severe bleeding that will not stop
Choking
Poisoning
Altered consciousness
Seizures
Drug overdose
Post-operative complications
Injuries of the fingernails or nailbed
Intravenous fluids or antibiotics
Severe asthma exacerbations
Psychiatric emergencies
Evaluations for abuse or after assault
Download our app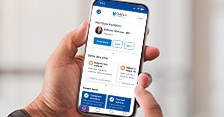 The Children's Wisconsin app gives you the convenience of having your child's health care at your fingertips. You can now access MyChart, video visits, scheduling and our symptom checker and so much more in one place.