Patient Stories
May 04, 2021
For two little girls with a rare condition, Children's Wisconsin offered renewed hope
---
As a parent, one of the joys throughout pregnancy is experiencing the many ultrasounds with your baby. Hearing a heartbeat, seeing fingers and toes, and watching the body grow is a magical moment for any parent-to-be. But when a birth defect is detected, especially a rare one, a parent's feelings quickly shift from excitement to fear. This was the case for two families, the Lochers and the Haaks.
During their respective 20 week ultrasounds, each expecting mother found out that their baby girls' bladder was not seen in the usual location inside their bodies. This meant one thing: bladder exstrophy. 
Bladder exstrophy is a rare condition in which the bladder is turned inside out and develops outside of the body. The lower abdominal wall and pelvic bone does not form correctly and the bladder pushes out through an opening in the lower belly. This birth defect of the pelvis has no known cause and occurs in about one in every 50,000 births, with a slightly higher rate among girls.
"You never want to hear that there is something wrong with your baby," said Roberta Locher, mother of now 6-year-old Cassie. 
A center of excellence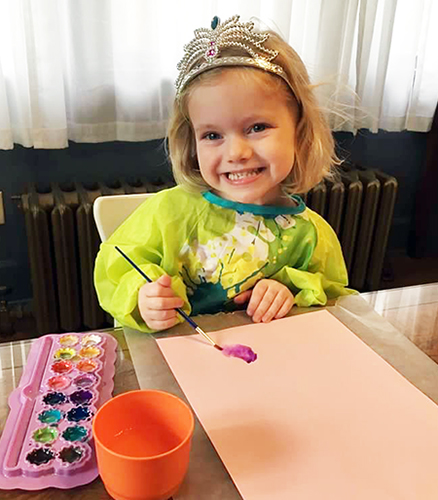 Once diagnosed with bladder exstrophy, each family was referred to John Kryger, MD, medical director of the Children's Wisconsin Urology Department, and they also saw specialists at the Fetal Concerns Center. From here, Dr. Kryger and his urology team of Travis Groth, MD, and Elizabeth Roth, MD, took care of the rest. The team is supported by Coleen Rosen, DNP, Rick Arzenhofer, RN, and Molly Rosera, RN, who all have expertise in bladder exstrophy care.
"We got to see Dr. Kryger before she was born. He sat with us and walked us through what bladder exstrophy was, what to expect and what the plan was," said Ashley Haak, mother of now 7-year-old Kyleigh. "We had really good preparation, even though it was still scary." 
Dr. Kryger, who is also chief and professor of pediatric urology at the Medical College of Wisconsin, is among the team of surgical experts that have been mentored by Michael Mitchell, MD — the doctor who pioneered an innovative surgical treatment for children diagnosed with bladder exstrophy. This reconstructive surgery, known as complete primary repair of exstrophy (CPRE), fixes in one surgery what previous treatments took three procedures over several years to accomplish. 
What makes the CPRE surgery exceptional is that it doesn't occur until two to three months after the child's birth. This means that parents and baby are able to spend time together and bond immediately.
"For a child born with bladder exstrophy, there is no immediate danger to them," said Dr. Kryger. "The child is cared for with the same protocol taken for any newborn." 
The only additional precaution taken at home is when the baby's diaper needs to be changed. The bladder, which is on the outside of the body, must be covered routinely with a simple plastic-like wrap, which protects it from irritation and discomfort.
"We spent that first month just keeping her bladder covered so it wouldn't be irritated or uncomfortable," said Ashley.
Assembling the team
While families are bonding with their baby, a team of surgical experts from Children's Wisconsin, Boston Children's Hospital and Children's Hospital of Philadelphia begin to assemble and prepare to perform the complete primary repair. This is done with under the mentorship of Dr. Mitchell, who is still actively involved in bladder exstrophy care. This extensive surgery minimizes the amount of hospitalizations needed for the child over time.
Because bladder exstrophy is so rare, a pediatric urologist has few opportunities to develop expertise and experience with this complex surgery. Many surgeons may only perform this surgery once every several years. But Children's Wisconsin has partnered with Boston Children's Hospital and Children's Hospital of Philadelphia to form the Multi Institutional Bladder Exstrophy Consortium (MIBEC). Whenever a case presents at one of the three MIBEC hospitals, the pediatric urology experts all consult on the case and travel to the hospital to assist in the surgery. This MIBEC partnership is what allows for a higher volume of experience and innovation of surgical care for children diagnosed with bladder exstrophy.
"The surgery typically lasts about 10-12 hours," said Dr. Kryger. "During this time, we are able to reconstruct the complex pelvic anatomy completely."
Once surgery is completed, the child is then placed in a Spica cast, a lightweight, secure cast lined with soft GORE-TEX and padding that covers the baby's legs, hips and abdomen all the way up to their chest. Six days later, the child is discharged from the hospital and is able to head back home with their parents.
"Following surgery, parents are really caring for an otherwise normal baby," said Dr. Kryger. "We see them back a week after discharge, six weeks after that to remove the cast, and from there we move to checkups every three months."
A bright future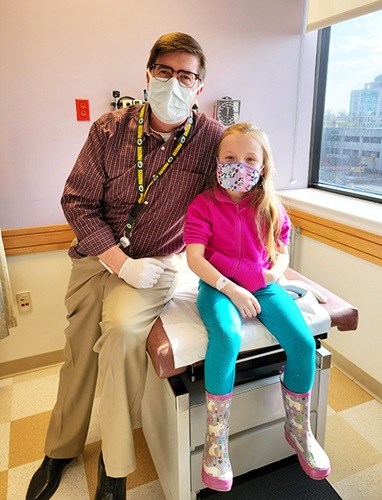 Now several years out from their surgeries, Cassie, 6, returns to see Dr. Kryger every six months, while Kyleigh, 7, has transitioned to visits once a year.
"I like getting the jelly on my belly," said Cassie, referring to her regular ultrasounds with Dr. Kryger, when asked about her favorite part about coming to Children's Wisconsin. "I like the jelly too," Kyleigh added.
Dr. Kryger and team works hard to ensure that bladder exstrophy patients can lead otherwise normal lives. And Cassie and Kyleigh are doing just that.
"Cassie climbs trees and was enrolled in karate with her older sister," said David, Cassie's dad. "People don't even think to ask if something like this would have occurred in her past."
"Kyleigh has one of the biggest hearts I've ever seen in a little kid," said Ashley. "She loves helping other kids learn, especially her little brother."
Bladder exstrophy is not always a one-size-fits all diagnosis. The journey is ongoing, with varying ups and downs. Some challenges children with bladder exstrophy will likely face throughout their life revolve around their bladder control and function, urinary tract infections and risks of kidney damage.
No matter what their children may face, Roberta and Ashley feel reassured by the outstanding care provided to their child by Dr. Kryger and his team.
"We look ahead to possibilities in Cassie's journey without being worried about them," said Roberta. "This team is amazing."
Cassie and Kyleigh will continue to receive the best pediatric care for bladder exstrophy from the Children's Wisconsin Urology Department, and are looking forward to the next time they get to see Dr. Kryger.
"The team is so caring and nurturing," said David. "Whether coloring or having a joke with some of the nurses, Cassie sees Dr. Kryger and his team as friends."