Patient Stories
Aug 22, 2018
Clinical trials give kids with cancer renewed hope
---
In October 2016, then 11-year-old Joseph Shapiro was diagnosed with acute myeloid leukemia (AML), a rare form of cancer that affects the bone marrow and blood. He went through the standard chemotherapy treatment protocol at a distinguished hospital in Chicago and after 5 months of inpatient chemotherapy, his treatment was complete.
One year later, the cancer was back.
Devastated but determined, Joseph's parents, Dov and Sharon, got to work researching hospitals throughout the Midwest.
"When AML comes back, you need a bone marrow transplant," said Dov, a pediatrician himself in Chicago. "Our oncologist told us we really needed to look at Children's Wisconsin. We were a little hesitant because of the distance, but he said that the program is cutting edge and has great outcomes."
When Dov and Sharon first met David Margolis, MD, program director of Bone Marrow Transplant at Children's Wisconsin's MACC Fund Center for Cancer and Blood Disorders, it was over the phone. When they hung up, Sharon was crying. Dov asked her why and she said, "I was just talking to the man who is going to save my son."
Change of plans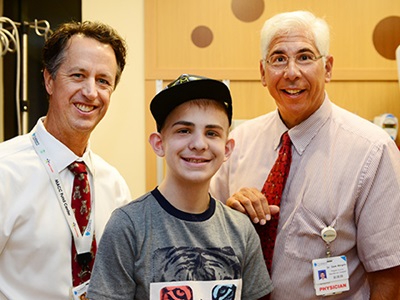 Their original plan was to have chemotherapy in Chicago and then come to Children's Wisconsin for the bone marrow transplant. In fact, the arrangements had all been made. But those plans were quickly abandoned after they came up to Milwaukee and met in person with Dr. Margolis' colleague Rachel Phelan, MD, and oncologist Michael Burke, MD.
"When we showed up, Dr. Burke and Dr. Margolis' team were already aware of all of Joseph's medical history and had three tailor-made treatment plans developed. They had everything all ready to go," said Dov. "We were so blown away by the options they were offering that nobody else was offering. My wife and I looked at each other and there was no hesitation. We knew."
Of the three options Dr. Burke and Dr. Margolis each offered, Dov and Sharon ultimately went with experimental protocols for both the chemotherapy phase and the bone marrow transplant.
For chemotherapy, Dr. Burke had been leading a clinical trial since the fall of 2017 for patients with a recurrence of AML. It was showing promising results.
"The concept behind the protocol is the belief that for patients who have a relapse of leukemia, one reason they didn't respond well to treatment is because their leukemia is resistant to chemotherapy," said Dr. Burke.
To help combat that, Dr. Burke was giving patients two drugs — called epigenetic drugs — prior to starting chemotherapy. These drugs worked together to reduce the leukemia's resistance to chemotherapy. So far, six patients across the United States have been enrolled and treated on phase I of this clinical trial with an ultimate goal of 18-24 patients. Only 13 centers in the United States are currently participating, including Cincinnati Children's Wisconsin, Children's Wisconsin of Los Angeles, Johns Hopkins Children's Center and Texas Children's Wisconsin.
"There have been some very encouraging responses," said Dr. Burke. "The therapy has been well tolerated."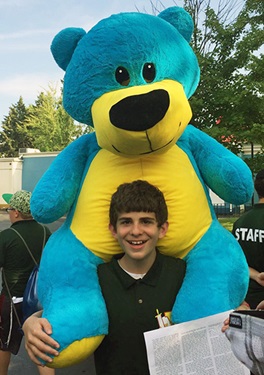 Although Joseph was not able to be enrolled on this clinical trial as it was temporarily closed at the time, he was treated with the therapy at Children's Wisconsin under the supervision of Dr. Burke. Joseph received five days of the epigenetic drugs followed by a five-day course of chemotherapy. He then spent another few weeks in the hospital as his blood counts recovered.
"Every other hospital was recommending we do a minimum of two rounds of chemotherapy," said Dov, "but Dr. Burke got him in remission after one round."
"Joseph was a poster child for the treatment," said Dr. Burke. "He achieved a complete remission with no evidence of leukemia we could identify and experienced no toxicities from the therapy. It was perfect."
Now in remission, it was time for the bone marrow transplant.
The biggest concern with a bone marrow transplant is sometimes the new bone marrow — the new immune system — will actually attack the person's body and organs. This is known as graft vs. host disease and it occurs in anywhere from 10-40 percent of cases, depending on a variety of factors.
"Graft vs. host is a significant obstacle for long-term quality of life survival," said Dr. Margolis. "It's a real risk."
Setting a new standard
Since 2015, Dr. Margolis and his team (led by local Principle Investigator Julie Talano, MD) have been participating in a cutting-edge clinical trial for a blood stem cell method called Alpha/Beta T Cell Depletion. After the blood stem cell donor is collected, the cell processing team uses a special machine to remove the alpha/beta T cells that are believed to cause graft vs. host disease while leaving the gamma/delta T cells that are believed to help fight the leukemia as well as some infections.
"We are very pleased with the preliminary data," said Dr. Margolis. "Outcomes have been very positive."
Joseph had his blood stem cell transplant on May 24 and spent five weeks in the hospital recovering. Most kids who have had a bone marrow transplant are on large doses of immunosuppressant drugs, which puts them at high risk for infections and can negatively affect the body and kidneys. But thanks to the new treatment, Joseph is not on a single immunosuppressive drug.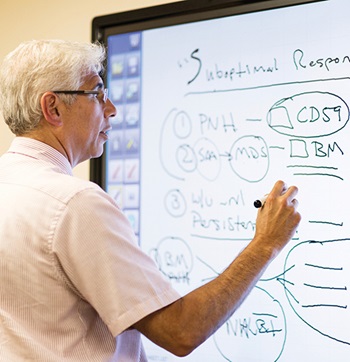 "This is the future of bone marrow transplantation and Children's Wisconsin is on the forefront," said Dov. "I say that not only as a parent but also as a doctor."
In fact, while this treatment has been used in Europe for the last six or seven years, the principles of the protocol are exactly the same as a technique Children's Wisconsin, the Medical College of Wisconsin and Froedtert Hospital pioneered in the early 1990s, albeit with updated technology. In the United States, Children's Wisconsin and Children's Wisconsin of Philadelphia have been working together as the first teams to provide this novel treatment to patients.
"At Children's Wisconsin, they're not afraid to make a change if they're convinced it's going to help their patients. They're not afraid to try something new," said Dov. "Most places don't like to push the envelope. They do the standard treatment and do it as best they can. That's not the attitude at Children's Wisconsin. They say, 'Okay, this is the standard, how can we do better?' They're moving the standard."
In addition to our incredible corporate and non-profit partners, programs like this are supported by the remarkable generosity of individual donors as well. Donate online now and you can help us help kids like Joseph.
That ability to constantly strive for better — the commitment to finding safer and more effective treatments — is made possible in large part by groups such as Gold in September (G9). G9 is a non-profit dedicated to raising funds for pediatric cancer research. It was formed in 2012 by then 11-year-old Annie Bartosz after her twin brother, Jack, lost his seven-year battle with cancer. Just four years later, Annie's dad would pass way from long-term effects of cancer treatments he received in his 20s. Annie, along with her mom, Sarah, took their grief and channeled it toward doing whatever they can to help other kids with cancer, kids like Jack and Joseph.
"Simply put, research for pediatric cancer is underfunded, accounting for only 4 percent of the National Cancer Institute's annual budget," said Dr. Margolis. "Children's Wisconsin is fortunate to have not only G9 but also Midwest Athletes Against Childhood Cancer and Northwestern Mutual supporting our work."
Now 13, Joseph is doing great. He comes back to Children's Wisconsin weekly for follow-up visits and still has to be cautious as it will take 6-9 months for his new immune system to be fully reconstituted. But he's feeling good, getting his strength back and preparing for his Bar Mitzvah. And for him, this rite of passage will be especially meaningful as he transitions both into manhood as well as into a life free of cancer.