Celebrating 40 years of letting kids be kids
---
In March 1982, Carlile Schneider had an idea. She wanted to establish a program at Children's Wisconsin — then known as Milwaukee Children's Hospital — focusing on the psychosocial aspects of care and family care. Through her vision, Children's Wisconsin renewed its commitment to kids and families with a bold, innovative program: Child Life.  
But what exactly is Child Life? Any family who has ever spent time at Children's Wisconsin knows this team well. For those who haven't, the Child Life and Creative Arts Therapies Program — as it's known today — is a vital piece of child's care at Children's Wisconsin. To put it simply, child life specialists let kids be kids. Through play, preparation and providing support during procedures, child life specialists help kids and families cope with the stress and anxiety of their illness, injury and and/or treatment. By having the hospital experience be less scary, kids are able to heal more fully and quickly.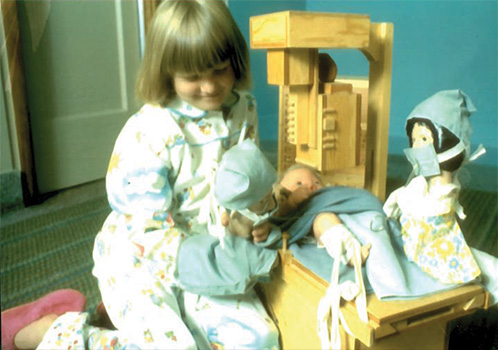 This year marks the 40th anniversary of this essential team at Children's Wisconsin. In these last four decades of fun, games, connection and support, much has changed.
The program underwent a name change. Originally it was known as the Child Life Department. But approximately 10 years ago, the program expanded to incorporate art and music therapy and has since updated its name to Child Life and Creative Arts Therapies.


Just like the kids they care for, they've grown! Originally just three people, the program now boasts a team of 34 members who specialize in recreation therapy, art therapy, music therapy and child life services.


Child Life has evolved from providing care to patients and families in rooms and accompanying children with IV poles for a walk around the block, to more individualized care and visits to the Healing Garden.


Initial programming consisted of coordinating playroom sessions twice a day with bedside interventions scheduled in between. Today, they utilize a clinical practice approach that focuses almost exclusively on individual sessions.


Early teen programs were held in a classroom, where they'd rent VHS movies and order pizza. Today, there is the state-of-the-art Teen Lounge full of the latest video games and other activities.


When initially developed, services were limited to the Milwaukee hospital only. Today, care is provided throughout the system, including at three Child Advocacy Centers and at the Children's Wisconsin Hospital in Neenah.
To help celebrate and honor the immeasurable impact the Children's Wisconsin Child Life and Creative Arts Therapies Program has had on so many kids and families, some former, long-term members of the team reflected on their role, the program and the importance of kids being kids. 
Maggie Butterfield, 1982-2022
"Every child has a voice — one that's often not easy to hear. But the Child Life and Creative Arts Therapies Program helps amplify that voice. I started as a volunteer and then became the first child life specialist at Children's Wisconsin and it was my privilege to bring that voice forward. Because of this program, children and families found a voice amidst their medical needs. With that came an understanding and comfort. Children and their families found delight in the play, despite their illness. Families in their darkest moments requested me as a child life specialist to be with them. Child life is so much more than what you see. It is a connection that is deep and meaningful, and one that I will always cherish."
Stephanie Clayton, 1982-2021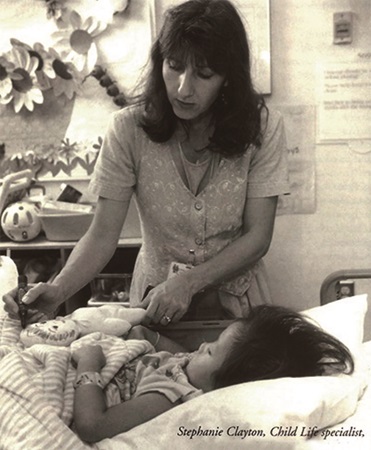 "As I reflect on the impact the Child Life and Creative Arts Therapies Program has made on the healing of patients and families over the past 40 years, there continues to be one important constant — passion and advocacy for all. I was lucky to be a part of the original 1982 mighty Child Life team of three. The hospital building was old, our playrooms were small, but we were able to open the magic of Child Life to the medical team. Nursing embraced our partnership and quickly advocated for more child life specialists. We became an important member of the unit multidisciplinary team. Patients and families requested a child life specialists — or that enduring early term "the play lady" — and our outreach grew. The recent Children's Wisconsin Facebook post of child life specialist Bella engaged in medical play with a child was a familiar reminder of the importance of the Child Life. I am truly grateful to have been part of the early team and part of the evolution of our program. I look forward to watching the continued success of the Child Life team."
Lori Gottwein, 1985-Present
"I feel privileged to be a part Children's Wisconsin and a member of Child Life and Creative Arts Therapies. I first joined the team in 1985 as one of six child life specialists working within the six story, red brick building at 17th Street and Wisconsin Avenue. Despite the changes in the program's structure, size and name, our focus has always remained on the patient and family. Our goal is to provide services and interventions to improve quality of care, alleviate stress and trauma, and empower patients and families to make decisions related to their care. It has been an amazing journey and I can't help but wonder what the next 40 will bring!"