Patient Stories
Aug 31, 2016
Childhood cancer survivors turned Paralympic champions
---
As adults, both Hailey Danisewicz and Nate Hinze won medals as they battled some of the top athletes in the world and represented the United States in the 2016 Paralympic Games. While the paths they took to get to Rio de Janeiro may have differed, their journeys started from the same place. As kids, both Hailey and Nate successfully battled bone cancer at the MACC Fund Center for Cancer and Blood Disorders at Children's Wisconsin.
"I'm so thankful I was at Children's Wisconsin," Nate said. "The thing I remember most is the amazing staff. Amy Newman, Dr. Donald Hackbarth, my two nurses, Karen and Mandy, the list goes on and on. They do become your family."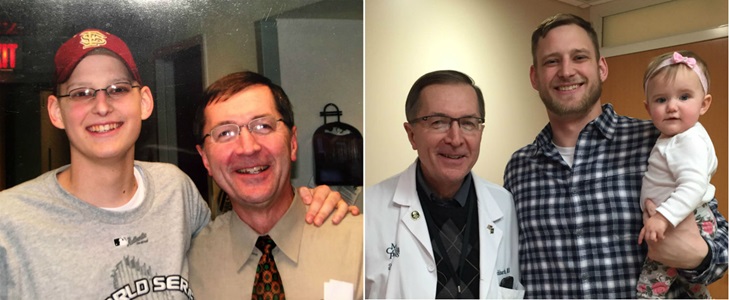 Hailey, too, fondly remembered the strong familial bond she developed with her care team. "They became such a big part of the journey," she said. "They saw me at my worst, and years later were able to be a part of my best. I'm just so grateful for them all."
In April 2003, then-12-year-old Hailey was diagnosed with osteosarcoma in her left shinbone. She underwent chemotherapy and limb-sparing surgery, but due to severe infections and various other side effects, she did not recover full function of her leg. As difficulties persisted over the next two years, Hailey ultimately opted to have the leg amputated just above the knee.
Right around this same time — March 2005 — cancer was discovered in Nate's right shinbone. At 17 years old, he, too, had chemotherapy and surgery. Just like Hailey, Nate experienced lingering side effects from the surgery, specifically weakness and nerve damage. While still able to walk, he was left unable to run or jump.
"Treatment for pediatric bone cancer, which commonly includes chemotherapy and limb-sparing surgery, is intense and some degree of permanent physical limitations are expected," said Amy Newman, a pediatric nurse practitioner who worked with both Hailey and Nate. "Hailey and Nate both had challenges throughout their treatment, but they never let their complications discourage them. It's been incredible to see what they've overcome and how much they've achieved. They are an inspiration to us all."
Life after cancer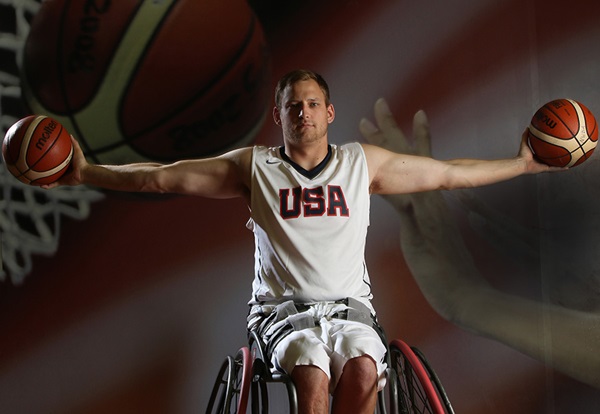 To support patients and families affected by cancer and help them live healthy, happy lives, Children's Wisconsin developed the Next Steps Survivorship Program. At the time of Hailey's and Nate's treatments, Children's Wisconsin survivorship services were not yet fully developed, but Hailey credits her long-term care and education meetings with Deb Schmidt, APNP, for helping her transition to life after cancer.
"When I finished treatment I thought everything was over and I was ready to move on with my life. I very soon realized that there is still a lot of stuff you have to deal with as a long-term cancer survivor, both physically and emotionally," Hailey said. "Deb and everyone else who was a part of the program made that process so much easier to understand, so much easier to digest."
Those early meetings were the basis for the current Next Steps Survivorship Program, which now includes access to resources such as job assistance, scholarship opportunities and how to monitor and manage related health problems. Children's is the only health care provider in Wisconsin that provides these critical survivorship services and your donation can help maintain programs like Next Steps.
Prior to their respective cancer diagnoses, Hailey and Nate were multi-sport athletes. Hailey played "everything," but especially loved volleyball, basketball and soccer, while Nate played football, basketball, track and baseball. But in the aftermath of cancer treatment, they had to learn how to channel their athletic passions while adapting to new physical limitations.
"Cancer took away my favorite hobby — playing sports. But it didn't take away my competitive attitude," Nate said. "I always loved to compete. Whatever I'm doing, I try to win. And that never left."
Enter: wheelchair basketball. Now 28, Nate refers to his discovery of wheelchair basketball as a "perfect storm" of events. In 2006, Nate went to the NCAA Final Four in Indianapolis for his Make-A-Wish. There he stumbled upon a wheelchair basketball demonstration, giving him his first exposure to the sport.
Later that year, he decided to attend the University of Wisconsin-Whitewater, which happens to be one of just 12 colleges in the country with a wheelchair basketball team. One night freshman year, sitting in his dorm room, bored and alone, Nate decided to seek out the coach and ask to be the team manager.
"I'm not going to let you be the manager," Nate recalled the coach telling him. "I'm going to make you play."
After spending his freshman year developing his skills on the intramural team, Nate would go on to become a three-time Intercollegiate Wheelchair Basketball Champion, the 2011 Player of the Year, an Academic All-American, a gold medal winner at the 2011 Parapan American Games, and a bronze medal winner at the 2012 Paralympic Games.
"When I found wheelchair basketball, I instantly fell in love," Nate said. "No one cares how you got disabled or that you are disabled. All we care about is playing basketball."
New challenges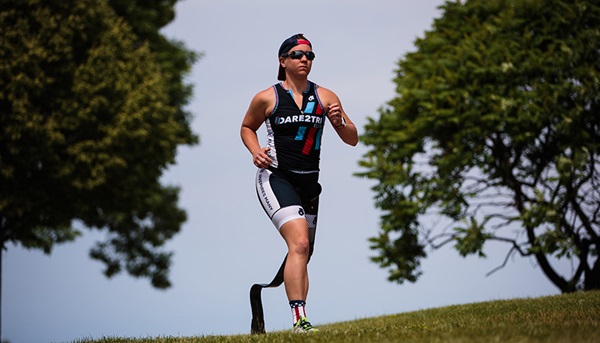 Hailey's path to the world of paratriathlons was a little less straightforward. Once recovered from her amputation, Hailey took an eight-year hiatus from organized, competitive sports.
"I felt like I had this big piece of my identity that was taken away from me," Hailey said. "I just never found the thing that I really clicked with."
In 2010, as a freshman at Northwestern University, Hailey applied for an internship at the Great Lakes Adaptive Sports Association, an organization for athletes with physical disabilities. Director Keri Schindler offered Hailey the position, but on one condition — she had to do a triathlon that summer.
"I think she saw that I was yearning to get back into sports and I didn't know how to go about doing it," Hailey said. "In that offer, she basically was taking away all the excuses that I had ever created for myself."
With no background in running, cycling or swimming, triathlons held no interest for Hailey. But never one to back down from a challenge, she accepted the offer. Her first ever triathlon was the Chicago South Shore Triathlon in 2011. "I finished," she said. "It was certainly not fast but I finished."
From that initial event, Hailey was hooked and her career quickly took off. "I had eight years of competitive pent-up energy that I was ready to let loose."
Children's champions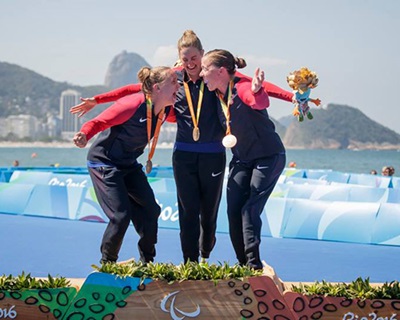 In 2012, Hailey made her International Triathlon Union (ITU) debut at the 2012 Paratriathlon World Championships. She won bronze. The following year she took home gold, along with a silver medal at the USA Paratriathlon National Championships. In 2014 and 2015, she picked up two more silver medals at the World Championships.
While Nate won bronze in London in 2012, Hailey, now 25, will be competing in the Paralympics for the first time (in fact, this is the first time that the paratriathlon is an official event).
"This is the first time I'm competing for something so much bigger than myself," Hailey said. "I'm going to be representing my country, I'm going to be representing the sport of paratriathlon. It's just such a honor to be part of that."
The 2016 Paralympic Games took place September 7–18. Approximately 4,300 athletes from more than 160 countries competed in 528 medal events in 22 different sports.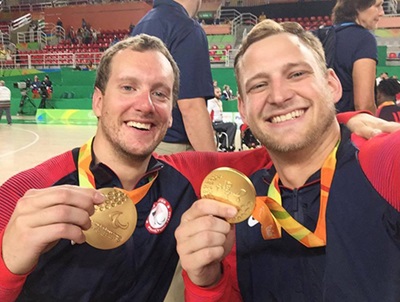 At Children's Wisconsin, we refer to every kid who overcomes an illness or disease as a "Children's Champion." Nate and Hailey are champions in the literal sense, as well. At the 2016 Paralympic Games, Nate and the men's wheelchair basketball team won the gold medal while Hailey won the silver medal in the Paratriathalon.
Existing in various forms since 1960, the Paralympic Games as presently organized under the International Paralympic Committee (IPC) started in 1989. 
"A lot of people say 'the regular Olympics,' but it's not the 'regular Olympics.' There's the Olympics and there's the Paralympics," Nate said. "We're athletes who grind and work and put in the same amount of effort as any Olympian. It's the highest athletic achievement that we can accomplish. It's the real deal."