Patient Stories
Jan 22, 2021
Grace's super ears: How one little girl is defying the odds and moving mountains
---
To see Grace now, you'd never know the dramatic entrance she made into the world.
When Grace was born — 10 weeks early via emergency C-section — she wasn't breathing and her heart wasn't beating. For 20 minutes, doctors took turns performing CPR until suddenly she took her first life-fulfilling breath and her heart started pumping.
Grace had also been born with bleeding and a build-up of fluid in her brain. The hospital at which she was born was not equipped to provide her the care she needed, and when she was about a month old her parents transferred her to Children's Wisconsin.
"When we got her to Children's Wisconsin, Grace started to thrive because her needs were being met," said Grace's mom, Katie. "I really can't even explain how different the experience was at Children's Wisconsin."
As Katie and her husband, Jake, quickly immersed themselves in Grace's diagnoses, they were supported by teams of pediatric experts in neurology, gastroenterology, ophthalmology and physical, occupational and speech therapy.
"At the hospital where Grace was born, we were told she would never walk or talk or eat or experience joy," said Katie. "And now Grace is doing all those things."
Today, 2-year-old Grace is a walking, talking miracle.
A surprising diagnosis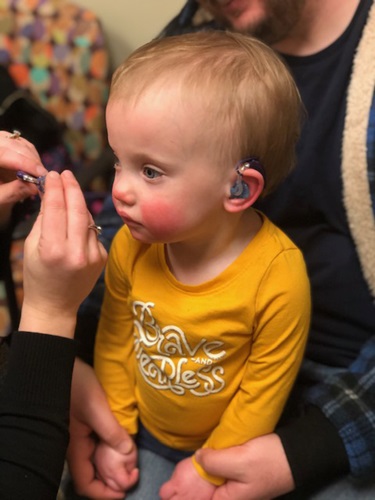 The one thing Katie and Jake didn't give much thought to was Grace's hearing. After all, she had passed her newborn hearing screening.
According to Gretchen Sackmann, AuD, an audiologist at the Children's Wisconsin Masters Family Speech and Hearing Center, it is customary to do a follow-up screening for all NICU patients. When Grace returned to have her ears re-checked when she was around 1 year old, Dr. Sackmann and fellow audiologist Brooke Zirzow, AuD, suspected mild to moderate hearing loss. Dr. Sackmann ordered an Auditory Brainstem Response (ABR) test to confirm her suspicions. Kya Grafenstein, AuD, performed the ABR test and while it showed that Grace could hear lower frequency sounds just fine, it did show she had a mild to moderate degree of hearing loss in high frequencies. Katie and Jake were shocked.
"We had no concerns about Grace's hearing because she was responding to everything," said Katie. "We had no idea she couldn't hear higher frequency sounds."
Dr. Sackmann explained that it's not totally unique to have newborns pass a hearing test and then find out later they're actually experiencing a loss, or for hearing loss to progress, but it can be a surprise to parents.
"Grace's loss is tricky because she can hear men's voices and lower consonant and vowel sounds just fine," said Dr. Sackmann. "The high frequency speech sounds, including F, S, Th, K, and Sh are the ones we're concerned with. If she can't hear those sounds, it becomes more difficult to pronounce them and then there is the risk for speech, academic and social delays."
Dr. Sackmann saw Grace for a hearing aid consultation days after her ABR test. The goal is for Grace to wear her hearing aids at least eight hours a day — a feat easier said than done for a typical 2-year-old who likes to pull things off her head.
"It is always easiest to fit an infant with hearing aids because they grow up feeling as though the hearing aids are part of them," said Dr. Sackmann. "At 1-2 years of age, children remember they didn't have them before. With Grace's hearing aids we are able to get her to normal hearing. As long as she wears her hearing aids, she has access to all that speech and language that she would otherwise be missing."
Katie and Jake keep Grace's hearing aids in as long as she tolerates them. They have Grace wear her hearing aids during her favorite activities and will intentionally play classical music with higher notes or pick kids' shows that magnify the S and Th sounds.
"We don't make a big deal out of it if Grace rips them out," said Katie. "We just say, 'Oh, let's try again,' and put them back in. Our hope is that as Grace gets older, her hearing aids will just be a regular part of her routine and she'll notice the difference in her hearing without them and make the connection."
Representation matters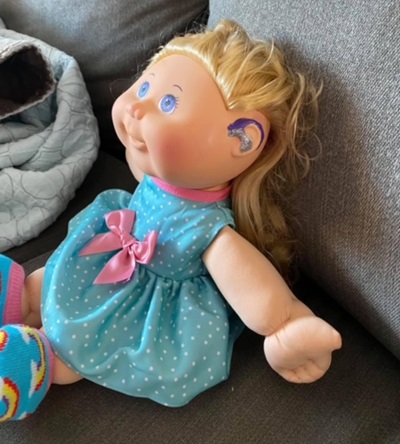 As a special education professional, Katie has made a concerted effort to normalize Grace's hearing aids, or "super ears," as they call them, along with the braces Grace uses to walk. Katie sent a picture book to her nieces and nephews called, "Gracie's Ears," and also put hearing aids on their family's Elf on the Shelf. Katie even put hearing aids and rainbow socks to match Grace's rainbow braces on a doll that looks like Grace.
"When we first found out Grace needed hearing aids, I was concerned about how much more difficult her life could be because she has braces and now hearing aids," said Katie. "I was worried about kids being cruel. Dr. Sackmann helped me see things that are out of my control and instead focus on building Grace up so that when it does happen, she knows better than to listen to mean kids."
As a mom herself, Dr. Sackmann helped Katie work through the inevitable "mom guilt" that comes with a new diagnosis.
"Dr. Sackmann has been very good about reminding me that we're doing everything we can and that none of this is my fault," said Katie. "I don't think the mom guilt would have been talked about if it had been a doctor who wasn't a mom. Dr. Sackmann understands all of that differently as a mom herself."
Katie and Jake are focused on all of the things Grace can now hear with her super ears and even started a Super Ears Club of Wisconsin to serve as a support group for kids and their caregivers.
"Representation matters and it's important for kids like Grace to see that they're not the only one wearing super ears," said Katie. "We want Grace to grow up with the mentality that it's not a big deal to be different and to celebrate the difference instead of being told there's something wrong with you."
Katie adds that it has helped tremendously to talk with caregivers who have been on this journey longer than they have and to know that what they're experiencing is very typical.
Building their team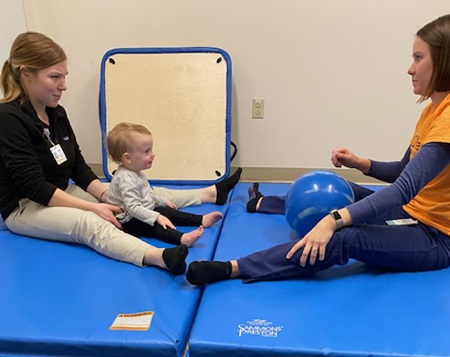 Katie feels extremely blessed and lucky to be surrounded by the expertise of the Children's Wisconsin team as she and Jake travel this journey with Grace.
"We were able to build the best team of professionals to support Grace, advocate for her and help her grow," said Katie "They all love our girl as much as we do, and they cheer her on and remind us how far Grace has come. They have become part of our family."
Katie adds that when your child is surrounded by uncertainty, it has been so helpful to be surrounded by experts who keep everyone going.
"Dr. Sackmann reminds me that we'll continue to build the team we need for Grace as she grows," said Katie. "Sometimes it's just so overwhelming, but Dr. Sackmann has helped me stay in the moment and do the next right thing rather than looking too far ahead."
Katie reflects that Grace's life is drastically different from what she and Jake were told it would be like before Grace was in the hands of experts at Children's Wisconsin.
"When people read her chart and Grace is walking and talking and doing all these things that don't match with what her chart says she should be doing, it's a reminder that Grace will do and conquer whatever obstacle comes her way," said Katie. "Grace has done everything and more. She's stubborn, tenacious, sassy and such a joy. She has been moving mountains and will continue to move mountains. The world is hers."