Children's Wisconsin receives three "Notable Heroes in Health Care" awards
---
BizTimes Milwaukee has awarded Children's Wisconsin three "Notable Heroes in Health Care" awards. These awards recognize individuals and teams in health care who are working on the front lines of the COVID-19 crisis.
Dr. Dave Lal is first to donate to new Versiti plasma program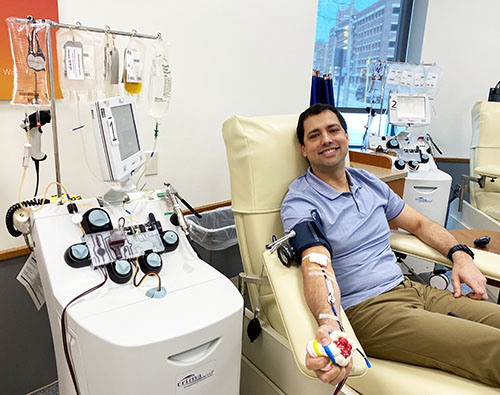 Back in March, just as the COVID-19 pandemic was starting to spread across Wisconsin, Dave Lal, MD, a pediatric surgeon at Children's Wisconsin, tested positive. Experiencing only mild symptoms, Dr. Lal got tested after learning he had been exposed to someone who was positive. He immediately stopped working and quarantined himself at home. As a physician, Dr. Lal knew the importance of isolating himself to prevent others from getting sick. And as non-time-sensitive surgeries at Children's Wisconsin were being suspended, Dr. Lal searched for other ways to help the increasing number of sick patients within the community.
That's when Dr. Lal reached out to Jerry Gottschall, MD, at Versiti Blood Center of Wisconsin. In April, Versiti launched a new convalescent plasma program to collect plasma donations from recovered COVID-19 patients to help people who are critically ill with the infection. Dr. Lal was first in line to donate.
"I had a unique opportunity to help others," said Dr. Lal. "Even in my own community, I knew people who were really struggling and were critically sick. If I could help any one of those people, it would give me much joy."
In theory, the antibodies Dr. Lal made when his body fought off the infection could be used to fight the virus in someone whose own immune response was failing. The now FDA-approved treatment offers hope to the thousands of patients who continue to be diagnosed with COVID-19. It is used by hospitals throughout the country for the most severely affected patients.
In total, Dr. Lal donated eight times until he reached the limit set by the FDA. Dr. Lal didn't stop there though. Through local media and social media, he encouraged others to donate as well. Thanks in large part to the example Dr. Lal set early on, to date Versiti has received many donations to their convalescent plasma program, which has the capability of helping countless people.
Mental and behavioral telehealth team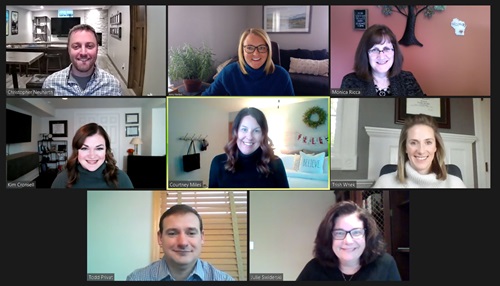 Kids across Wisconsin are facing a mental and behavioral health crisis. They have high rates of anxiety, depression and suicide and not enough access to care. When COVID-19 hit, the issue only became more pronounced with new stresses and anxieties placed on kids and medical appointments being postponed.
At Children's Wisconsin, they took this crisis as an opportunity to innovate rapidly. Children's Wisconsin knew mental and behavioral health issues weren't going to wait for COVID-19 to end, so the digital health and information technology teams got to work to rapidly create a telehealth service for these kids in need.
Prior to April, Children's Wisconsin did not have a single telehealth visit for mental and behavioral health — they didn't even have the ability to do so. But since April, 150 Children's Wisconsin providers have completed more than 30,000 telehealth visits. In fact, even as in-person visits have restarted, telehealth still accounts for the majority of mental and behavioral health appointments.
While telehealth may not be new or innovative, the speed with which Children's Wisconsin responded to the pandemic, got a platform up and running and worked with IS and security teams to expand their network capabilities is certainly unique and remarkable in a health care environment.
This achievement was the result of the work of many different people, including, but by no means limited to: Kim Cronsell, MD; Mike Flaherty; Amy Herbst; Smriti Khare, MD; Courtney Miles; Christopher Neuharth; Jim Petersen, MD; Todd Privat; Monica Ricca; Julie Swiderski, MBA; and Trish Wnek.
Multisystem Inflammatory Syndrome in Children workgroup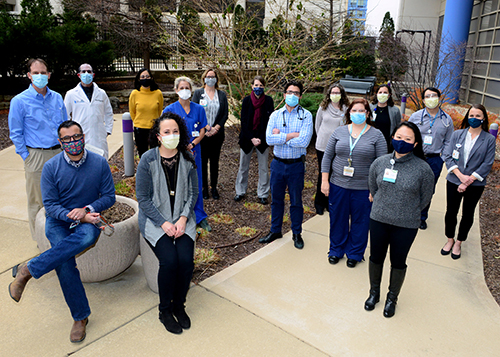 From the beginning of COVID-19, a main understanding was that it didn't affect kids as seriously as adults. While that still remains true, in early May reports of a "mysterious illness" in some kids who had been exposed to the COVID-19 virus started to emerge.
Known as Multisystem Inflammatory Syndrome in Children (MIS-C), kids can present with many different symptoms, including a persistent high fever, swelling of the hands and feet, rash, and red eyes and tongue. Some have also been found to have inflammation of many organs including the heart.
As the region's only pediatric health system, Children's Wisconsin put its unique expertise to work and created a multidisciplinary MIS-C team comprised of 35 physicians from critical care, infectious disease, hospital medicine, immunology, emergency medicine and cardiology. This group, led by Frank Zhu, MD, medical director of Infectious Diseases, and Amy Goza, BSN, RN, CPN, CIC, lead infection preventionist, reviewed all available literature and consulted with health systems throughout the country to develop a care plan for MIS-C. They've been working with the Wisconsin Department of Health Services (DHS) and have been approached by the Centers for Disease Control and Prevention to join a small group of hospitals who are developing best practices in identification and treatment of MIS-C.
While the prevalence of MIS-C in kids with exposure to COVID-19 indicates some link, the exact correlation is still being investigated. In most of these cases, these patients tested positive for COVID-19 antibodies (as opposed to testing positive for the actual virus). That means the child doesn't currently have COVID-19, but did and their body's immune system fought it off.
To date, Children's Wisconsin has reported more than 30 suspected cases of MIS-C to the Wisconsin DHS and all have been successfully cared for at Children's Wisconsin.
The full MIS-C team includes: Paula Allen, BSN, RN, MS-OL, CPPS; Mary Bartel, MD; Matthew Beier, CNS; Joseph Block, MD; Matt Buelow, MD; Rosellen Choi, MD; Pamela Gage, CNS; Deborah Gogin, CNS; Amy Goza, BSN, RN, CPN, CIC; Matthew Gray, MD; Stephanie Handler, MD; Sheila Hanson, MD; Katelyn Katzke; Susan Kehl, MD; Julie Kolinski, MD; Petra Laeven-Sessions, MD; Lynn Malec, MD; Ryan Merhaut, BSN, RN; Kathy Miller, MBA, BSN, RN; Michelle Mitchell, MD; Robert Niebler, MD; James Nocton, MD; Holly O'Brien, MSN, RN, CPPS; Brittany Player, DO; Rowena Punzalan, MD; Robert Rohloff, MD; Amy Romashko, MD; Matthew Scanlon, MD; Megan Schultz, MD; Cheryl Singer, BSN, RN; Kellie Snooks, MD; Paula Soung, MD; Christopher Spahr, MD; Danny Thomas, MD; Lauren Titus, MD; James Verbsky, MD; Michael Weisgerber, MD; Frank Zhu, MD.
For the full list of "Notable Heroes in Health Care," please visit the BizTimes Milwaukee website.