Patient Stories
Jun 13, 2019
How being a treatment foster mom changed my life
---
One day over coffee, I told my friends that I had just filled out an application to become a treatment foster parent. They looked at me with blank stares and replied, "That's awesome, but you don't have a medical background, and you haven't taken care of someone with medical needs before."
I gleefully responded, "That's true! But I am going to learn!"
This passionate attitude has possessed me since the first day I learned how many kids need treatment foster parents in Wisconsin. I knew that I could be a part of the solution to the ever growing need. I will be completely honest –– I had no clue what I was getting into when I was signing up, and I am thankful for that!
To be clear, treatment foster care serves kids with a wide variety of strengths and needs. I have chosen to care for kids with medical needs, but other treatment foster parents work with kids who have other needs resulting from the trauma they have experienced in their lives.
Giving dignity and love to kids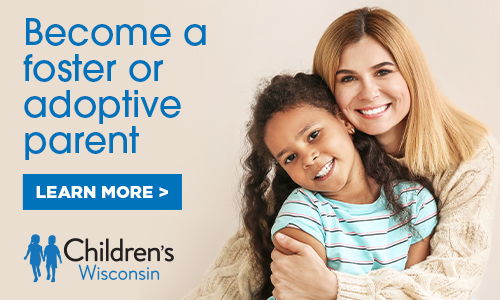 Although I didn't know a lot about caring for medically needy children, I knew that I wanted to give dignity, honor, and love to a child who may never be able to reciprocate the same love back to me. That mindset has given me the opportunity to care for some of the most vulnerable, misunderstood and delicate children.
What is more, my life doesn't just revolve around caring for kids. I also get to help encourage and support the nurses, doctors, therapists and other parents that are caring for children in treatment foster care. What a gift!
Changing mindsets
The nurses have commented many times that I was the happiest person they had ever seen walk into a NICU. My foster son at the time was dealing with a lot of issues that left him unable to eat by mouth or breathe on his own, but the moment I would set my eyes on him I was so grateful that I was chosen to be in his life, that I couldn't help but overflow with joy.
Every time a doctor would come in to give either good news or bad I would cut them off and asked sincerely, "How are you today? Have you met my amazing son who is going to change the world?" This announcement always caught the doctors off guard, breaking the tension in the room and putting a huge smile on their faces. Because, you see, he wasn't like other children, and sometimes people would look at his body and think sad things about him. The nurses and doctors quickly caught on and soon afterward, when the staff would come into his room they would ask, "How is the greatest world-changing patient doing today?"
Some of my greatest memories are of times when I was at the hospital late at night and even being physically exhausted from caring for my other special foster kids at home. It's this mindset that infiltrates the sad and hard times as well. It's the energy that keeps me going.
Always worth it
To be a treatment foster mom is my greatest and most challenging experience to date. Yet, for me, it's always worth it, because with just one child comes multiple teams of professionals, teachers and helpers. I get the honor to work alongside all these people, learning and encouraging each other as we cheer on an awesome world-changing kid.
This all happened because I said yes to becoming a treatment foster parent, and what a wonderful ride it has been!