Patient Stories
Aug 03, 2017
Parents trust Children's Hospital of Wisconsin to disconnect half of child's brain
---
A little more than a year ago, Children's Wisconsin became among the first in the nation to be verified as a Level I Children's Surgery Center by the American College of Surgeons. One example of why our hospital earned this prestigious designation was the subject of a Milwaukee Journal Sentinel article that chronicled a family's decision to have their 9-year-old son undergo a functional hemispherectomy — a rare and complex surgery that involves disconnecting one side of the brain.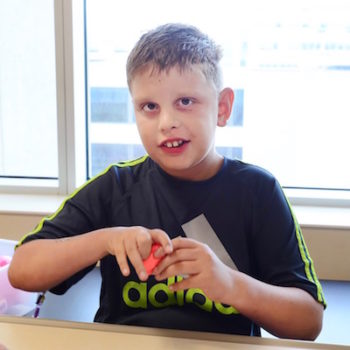 After suffering an inexplicable stroke as an infant, Kade Lubner experienced debilitating seizures throughout his life. When medicinal therapies failed to control the seizures, Kade's parents, Paul and Liz, made what many would consider a bold decision. With the guidance of specialists in our Neurosciences Center, they elected to disconnect the left part of his brain — the part that experienced seizures.
Every year, approximately 19,500 surgical procedures — ranging from tonsillectomies to brain surgeries — are completed at Children's Wisconsin. The Lubners, like all parents who seek care for their kids at Children's Wisconsin, placed tremendous trust in our staff to care for their only child. None of us take that trust lightly.
Why pediatric training matters
Every single one of our surgeons, nurses, anesthesiologists, radiologists and other staff are specifically trained to care for kids, which in a complex surgical situation can mean the difference between life and death. With our cutting-edge equipment and state-of-the-art facilities as well as our academic affiliation with the Medical College of Wisconsin, we provide some of the best medical care for kids in the country.
All of these factors allow us to do a surgery like Kade's, resulting in a better quality of life for him and his family. The great work of Dr. Sean Lew and his staff is just one example of the life-saving and life-changing care provided by our more than 500 pediatric specialists, including 40 surgeons and 35 anesthesiologists, every day.