Patient Stories
Oct 03, 2016
Thousands of miles from home, families find support at Children's Hospital of Wisconsin
---
Children's Wisconsin treats patients from all over the country and the world from California to New York and from Uruguay to China.
There are so many national and international patients, in fact, that in 2013 the hospital established the Access Center, a program that helps families from locales more than three hours away to coordinate visits to Children's.
"Every family who comes to Children's receives exceptional care and support, but families from out of state face additional, unique challenges," said Molly Marquardt Smith, supervisor of the Access Center. "For those families, we act as their concierge so they can focus on the health and well-being of their child. We do everything we can to help make Children's their home away from home."
The center's five access navigators serve as a liaison with the various clinical areas and help families gather medical records, register and schedule appointments, and assist with financial approvals and lodging at the Ronald McDonald House or nearby hotels.
Over the past three years, the Access Center has helped more than 700 patients from 45 states and 20 countries throughout Africa, Asia, Europe, the Middle East, and North and South America.
Here are the stories of some of those faraway patients who visit Children's and why they choose to travel so far to come here:
Caleb Wolf, 15, from Kearney, Missouri
Gastroenterology, genetics, neurology, and speech/occupational therapy patient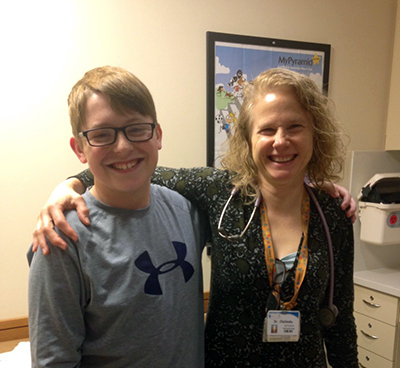 Caleb, a "determined and entertainingly ornery" teenager, was born with several congenital issues, according to his mother, Traci Wolf. The primary underlying condition, however, is a brain malformation that has impacted numerous areas.
Caleb travels with his family from the Kansas City area to Children's Wisconsin as needed for care.
CHW: How did you hear about Children's Wisconsin?
 Traci Wolf: (Caleb's) primary neurosurgeon in New York suggested we reach out to a hospital that was known to have a strong spina bifida program, given that those organizations also typically have effective collaboration between neurosurgery and GI specialists.
We then reached out to a pediatric neurosurgeon we know at a Children's Wisconsin in Chicago, and he highly recommended Dr. Gisela Chelimsky (a pediatric gastroenterologist at Children's Wisconsin) for medical issues our son was having. He explained that many of his patients with the same neurological congenital malformation have gone to Dr. Chelimsky, and they received absolutely phenomenal care. Furthermore, his patients and patients' parents love Dr. Chelimsky.
After several visits and tests with Dr. Chelimsky, she also recommended Caleb to Dr. Robert Kliegman (the director of the Undiagnosed and Rare Disease Program at Children's Wisconsin).
CHW: Why did you decide to take Caleb to Children's?
 TW: In addition to the very strong recommendations from premier neurosurgeons and patient recommendations, once we started interacting with Dr. Chelimsky, her staff and the hospital overall to set up meeting them, we were extremely impressed with the communication, responsiveness, caring and collaboration among disciplines — prior to us even having traveled there.
CHW: What do you like about the care Caleb receives at Children's?
TW: The responsiveness of the doctors, personal touch, and ongoing cross-discipline communication and collaboration is extraordinary (and) second to none. With each visit, Caleb enjoyed every engaged interaction with all of the doctors. From the beginning, he and I could tell the doctors really cared and loved him.
CHW: How is the care different from what Caleb would receive at a closer Children's Wisconsin?
 TW: The area where Children's rises to the top for us is the empathetic communication, collaboration and coordination among doctors, surgeons and staff. With a medically complex child, there are often multiple disciplines involved. At other hospitals, we've found that we as the parents have to be a conduit between the doctors, which is not effective or efficient. Dr. Kliegman and his team of doctors, staff and care coordination are extraordinary.
Kahlan McKinney, 11, from La Porte, Indiana
Gastroenterology and genetics patient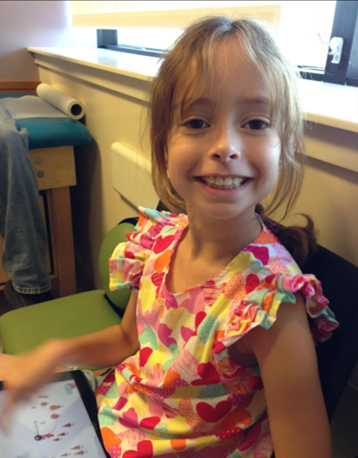 Kahlan is treated at Children's Wisconsin for Ehlers-Danlos syndrome, a collection of inherited connective tissue disorders, and cyclic vomiting syndrome.
Nina McKinney, the mother of the smart and caring Kahlan, said their family travels to Children's up to three times a year. "We are fortunate that the clinics we see try to make our appointments in a group," she said.
CHW: How did you hear about Children's Wisconsin?
Nina McKinney: Originally, I was looking for a pediatric gastroenterologist. Dr. B U.K. Li had been recommended through the Cyclic Vomiting Syndrome Association website as being one of the best doctors in the country. (Dr. Li is the functional gastroenterology disorders program director at Children's Wisconsin.)
CHW: Why did you decide to take Kahlan to Children's?
NM: I wanted my daughter to receive the best care possible and by staff that knew of her condition.
CHW: What do you like about the care Kahlan receives at Children's?
NM: The doctors and staff always genuinely care about my child's progress. They want to see her making the most of her childhood.
CHW: How is the care different from what Kahlan would receive at a closer Children's Wisconsin?
NM: The major difference for us is that they know her condition. Many times I walk into a doctor's office and have to explain what she has and how it affects her.
CHW: At Children's Wisconsin, we want kids to be kids. Has your child had any fun experiences here?
NM: We actually had an appointment on my daughter's birthday, and the staff gave her a present. That was so special for her. We have never had that happen at another office.
CHW: What else do you have to say about Children's Wisconsin and its providers?
NM: We talk all the time about what will happen when Dr. Li retires. It will be an emotional time for my family. He truly gave me my daughter back. I hear her laugh, smile and play more than before we saw him. Everyone at Children's is amazing.
Bella Rodriguez, 9, from Temecula, California
Hematology patient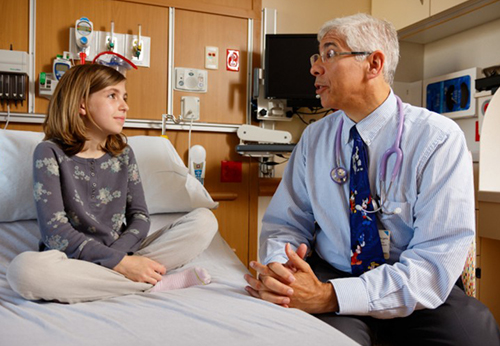 Bella, a compassionate, funny and inquisitive girl, suffers from severe aplastic anemia. In this rare blood disease, the bone marrow is damaged, causing a deficiency in red blood cells, white blood cells and platelets.
Bella's family was living in Tampa, Florida, when her parents became aware of Dr. David Margolis, the bone marrow transplant program director at Children's Wisconsin. They temporarily moved to Fox Point, a city 10 miles north of Milwaukee, for Bella to receive care. They've since relocated to Temecula, California, as her father, Peter Rodriguez, is a Marine Corps Captain stationed at Camp Pendleton.
CHW: How did you hear about Children's Wisconsin?
Peter Rodriguez: We did not hear about Children's Wisconsin until after we discovered Dr. David Margolis and learned of where he worked.
CHW: Why did you decide to take Bella to Children's?
PR: We were not satisfied with the treatment Bella was receiving at the time in Florida. I reached out to Dr. Margolis for his opinion on our specific case. Once I spoke with him over the phone, I knew that we needed to take Bella to Children's for an evaluation/third opinion by him. We liked Dr. Margolis' philosophy and understanding of our child's specific needs. We wanted to give Bella the best chance of beating this disease, and we felt that Dr. Margolis and Children's provided her with that chance.
CHW: What do you like about the care Bella receives at Children's?
PR: The compassion of the staff, the consistency with the staff, and the confidence and knowledge the staff has about our daughter's individual needs and the overall disease.
CHW: How is the care different from what Bella would receive at a closer Children's Wisconsin?
PR: In our case it was the philosophy, experience and knowledge the physicians and staff at the other Children's Wisconsins in Florida had about aplastic anemia and how they viewed the problem set.
CHW: Obviously, no parents want their child to spend time at a hospital, but have you or Bella had any fun experiences here?
PR: She really enjoyed the photo shoot she participated in for the Children's calendar. She always loves to find art activities that are provided by the hospital during our visits. She also likes to see what type of tie Dr. Margolis is wearing each time she sees him.
Rachel Nielsen, 16, from Tremonton, Utah
GI, genetics, neurology, urology and heart patient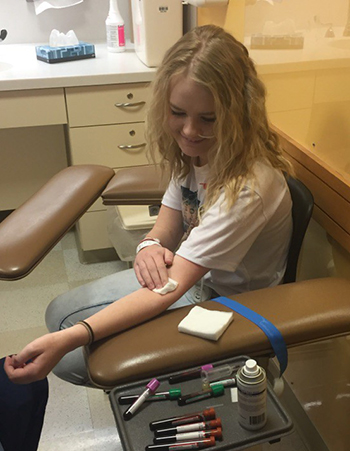 Rachel is a spunky, adventurous teenager from a small farming community in northern Utah. She loves spending time with friends, but her mother, Kate Nielsen, said her illnesses make that difficult.
The Nielsens have traveled to Children's Wisconsin twice for Rachel to receive care. Kate chooses to bring her daughter here because of the doctors' communication with each other, their ability to think "out of the box," and their willingness to accept suggestions from families.
CHW: How did you hear about Children's Wisconsin?
Kate Nielsen: We heard of Children's from an EoE (eosinophilic esophagitis) group on Facebook. (EoE is an inflammation in the tube that connects the throat to the stomach.)
CHW: Why did you decide to take Rachel to Children's opposed to a closer hospital?
 KN: Because the Chelimskys (pediatric gastroenterologist Dr. Gisela Chelimsky and pediatric neurologist Thomas Chelimsky) are the tops in their fields of GI and neurology, and they work closely together. Communication between the different departments is great.
CHW: What do you like about the care your child receives at Children's?
KN: The doctors from the different areas talk with each other. They coordinate her care. They talk with her adult GI here in Utah. She is only 16, and still needs pediatric doctors.
CHW: No one wants to go to the hospital, but have you or Rachel had any positive or fun experiences at Children's?
KN: All of our visits have been positive. We came only to see Tom and Gisela Chelimsky. By the time we had left, we had seen a total of seven doctors. They are all comprehensive. We also love the Ronald McDonald House.
Matthew Shoulta, 6, from Lenexa, Kansas
Neurology patient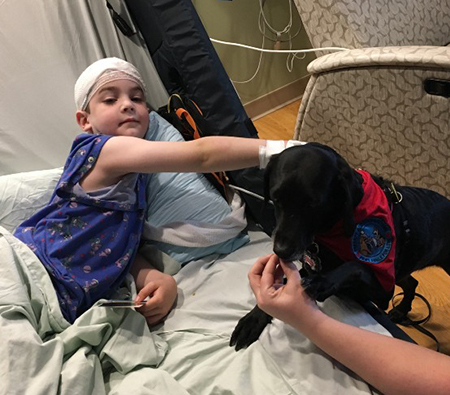 Matthew, otherwise known as Matty, is a smart boy who loves to make jokes, have fun and be in charge. "I don't know if 'rascally' is a word, but that describes him fairly well," said his father, Jeffrey Shoulta.
Matthew visits Children's Wisconsin due to a rare form of epilepsy that Jeffrey said has been difficult to control with medications and treatments.
CHW: How did you hear about Children's Wisconsin?
Jeffrey Shoulta: When we decided to explore the possibility of a second opinion/fresh look at Matthew's case, we conducted research on Children's Wisconsins around the country, and Children's Wisconsin was one of the ones in the Midwest which had fairly high ratings for children's neurology.
CHW: Why did you decide to take Matthew to Children's as opposed to a closer hospital?
 JS: We were already considering CHW due to its relative proximity to us compared with several other options we were looking at. However, a family friend had relatives in Wisconsin who recommended CHW, but more importantly we received very fast and responsive replies to an inquiry I had submitted to the CHW department of neurology.
CHW: What do you like about the care Matthew receives at Children's?
JS: Everyone is very responsive and attentive to our needs. The doctors and nurses listen to our questions or concerns and spend as much time as needed to address them. We can also get our son in for doctor and/or hospital visits on very short notice when needed.
CHW: No one wants to go to the hospital, but have you or Matthew had any positive or fun experiences at Children's?
JS: Matthew loves interacting with the doctors and nurses (especially since he is usually spoiled by them). They are always very patient with his "rascally" behavior, as he enjoys receiving so much attention — and he definitely takes advantage of that! Also, thanks to referral from CHW, we have stayed at the Ronald McDonald House across the street, which is very attentive to the children and family members. Matthew was pleasantly surprised by their "magic room," and we have also taken advantage of free tickets to a children's museum and the zoo.