Patient Stories
Dec 08, 2022
The tiniest scar: How a mother's intuition and expert care saved Blake's life
---
"Hmm…that's off," Megan thought to herself. 
Just more than a year ago, Megan noticed her son, Blake, developed a head tilt out of nowhere. Megan, an occupational therapist with Children's Wisconsin, couldn't get rid of the feeling in her gut that something was wrong even though Blake was an otherwise happy and healthy 1-year-old, meeting all of his developmental milestones.
Megan and her husband, Brian, began the search for an answer. They received countless feedback from doctors and specialists saying that nothing was wrong with Blake. But their hunch just wouldn't shake.
Brian also has a unique relationship with Children's Wisconsin as the recruitment chair for the Children's Wisconsin Celebrity Golf Invitational. Because the Butch family was familiar with the organization, they knew exactly where to bring Blake to get to the bottom of this. 
Megan and Brian took Blake to the Children's Wisconsin Neurosciences Center and advocated for Blake to receive an MRI despite the previous opinions of others. It was after the results came back that they finally got their answer. And once they did, everything changed. 
Blake had a brain tumor. 
This news quickly shifted their relationship with Children's Wisconsin from supporting and working toward the mission of the organization, to needing the team's expert care. 
Blake was diagnosed with a pilocytic astrocytoma, a tumor found in the primary central nervous system. The tumor was in Blake's cerebellum, the back part of the brain. Based on the size, location and the symptoms Blake was experiencing, he was placed on observation by the Neurosciences team. 
"Once we got together with the brain and cancer teams, things have been great," said Brian. "The doctors are fantastic." 
Being placed on observation meant that every three months, Blake needed to have an MRI. These MRIs were monitoring for any growth in the tumor. After six months and two MRIs, the tumor inside Blake's brain had grown. 
This meant one thing — the tumor needed to be surgically removed.
Seeking out treatment options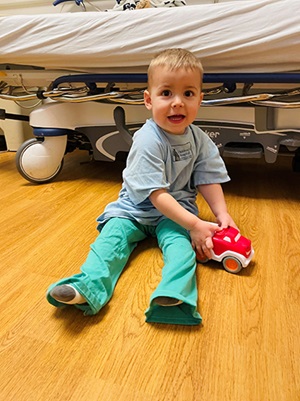 "We, of course, were anxious," said Megan. "No parent wants their less-than-2-year-old to have brain surgery — but we knew it needed to be done." 
But Megan and Brian weren't the only ones who were thinking about Blake's treatment options — the Multidisciplinary Brain Tumor conference at Children's Wisconsin had already begun meeting and discussing what treatment option would be best for Blake.
This group of experts meets weekly and is made up of neurologists, neurosurgeons, oncologists, neuropsychologists, pathologists, neuroradiologists, geneticists, endocrinologists and physical medicine and rehabilitation therapists. The collaborative team discusses patient cases and shares in the decision making of patients' surgical treatment options. 
As the team met, they discussed the variety of unique treatment options available to Blake, like gamma knife radiosurgery or an intraoperative MRI. Gamma knife radiosurgery is a form of radiation for brain tumors, and an intraoperative MRI is a surgery that would allow surgeons to take pictures of the brain as they surgically remove a brain tumor. 
Both treatments require a highly specialized team and equipment — which Children's Wisconsin can provide.
As the team brainstormed what surgery would be best for Blake, they realized his tumor was in an ideal location for a far less invasive procedure known as laser interstitial thermal therapy (LITT) surgery. 
"What made Blake a great candidate for this surgery was the size and location of the tumor in his cerebellum," said Andrew Foy, MD, a pediatric neurosurgeon at Children's Wisconsin. "If we were to perform a craniotomy, we would have open up the skull and go through normal, healthy tissue to reach the tumor in the back of his brain, which isn't ideal. LITT allows us to get to the affected area safely and accurately." 
This meant that Dr. Foy would be able to insert a thin needle into Blake's brain and remove a small piece of the tumor tissue — to confirm the diagnosis — and then, from that same pathway, insert a laser to get rid of the cancer.
LITT provides lower risk of infection and complication and offers a shorter recovery time than a craniotomy. It would also give Blake the tiniest scar on his head — only the size of a millimeter.
This was a life-changing opportunity for Blake. But there was only one concern from the neurology team — he was still so little.  
To undergo this kind of surgery, Blake would need to wear a rigid head frame throughout the entire procedure. The concern was that he wouldn't be big enough to fit in the frame. 
"Because he is so young, there was concern that his skull bone wouldn't be thick enough for the head frame," said Dr. Foy. "But it was, which reinforced how perfect this surgery was for him. To my knowledge, Blake is the youngest child to undergo this kind of surgery."
And so the Neurosciences team and the Butch family prepared for this next surgical step in Blake's journey. 
Surgery and recovery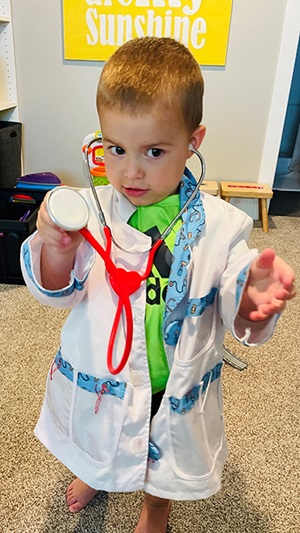 It was May 25, 2022 — surgery day. The Butch family made their way to the Children's Wisconsin Milwaukee Hospital from their home in the Fox Valley with so many mixed emotions. Despite their nervousness, they knew Blake was in the best hands possible. 
Once they arrived, Blake was cared for and prepped for surgery. As he was wheeled away into the hands of Dr. Foy, Megan and Brian made their way to the waiting room, anxiously awaiting Blake's return. 
Megan and Brian were in the waiting room for six hours. During that time, Dr. Foy was intricately using the laser to destroy Blake's tumor. During that time, Megan and Brian received updates from the team.
"We are able to turn the laser on and off at exactly the right time to make sure that we didn't damage any of the surrounding tissue of the brain," said Dr. Foy. "We also are able to document exactly what and how much damage to the tumor the laser is doing in real time." 
Operating a laser on a child's brain is no small feat. Dr. Foy and his team worked with precision until Blake was ready to be reunited with his parents. 
Post-surgery, Blake spent a night in the Pediatric Intensive Care Unit (PICU) due of the intensity of his treatment. "He was pretty sick after surgery," said Megan, "and that was really challenging."
Blake was recovering slowly, but surely, as time went on. After a night in the PICU, Blake was transferred to West 7, the specialized neurosciences floor, to continue to recover. 
"From the moment we arrived at the hospital on surgery day, to the moment we left, it was all about Blake," said Brian. "We're especially thankful for the he Child Life and Creative Arts Therapies Program, who made the experience a little easier for him and us." 
Child life specialists at Children's Wisconsin are an incredible source of comfort and compassion to our patients and families. The team was able to engage with Blake in a developmentally appropriate manner through play and other self-expression activities, while also keeping his medical status in mind. 
After spending one day on West 7, Blake was ready to continue recovery at home with his mom and dad. 
And that's just what he did. 
Life since surgery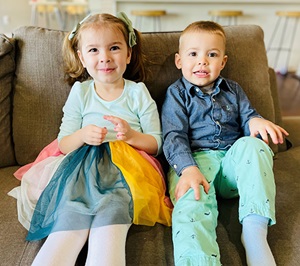 "The research and technology at Children's Wisconsin has allowed my son to be a 2-year-old boy this summer," said Brian. "We're so thankful that everything played out the way that it did." 
After his recovery, Blake has no restrictions to his health. As time went on at home, he got back to his normal, happy self. 
"He looks and acts just like every other toddler," said Megan. "You can only see his scar if you're really looking for it." 
Over the summer, Blake's favorite activity was going for a swim. The Butch family felt incredibly grateful as they watched him splash and play in the pool quite often. "When you look at him, you wouldn't know that anything was wrong," said Brian. 
The Butch family continues to be connected with the Neurosciences team, and Blake's journey looks a lot like it did at the beginning: MRIs every three months. 
The MRIs are to monitor any tumor regrowth, but as of right now, Brian and Megan are grateful for the care that their son has needed and received thus far. 
"The entire Neurosciences team was amazing and responsive during the entire process. We navigated many hurdles together," said Brian. "We'll always be a Children's Wisconsin family."
Megan is grateful for that hunch she felt so early on. Now, she wants to encourage other parents to follow their instincts and be their child's advocate.
"Children's Wisconsin will help you navigate that. They never judged us for calling, sending MyChart messages or wanting to talk to someone," said Megan. "Keep fighting for your child."
You can help ensure kids like Blake receive the best and safest care — donate today!