Care4Kids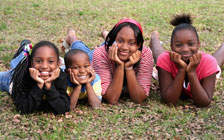 Care4Kids is a new Medicaid benefit that provides comprehensive health care for children in out-of-home care (OHC) that reflects the unique health needs of these children. To strengthen the quality, access, and timeliness of care, Care4Kids creates a "medical home" for each child entering care. This "medical home" is not a physical place, but rather a philosophy that children in OHC deserve coordinated and comprehensive healthcare that addresses their unique needs. Care4Kids provides children with access to primary care physicians who are trained in needs of children in OHC, and also creates a healthcare coordination team who coordinate care for the child.
Facilitated by a healthcare coordinator, this team is comprised of the county child welfare case managers, healthcare professionals, foster parents, and other applicable OHC providers, and the child's family. This team works together to ensure that children entering OHC will receive timely individualized and developmentally appropriate care by physicians trained in trauma-informed care practice when providing services to youth in OHC. This new approach to healthcare is designed to improve physical and mental health outcomes for children, as well as promote improved resiliency and create stronger natural support systems for children in OHC.
Care4Kids Benefits
Through Care4Kids, children in OHC will receive:
An OHC Health Screen within 2 business days of entering care
A Comprehensive Initial Health Assessment within 30 days of entering care
A mental health evaluation (if needed) and/or development health assessment, as applicable
Dental and vision care
Coordinated ongoing healthcare from providers trained in the unique needs of children in OHC
A Comprehensive Healthcare plan tailed to the child's individual health needs
The Care4Kids benefit recognizes that children in OHC deserve healthcare that reflects their unique needs, and therefore emphasizes the importance of using providers trained in these needs. Children will be provided with an OHC Health Screen within two business days of entering care, preferably at a Children's Wisconsin child advocacy center or child protection center.
A comprehensive initial health assessment will be provided by a primary care physician within 30 days of entering care, preferably at an identified center of excellence. A center of excellence is a centralized location for the provision of medical care from the initial screen to the 30-day exam, and ongoing well-child health checks. Center of excellence medical providers will be specially trained in caring for children in the foster care system that have been victims of trauma, abuse, and/or neglect. Centers of excellence provide a coordinated care delivery system. Center of excellence providers will partner and share information with all parties involved in a child's care and participates in a team process to enhance communication and coordination of care.
For more information about Care4Kids please visit the Chorus Community Health Plans website.