Atrioventricular canal (AV canal or AVC)
Provided by "Pediatric Heart Surgery — a reference for professionals"
Patient families can visit our atrioventricular canal page for more information and answers to common questions.
Pathophysiology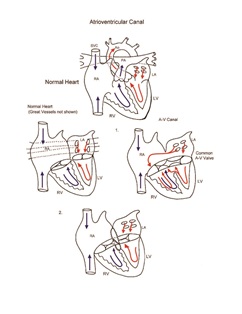 Atrioventricular canal is the result of failure of normal development of the endocardial cushion. In patients with atrioventricular canal, the lower part of the atrial septum and the upper part of the ventricular septum are deficient. Further, the atrioventricular valves fail to separate into the mitral and tricuspid valves, and a common atrioventricular valve persists. Patients with atrioventricular canal have left-to-right shunting of blood at the atrial level and at the ventricular level. Insufficiency of the common atrioventricular valve may occur. Pulmonary vascular obstructive disease secondary to the large left-to-right shunt can occur early in these patients. Surgical intervention is undertaken early in infancy to avoid this complication. Atrioventricular canal is often associated with trisomy 21.
Surgical technique
Repair of atrioventricular canal requires cardiopulmonary bypass and aortic cross-clamping. The heart is opened via a right atriotomy. Interrupted sutures are placed along the crest of the ventricular septum. The ventricular septal defect is closed with a synthetic patch or autologous pericardium incorporating the atrioventricular valve tissue. The surgeon determines where the division should occur between the tricuspid side of the valve and the mitral side. A cleft in the mitral valve leaflet is closed using interrupted sutures. The atrial septal defect is then closed using a patch secured with sutures along the junction of the ventricular septal defect patch and the division of the common atrioventricular valve. Care is taken to secure the atrial septal defect patch to avoid deep sutures near the coronary sinus, which could result in interruption of atrioventricular conduction pathways. Transesophageal echocardiography is used to help assess adequacy of repair. Cardiopulmonary bypass time and aortic cross-clamp time required to repair this defect are usually moderate.
Postoperative considerations
The postoperative course following repair of atrioventricular canal can be variable. Invasive monitors used include arterial and central venous catheters. An LA line is used when needed for hemodynamic management. LA pressure acts as a surrogate for left ventricular end diastolic pressure, an excellent indicator of left ventricular performance. Non-invasive monitors include NIRS (near-infrared spectroscopy) probes to assess adequacy of regional and global perfusion and traditional pulse oximetry. Vasoactive agents might include epinephrine and/or milrinone. Numerous other agents are available and are tailored to the specific needs of the patient, targeting adequate oxygen delivery to the tissues of the body and optimization of cardiac output. Sedation may be required to manage early postoperative pulmonary hypertension. Early intervention has mitigated postoperative pulmonary hypertensive episodes. Rarely, inhaled nitric oxide, mechanical ventilation, and sedation are required. Another important postoperative consideration is cardiac rhythm. Since the repair of atrioventricular canal requires manipulation close to atrioventricular conduction tissue, one must be prepared to use temporary pacing in the postoperative period. Heart block and junctional ectopic tachycardia are occasionally encountered. Edema around the ventricular septal defect sutures can cause acute development of transient heart block, requiring temporary pacing. Postoperative arterial oxygen saturation should be normal. Excessive postoperative bleeding is rare. Length of hospital stay required following repair of atrioventricular canal averages 1 to 2 weeks.
Physician consultation line
Staffed 24 hours a day.
Refer a patient
Discuss a case
Arrange a transport
Direct admission
(414) 266-2460
Toll-free: (800) 266-0366