Pulmonary Stenosis
Provided by "Pediatric Heart Surgery — a reference for professionals"
Patient families can visit our pulmonary valve stenosis for more information and answers to common questions.
Pathophysiology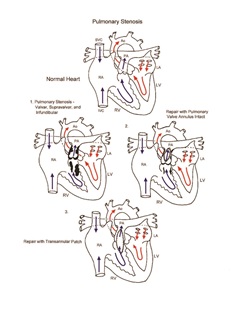 Congenital pulmonary stenosis is a form of right ventricular outflow tract obstruction that may present as valvar, subvalvar, or supravalvar stenosis. Obstruction to the egress of blood from the right ventricle to the pulmonary artery results in right ventricular hypertrophy and can eventually lead to right ventricular dysfunction. Exercise intolerance and arrhythmias may occur in advanced cases.
Surgical technique
Relief of isolated pulmonary valve stenosis can sometimes be accomplished percutaneously with balloon valvuloplasty. When the percutaneous technique is not possible, surgical intervention is required. Cardiopulmonary bypass is necessary for the repair of pulmonary stenosis not amenable to percutaneous technique. Approach to surgical relief of right ventricular outflow tract obstruction may be via right atriotomy, right ventriculotomy, or pulmonary arteriotomy. Subvalvar right ventricular outflow tract obstruction is relieved by resection of obstructive tissue. Valvar pulmonary stenosis is relieved by pulmonary valve commissurotomy. Repair of supravalvar pulmonary stenosis often requires patch angioplasty. Severe forms of right ventricular outflow tract obstruction sometimes require transannular patch angioplasty. Preservation of pulmonary valve function is attempted in all cases, even if mild residual obstruction persists. Aortic cross-clamp time and cardiopulmonary bypass time required for repair are usually short. Transesophageal echocardiography is used to help assess adequacy of repair.

Postoperative considerations
The postoperative course following repair of pulmonary stenosis is usually benign. Invasive monitors used following surgery include arterial and central venous catheters. Non-invasive monitors include NIRS (near-infrared spectroscopy) probes to assess adequacy of regional and global perfusion and traditional pulse oximetry. Milrinone may be used for hemodynamic management. More extensive vasoactive support is rarely required. Excessive bleeding and cardiac arrhythmias are rarely observed postoperative complications. Postoperative pleural effusion is occasionally encountered following relief of right ventricular outflow tract obstruction. Length of hospital stay required following surgery averages 5 to 7 days.