Concussion awareness cards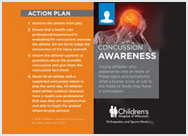 In an effort to educate our community about concussions, the Sports Medicine Program at Children's Wisconsin is offering a concussion awareness wallet card. We encourage anyone who is involved in youth sports to carry these cards, particularly at sporting events.
You'll find information highlighting the signs and symptoms of a concussion as well as what to do if you suspect a concussion has occurred. Familiarity with the signs and symptoms is the best way to recognize a concussion when it happens and then begin the journey to recovery.
How to receive the cards
Children's is committed to having the healthiest kids in the nation right here in Wisconsin. That's why we are offering these cards at no cost to you. Place an order using this form and we will ship them to you within one week.
Call us
To speak with a sports medicine expert or request an appointment, call:
(414) 604-7512
Licensed athletic trainers and nurses are available 8 a.m. to 4:30 p.m., Monday through Friday. You can leave a message anytime, and your call will be answered as soon as possible.
Request a speaker from our orthopedics and sports medicine team.