Patient Stories
Oct 22, 2018
The week Milwaukee was the heart of the medical world
---
From the shores of Lake Michigan to the far reaches of the globe, the name Herma is synonymous with heart. To put it plainly, the Herma Heart Institute is an international leader in congenital heart care. This reputation is built upon two foundational principals: positive outcomes for patients and continuing education for providers. Both of these priorities were on display over two days in the middle of October.
Bringing families and doctors together
On Wednesday, Oct. 10, Children's Wisconsin and the Herma Heart Institute hosted the Pediatric Congenital Heart Association's (PCHA) Fifth Summit on Transparency and Public Reporting of Pediatric and Congenital Heart Disease Outcomes.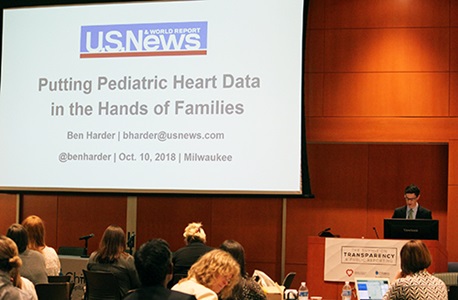 The PCHA is a highly regarded advocacy group amongst families living with congenital heart disease, and they promote "providing families with clear, consistent data so they can make a more confident, informed decision." That's a goal the Herma Heart Institute has been at the forefront of for nearly a decade.
"At Children's Wisconsin, we know we get the best results when providers and families approach congenital heart disease together," said Peggy Troy, president and CEO of Children's Wisconsin. "We need parents to be engaged in their children's care. We know that family engagement and outcomes transparency help us to provide kids with the very best care."
The Herma Heart Institute has long been a strong, leading advocate for transparency. We believe patients are our partners and like any relationship open communication is essential. We encourage our families to be involved in the decisions that affect their children, but to do so they must be properly informed. Health information that is accessible, understandable and accurate is vital. When families are involved in the decision-making process, outcomes and experiences are improved.
Take, for instance, this story from earlier this year. When doctors in South Carolina discovered that 9-year-old Alex had coarctation of the aorta, his father, Charlie, was shocked not only by the diagnosis, but also the seemingly endless hurdles he encountered as he researched where to take his son for care. When he called Children's Wisconsin, however, he found a wholly different experience.
Naturally, he had a long list of questions. How big is the program? How many doctors? What national accreditations? How many surgeries are performed each year? How many of this specific type of surgery? How many of this specific type of surgery on a kid Alex's age? The nurse clinician he spoke to on the phone had answers for each and every one. He was so thoroughly impressed that despite living 1,000 miles away, Charlie knew he had to take his son to Children's Wisconsin.
"They were able to provide important information and details about their program that other top organizations were unable — or unwilling — to share," said Charlie. "The whole process was explained clearly and we were guided through each step."
The fact is, according to CNN, more than half of pediatric heart programs in the Unites States keep their data private. But the Herma Heart Institute clearly displays its patient volumes, outcomes by procedure and patient experience survey results on its website and through public databases, including the Society of Thoracic Surgeons' national database.
"We're proud of our outcomes," said Aaron Kinney, DBA, FACHE, executive director, Herma Heart Institute. "We are committed to measuring and sharing our data so that we can continue to improve and so our families and providers can partner together to make informed health decisions."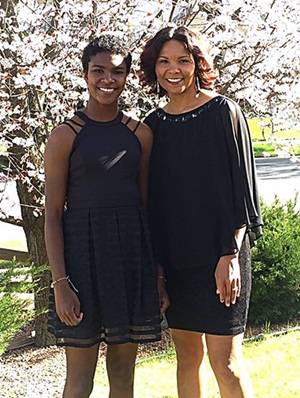 That need for partnerships was perhaps no better illustrated than when Rita Higgins shared the story of her first daughter, Trinity, at the Summit on Transparency.
For the first weeks of Trinity's life, she was a curiously quiet baby. She was on the small side and slept a lot. Rita was concerned but doctors kept assuring her not to worry, reminding her she was a first-time mom and everything was normal. At the time, Rita didn't have the knowledge base or confidence to question their assurances.
It wasn't until Trinity's two-month checkup when doctors discovered she had only gained one pound that they validated Rita's concerns and referred her to a cardiologist at Children's Wisconsin. Trinity had multiple ventricular septal defects and needed three heart surgeries over the next six years.
A few years later, partly inspired by Trinity's journey, Rita became a nurse at Children's Wisconsin. She also serves on the Health Literacy Task Force. Building off her own personal history coupled with her medical training, Rita serves as the voice of the patient and family. She knows that transparency is only as good as the patient's ability to understand it. She is committed to promoting health literacy and making sure other families don't have the same experience she did.
It was stories like this and many others shared during the Summit on Transparency that perfectly captured why transparency and health literacy and forging partnerships is so vitally important in health care. The Herma Heart Institute is proud of the advances it has made and is committed to working with families, advocacy groups and other pediatric hospitals.
The future of learning
To improve outcomes, transparency is, of course, important. But equally so is provider education. And with that in mind, the following day Children's Wisconsin held the 2018 Heart Summit.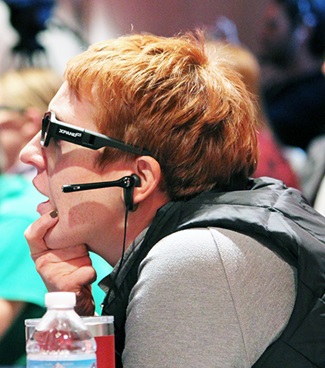 This year's Heart Summit was hosted by pediatric cardiologists Peter Frommelt, MD, Children's Wisconsin's Herma Heart Institute, and Shakeel Qureshi, MD, Evelina London Children's Healthcare. They welcomed physicians from some of the world's leading institutions, including Boston Children's Wisconsin, Columbia University Medical Center, Johns Hopkins Medicine and the Medical College of Wisconsin. The topic of the day was Complex Left Ventricular Outflow Tract Disease (LVOT).
LVOT is a relatively rare defect — accounting for 5-10 percent of all congenital heart defects — in which an obstruction affects the flow of oxygen-rich blood from the heart to the body. The obstruction can be a mass of tissue within the heart, a narrowing of an artery or an underdeveloped chamber. Furthermore, the obstruction can be located before the aortic valve (in the left ventricle), at the aortic valve (restricting the blood to pass through freely) or after the valve (in the aorta itself). Depending on the exact nature and location of the obstruction, blood flow can be disrupted, decreased or increased. Due to those numerous variables, treatment can range from very straightforward to very complex. That variance is ultimately what made it a perfect case study for the Heart Summit.
"The Heart Summit pushes the needle on cardiac education," said Kinney. "Further, there is a goal to get international leaders to present on a variety of topics and provide a forum for a robust discussion."
Throughout the morning, doctors presented on a variety of LVOT topics, such as "Anatomy of the Aortic Root and LVOT" and "Decision Making and Management of Borderline LV" and "Surgical Management of Complex LVOT in Older Children and Adults."
Meanwhile, one floor up, Viktor Hraska, MD, PhD, surgical director of Children's Wisconsin's Herma Heart Institute, performed open-heart surgery on a 4-year-old child with LVOT. The morning presentations were regularly interrupted with a captivating live, 3D video feed of that surgery. Not only were those in attendance able to witness the live surgery in breathtaking detail, but they were able to speak with and ask questions of Dr. Hraska.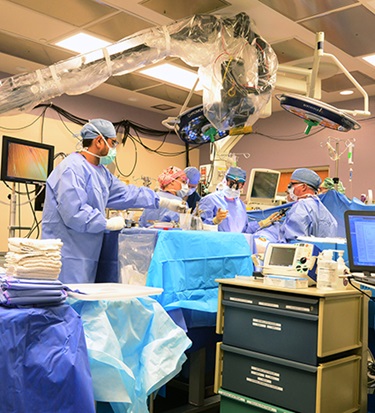 "Our intent is to move out of the traditional classroom or even video setting, and let an audience of cardiologists, surgeons, anesthesiologists, intensivists, and the entire care team see inside the operating room — in 3D — to gain deeper understanding of what is actually happening during surgical repairs," said Kinney. "This helps surgeons discuss techniques in real time, helps cardiologists better appreciate the before and after, and helps the rest of the care team increase their familiarity of specific surgical repairs."
The ripple effect from this one day event is clear: the hands-on learning and crowd-sourcing of ideas allows all in attendance to gain valuable insight and ultimately helps those in the operating room make the most education decisions possible. Those lessons are then brought back to each individual's respective institutions and their impact spreads outward.
Having great outcomes is important, but the true measure of a program's strength is its impact beyond its own walls. Developing new techniques and treatments and sharing them with the world, teaching colleagues better ways to do things, being a leader that others look to for guidance — that's what separates the truly exceptional programs. And that's exactly what was on display at the Herma Heart Institute for those two days in the middle of October.