Patient Stories
Apr 25, 2019
Wisconsin Hospital Association's Advocacy Day is a day to make our voices heard
---
On a gray, windy afternoon in mid-April, the Wisconsin State Capitol is abuzz with activity. Groups of children on field trips swarm around like schools of fish. Through the maze of hallways, staffers and interns scurry about. And up on the third floor, in the legislative office of Representative Robyn Vining who represents parts of Brookfield and Wauwatosa, more than a dozen representatives from hospitals throughout the state are packed in tight.
One by one, each person had opportunity to talk and plead a case. They talked about Medicaid and reimbursement rates, the need to innovate and collaborate. They were strong, well-reasoned arguments, to be sure. But then, through the crowd, 12-year-old Ashley Bongard raised her hand and spoke.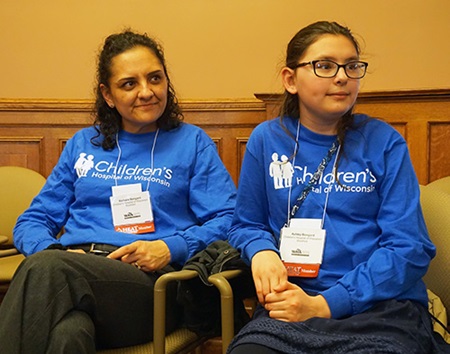 "I am a middle schooler," she began, "I have several doctors' appointments every week."
Ashley was one of the more than 1,000 people who descended on Madison for the annual Wisconsin Hospital Association's Advocacy Day on April 17, 2019. These doctors, nurses, advocates, staff and families all came with a shared, singular mission: advancing the status of health care in the state.
"The annual Wisconsin Hospital Association Advocacy Day is a wonderful day of partnership, bringing together hospital supporters from across the state to network, learn and connect with their state legislators," said Michelle Mettner, vice president of government and legal affairs at Children's Wisconsin. "Our staff, patient families and community members come to Madison to help lawmakers understand the importance of hospitals and health care in Wisconsin communities, especially for our kids and families."
Ashley went on to summarize her extensive medical history. From the moment she was born, she has been under the care of several different specialists at Children's Wisconsin, including neonatology, gastroenterology, cardiology, neurology, orthopedics, sports medicine, pain management, rehab and mental and behavioral health.
Because of these countless appointments, Ashley misses a lot of school, falls behind and then feels anxiety and stress as she struggles to catch up. With that background, she encouraged Representative Vining's office to strongly support modernizing Medicaid's telehealth laws. Her few words were powerful and poignant. She put a face to the cause.
Updating our laws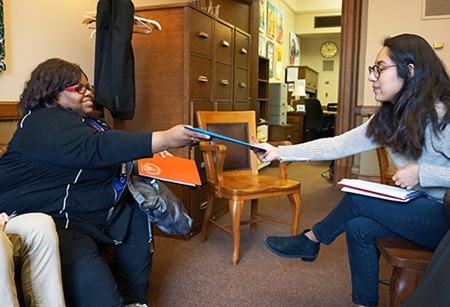 Wisconsin's Medicaid telehealth laws have not kept up with the pace of technology and lag behind most of the country. Most notably, Medicaid does not cover telehealth services if they take place in a patient's home — the patient must physically travel to a health care facility for Medicaid to pay for the service.
As Ashley illustrated, the ability to visit with doctors from the convenience and comfort of her own home would have a profoundly positive impact on her quality of life. She would no longer need to spend hours every week traveling to and from doctors' offices, missing out on school and friends and her childhood.
Improving the state's telehealth laws was one of four primary initiatives that attendees came to Madison to promote. The other priorities were:
Encourage lawmakers to continue to work with the Wisconsin Hospital Association to adopt policies that support high-quality health care in Wisconsin


Advocate for additional funding for hospitals that serve high volumes of patients covered by Medicaid (as proposed in Governor Tony Evers' budget)


Support increased funding to grow Wisconsin's mental and behavioral health care workforce
Getting involved
Despite a history with the hospital that stretches back over a decade, Ashley and her mom, Barb, first got involved with Children's Wisconsin's Family Advisory Council this past January. When they were asked about attending Advocacy Day, they jumped at the opportunity.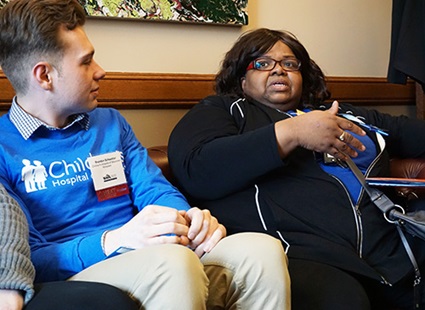 "I wanted to see what it was about. I was very interested in going to learn how my voice can have an impact," said Barb. "Of course I want to be an advocate for what Ashley needs and learn about what is going on with the health of kids."
For similar reasons, Veronica Nolden has been participating in Advocacy Day for three years. Veronica has two children with long histories with Children's Wisconsin. Her oldest, Branden, has been seeing specialists at the Gastroenterology, Liver and Nutrition Program for the last decade. His little sister, Brianca, has been cared for at the Masters Family Speech and Hearing Center as well as the dental clinic.
When Branden was a baby, he suffered from chronic constipation and vomiting. Doctors struggled to pinpoint the exact cause and Veronica often grew frustrated with care she felt was not always the most attentive or thoughtful. She learned early on that she needed to be an advocate for her child and his health became her mission. Now, 15 years later, she brings that same passion to Advocacy Day.
"Going to Advocacy Day is great not only for networking and getting together with my CHW family, but I learn so much. It's eye-opening," Veronica said. "It's also great to support the hospital. They've supported us for years and this is our opportunity to support them."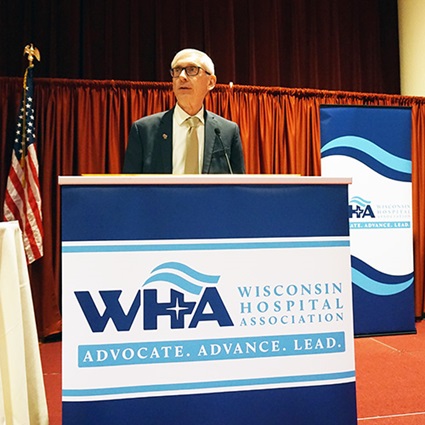 Prior to the meetings with legislators in the capitol, there were a number of presentations by current and former lawmakers. Tommy Thompson, former Governor of Wisconsin and former U.S. Health and Human Services Secretary, discussed the future of the Affordable Care Act, his role in getting Medicare Part D passed and his legacy in having helped bolster Wisconsin's hospitals and health care systems as one of the best in the country. That was followed by a panel discussion featuring State Senator Howard Marklein, State Senator LaTonya Johnson, State Representative John Nygren and State Representative Evan Goyke. During lunch, Governor Evers addressed the crowd about the importance of ensuring Wisconsin's health care systems remain strong.
The annual Advocacy Day is one of learning, listening and influencing. Coordinated, face-to-face interaction with lawmakers can and does have a profound impact on policy. Putting faces and stories to causes brings them to life in a powerful way.

"Speaking up on behalf of kids is a vital component of Children's Wisconsin's mission," said Mettner. "Together, our voices become louder and stronger — and ultimately, we help make a difference for kids' health and well-being.