Advocacy news
Our advocacy efforts help make a positive impact on legislation that affects the health of children and families in Wisconsin and nationwide.
2019
We are now Children's Wisconsin
The new name reflects that its flagship hospital in Wauwatosa is just one part of its operations. Our story includes care for kids in so many different ways: in the hospital and in primary care, in the emergency department and in a therapist's office, through a digital health offering or at a school nurse's office, through our child advocacy efforts or our health insurance plans. It includes the parents who work alongside us and the donors and advocates who support our work. More than a hospital and health system, we are a community of caregivers dedicated to making Wisconsin's kids the healthiest in the nation.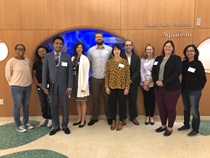 Watch and learn more on our blog - NewsHub
Federal & state legislators & staff visit Children's: Experience the Mission
We appreciate staff from Senator Ron Johnson, Senator Tammy Baldwin, Congressman Pocan, Congressman Grothman, State Representative Marisabel Cabrera, and staff from Senator Jon Erpenbach, Representative Adam Neylon, Representative LaKeshia Myers and Representative Haywood for visiting Children's to learn more about the work we do within our hospitals and clinics and reaching beyond into our schools, homes, and communities.
Senator Baldwin & Children's doctors discuss vaping-related illnesses
The number of vape-related lung injuries has increased – reaching almost every state across the country. New statistics continue to come out, as Children's doctors discuss the epidemic with lawmakers. Since mid-June, Children's Wisconsin has seen 17 patients with suspected vape-related illnesses. On October 10, doctors met with Senator Tammy Baldwin to discuss the cases – and what happens next.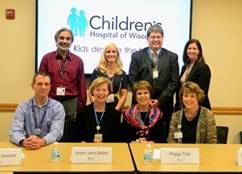 ---
In danger of addicting a new generation: How Wisconsin can protect its youth
After years of declining rates of teenagers smoking cigarettes, we are witnessing an alarming increase in the use of the next generation of nicotine products: e-cigarettes. In Wisconsin in 2018, 1 in 5 high-schoolers use e-cigarettes - a 154% increase from 2014. E-cigarettes not only contain highly addictive nicotine - which affects the developing adolescent brain and body and increases the risk of lifelong addiction to tobacco products - they also can contain harmful toxic chemicals. Right now, there is a bill in the state Capitol that will raise the minimum sale age of all tobacco products from 18 to 21 years old. Known as Tobacco 21, this policy will reduce the number of high school kids who can legally purchase these products for themselves and their younger friends.
Read our NewsHub article by Dr. Anoop Singh, Director of Cardiac Electrophysiology, and take contact your legislators on Tobacco 21 today!
The Therapist Fellowship Program is helping train future therapists
Learn more about one of the programs Children's advocated for during the Wisconsin state budget. Growing the workforce of professionals adequately trained to care for kids' mental and behavioral health needs is crucial to increasing mental and behavioral health care access.
Children's advocates for updated child transportation safety legislation
Libbe Slavin, Safe Kids Coordinator Wisconsin, helps raise awareness of important updates to Wisconsin law to reflect best and safest practices for kids in car and booster seats.
---
Congressional briefing on trauma-informed care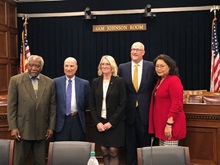 On September 17, Wisconsin Congressman Mike Gallagher and Illinois Congressman Danny K. Davis hosted a congressional briefing on trauma-informed care in Washi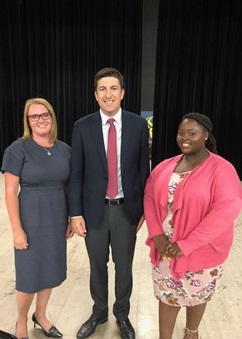 ngton D.C. The "Success of Trauma-Focused Interventions" briefing featured speakers from leaders in the field of child trauma, mental health and safety, as well as senior officials from the Department of Health & Human Services. Bob Duncan, Executive Vice President of Children's Wisconsin and President of Children's Community Health Plan, shared our efforts in developing a trauma-informed workforce and implementing trauma-informed care principles and practices across our health system.
Racine Children's Mental Heath Forum
On August 1, Wisconsin Congressman Bryan Steil (R-1) hosted a "Children's Mental Health Forum" at Case High School in Racine. Policy experts from the national Departments of Health & Human Services, Education, along with officials from Racine County, discussed the importance of improving mental and behavioral health care access for kids. Amy Herbst, vice president of mental and behavioral health, and Lakeisha Russell, school-based child and family therapist, (both of Children's Wisconsin), participated on the panel and discussed Children's priorities and work in Racine elementary schools, as well as highlighted tips for parents.
---
Children's presents at Congressman Gallagher's trauma-informed care event
On July 30, Wisconsin Congressman Mike Gallagher (R-8) hosted a trauma-informed care event at Northeast Wisconsin Technical College in Green Bay. Leaders in crisis response, child welfare systems and community organizations shared their experiences with trauma-informed care and how to improve
services for youth and families. David Whelan, Children's Wisconsin vice president of child well-being, shared Children's trauma-informed care principles and highlighted Community Services' work on SELF staffing and working to improve out-of-home care placement stability.
Teens hospitalized at Children's with lung damage after reportedly vaping
As you may have seen in hundreds of local and national news stories, Children's Wisconsin reported eight cases of hospitalized teens with seriously damaged lungs to the Wisconsin Department of Health Services who is investigating the possible causes of these illnesses. All patients reported vaping in the weeks and months prior to being hospitalized. "The popularity of vaping is obviously skyrocketing among our kids and its dangers are still relatively unknown. We don't have a lot of information about the long-term effects or even the short-term effects," said Mike Gutzeit, MD,chief medical officer of Children's. "What we do know is vaping is dangerous. It's especially dangerous in teenagers and young adults."
Learn more from our NewsHub article about teen vaping.
Ensure you are signed up for CAN to receive future opportunities to engage in grassroots advocacy on this topic!
Governor Evers signs Wisconsin state budget
On July 3, Governor Tony Evers signed the 2019-21 Wisconsin state budget. You can read more about some of the provisions related to child and family health and we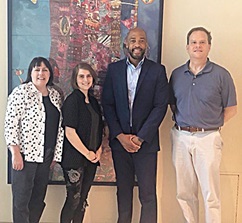 ll-being.
Lieutenant Governor Barnes visits Children's, hears from patient advocate on mental and behavioral health
Lieutenant Governor Mandela Barnes stopped by Children's to learn more about our care and services. While here, he met with 17-year-old Cady and her parents who shared how important it is for young people to be able to access mental and behavioral health care. Way to be a great advocate, Cady!
Children's patient travels to Washington, D.C. to advocate for mental and behavioral health care
Each year, Children's hosts a patient family in Washington, D.C. as part of the annual Children's Wisconsin Association Family Advocacy Day. This year, nine-year-old Derell and his mom Etta from Milwaukee traveled to our nation's capital to share Derell's story about the importance of accessing mental and behavioral health care.
---
Governor Evers & DHS Secretary-designee Palm visit Children's, discuss mental and behavioral health and child well-being
Governor Tony Evers stopped by Children's to learn about the unique care we provide kids and families both inside and outside of the hospital. While here, he met with baby Jaxx and his family. Jaxx was just one week old and was receiving care at our cardiac intensive care unit before he had heart surgery at our Herma Heart Institute. He also learned about our Community Services and mental and behavioral health care services. Educating lawmakers about our work and the services kids and families need to be healthy and well is important to helping our work to advance policies that best support kids' health and well-being.
With too few mental health care providers to go around, kids often wait to get help
Wisconsin has a total of 148 practicing child psychiatrists, or 12 for every 100,000 residents younger than 10, according to the American Academy of Child & Adolescent Psychiatry. That's about a quarter of the academy's recommended amount. "Every day we have families calling us all around the state attempting to get an appointment with a therapist," said Amy Herbst, vice president of mental and behavioral health at Children's; though the wait could be weeks or even months. Children's has a behavioral health specialist in 19 of its 26 clinics across the state and they're shared amongst the rest of the sites. "Still, it's hard not to feel inadequate as a health care provider when you're unable to get a patient the help they need right away," said Smriti Khare, MD, president of Children's Primary Care.
Read more from the Milwaukee Journal Sentinel Kids in Crisis series.
Racine schools, in partnership with Children's Wisconsin, implement full-time mental health therapists for students
As parents and school leaders recognize the growing need for mental health professionals in schools, one southeast Wisconsin school district is making it happen. Racine Unified School District partnered with Children's to bring full-time therapists to several of its elementary schools. Jackie Willms, from Raci, said the program changed her daughter's life.
Read more from NBC 4.
---
Children's advocates attend 2019 WHA Advocacy Day and honor staff and legislators with awards
On April 17, nearly 100 Children's Wisconsin advocates, including Children's staff and patient families, traveled to Madison to take part in the Wisconsin Hospital Association's annual Advocacy Day. Read Children's NewsHub blog on two patient families who attended the event!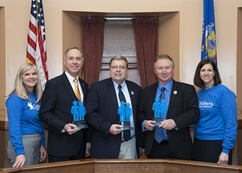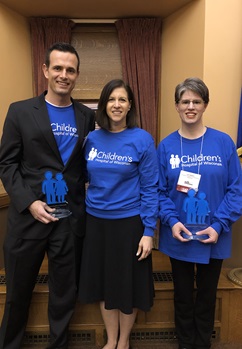 Children's honored the seventh annual Children's Champion Policy Awards to Speaker Robin Vos, Representative Steve Doyle and Representative Pat Synder for their work on the bipartisan Speaker's Task Force on Foster Care. The Task Force championed numerous policies to improve the health and well-being for our most vulnerable children and youth. For the first time, Children's also honored two of our staff for their dedication and passion for advocacy on behalf of Wisconsin kids and families. Congratulations to Lori Albers, Children & Youth with Special Health Care Needs Project Manager, and Aaron Kinney, Executive Director of the Herma Heart Institute!
Kohl's donates $5 million to Children's Wisconsin to enhance mental health services
Kohl's announced a $5 million gift to Children's to help launch a multi-year mental health strategy to improve mental health services for Wisconsin kids and their families. The grant will directly address the state's need for greater access to mental health services for children and generate awareness about the impact a child's mental health has on his or her holistic well-being. "This incredibly generous gift will jump start numerous initiatives and expand programs that strengthen our mental health strategy," said Peggy Troy, president and CEO of Children's. "We are so thankful that Kohl's believes in our vision that Wisconsin kids will be the healthiest in the nation — physically, mentally and socially. Sadly, Wisconsin ranks extremely low in meeting the mental health needs of our kids."
Watch and read this powerful story on our Racine school-based mental health providers, featured on NBC 4.
Children's doctor discusses lead exposure in kids at Milwaukee Common Council
Heather Paradis, MD, medical director of Children's Community Services, participated in a Public Safety and Health Committee session at Milwaukee's City Hall on the effects of lead exposure on Milwaukee's children. Dr. Paradis pointed out that the number of children being hospitalized with severe lead poisoning in Milwaukee continues to increase and she stressed the importance of early testing.
Visit our legislative work page to read her testimony.
---
New infant abuse prevention bill based on work of Children's Wisconsin doctor
According to the National Child Abuse and Neglect Data System, an estimated 1,720 children died from abuse or neglect in the United States in fiscal year 2017. Seventy-two percent of child fatalities involved children younger than 3, and 50 percent involved infants younger than 1. Multiple studies have found that relatively minor, visible injuries in young infants, including bruising and intraoral injuries, are often indicators of abuse. Such injuries in infants are commonly overlooked by medical providers, caregivers and child welfare professionals because they seem trivial. Without early intervention, physical abuse can escalate, resulting in severe injuries or even fatalities. U.S. Senator Tammy Baldwin announced a new bill on April — the Early Detection to Stop Infant Abuse and Prevent Fatalities Act — which is inspired by and based on the work of Lynn Sheets, MD, medical director of child advocacy and protective services at Children's that would help reduce cases of infant abuse in the United States.
"Keeping kids healthy and safe needs to be our aim, not treating injuries after they happen or mourning the loss of a life taken too soon. This bill would help us do that. This legislation could significantly improve early recognition and intervention efforts to protect vulnerable infants and will help prevent many cases of abuse and related fatalities," said Dr. Lynn Sheets, medical director of child advocacy and protective services, Children's. "Unfortunately, after decades of evaluating abused infants, I have found there were reports of minor suspicious injuries before more serious harm was done. We have used this information in Wisconsin to help prevent further tragedies and applaud Senator Baldwin's leadership to expand these efforts."
Abbott Family: The power of advocacy
Aidan, a 14-year-old from Slinger loves physical education class and enjoys playing basketball. But he's no ordinary 14-year-old; he's working to make a big impact on public policy affecting kids across the country. Read on to hear from Becky, Aidan's mom about the importance of sharing your story!
Children's statement on Governor Evers' 2019-21 state budget
"Governor Evers' proposed budget includes encouraging support for an array of programs, services and partnerships to enhance access to care for kids, and especially important are increased payments to hospitals, like Children's, that serve a high volume of patients covered by Medicaid. These proposals will help us strive towards Children's vision of Wisconsin's kids being the healthiest in the nation," said Peggy Troy, president and CEO of Children's. "Access to health care and child safety are important bipartisan priorities. As the Legislature now begins its work on the state budget, we look forward to working with lawmakers and the Governor to ensure adequate funding for the health and well-being for Wisconsin's children."
---
Lawmakers visit Children's
We were glad to host many lawmakers in early 2019 to learn more about the care and services we provide to kids and families from all across Wisconsin. Thank you Commissioner Kowalik, Secretary-designee Palm, Assistant Deputy Secretary-designee Safar, Representative Haywood, Representative Myers, Representative Vining, Congressman Gallagher, Congressman Steil, Speaker Vos and Governor Evers!
Children's pediatricians host press conference on importance of vaccinations
On February 19, doctors at Children's held a press conference urging people to get vaccinated, if you have't already, because influenza in Wisconsin hasn't peaked yet. Lyn Ranta, MD, Children's director of physician affairs, recommends that all children over six months receive vaccinations. She notes that the influenza vaccine is particularly helpful in preventing severe infection and hospitalization.
Watch the press conference
For young survivors of violence, Project Ujima uses art to help them heal
For more than two decades, Project Ujima has worked to stop the cycle of violent crimes that takes a toll on far too many of Milwaukee's children, families and neighborhoods. In 2018, Project Ujima began collaborating with University of Wisconsin-Milwaukee's (UWM) Peck School of the Arts. 15 teens works closely with Project Ujima staff and UWM art students and faculty on a peace banner and a series of survivor portraits. One 15-year-old participant wrote that "I can finally talk to people, not with violence or with words."
---
Providers across Wisconsin working to prevent child abuse and neglect
On average across Wisconsin, maltreatment is blamed for approximately 27 child deaths per year. Lynn Sheets, MD, medical director of Children's Child Advocacy & Protection Services, says that children who are part of families that are under high levels of stress – where there are financial problems, social isolation, mental health issues, abuse and more – are more likely to be abused. The Wisconsin Department of Children & Families recorded 806 substantiated reports of physical child abuse in 2017 and Child Protective Services investigated more than 42,000 reports in the same time. Hospitals across Wisconsin are beginning to implement a curriculum called Period of PURPLE Crying, which teaches new parents what type of crying is okay and to be expected and how to cope with it.
Read Oshkosh Northwestern's article >>
Children's ranks among best hospitals for children with congenital heart disease
Children's Wisconsin was named among the top 24 best hospitals for children with congenital heart disease. Studies show that the more experience a hospital and its surgical team have in performing high-risk operations, the better outcomes they tend to have. On average, Children's provides more than 600 cardiothoracic surgeries each year. See the rankings.
Learn more about Children's Herma Heart Institute.
Children's Kenosha Clinic opened February 4
Children's opened its new Kenosha Clinic on February 4 with expanded services, including urgent care seven days a week. The clinic will consolidate specialty and primary care services with convenient on-site lab, imaging and community services into one multipurpose location. Read Patch.com's article.
How Integrated Behavioral Health is bringing pediatric psychologists into the pediatrician's office
Eight-year-old Derell, from Milwaukee had trouble focusing in school and following rules. At the Midtown Clinic and three other primary care clinics, Children's is piloting the Integrated Behavioral Health program, which brings behavioral health therapists and pediatric psychologists into the primary care setting. Once he was receiving treatment, Derell's behavior transformed rapidly, including an improvement in his grades and getting along with other kids.
Read our NewsHub's post about Derell and integrated behavioral health at Children's.
2018
Children's Wisconsin Graduate Medical Education program funding signed into law
In early September, the U.S. Senate followed the House of Representatives and approved bipartisan legislation to reauthorize the Children's Wisconsin Graduate Medical Education (CHGME) program at $325 million annually for training at Children's hospitals across the country. This funding helps Children's to train more than 100 residents and fellows each year. President Trump signed the bill into law on September 18. Thanks to our advocates for sharing with Congress why training our next generation of pediatric providers is so important to kids and families!
Children's Wisconsin bringing mental health care to schools
A distraught kindergartner clenches her fists and gets an angry look on her face. Crying, she stands up and pushes over several chairs that crash to the floor as her classmates turn to look. Episodes like this became more frequent for six-year-old Takiya, a student at Knapp Community School in Racine, Wisc. Takiya's teachers suggested she trying seeing Kristine Jacobs, a licensed clinical social worker and therapist at Children's who works full-time at Knapp's mental health clinic through a partnership between Children's and Racine Unified School District. Jenny Miller, manager of school-based mental health services for Children's says "What we are doing is really groundbreaking; we are putting services at the center of families' lives in a place they already know and trust - their kids' school." No family is turned away for an inability to pay and services are funded through a combination of school district monies and grants. The program is also possible in part because of recent legislation that raised Wisconsin's Medicaid reimbursement rate for mental health services.
Read more on our blog- NewsHub about school-based mental health.
Local family advocates for Medicaid and pediatric provider training in Washington, D.C.
In June, the Johnson Family from Kenosha, Wisc. represented Children's Wisconsin in Washington, D.C. in meetings with members of Congress as part of the national Children's Wisconsin Association's Speak Now for Kids Family Advocacy Day. Gabe and his family joined other patients and families representing Children's Wisconsins from across the country. Gabe discussed the lifesaving specialty medical care he has received and how important secondary Medicaid coverage is for their family. The Milwaukee Journal Sentinel, the Kenosha News, and many other local affiliate television stations ran stories about Gabe.
View our video about Gabe's story
---
Children's Community Health Plan dedicated to providing access to the highest quality health care and services
Children's Community Health Plan (CCHP) helps ensure kids and families across the state have the health insurance coverage and services they need. CCHP was started by Children's in 2006 in order to provide improved access to health care services for lower income families and to ensure taxpayer funds were spent appropriately on medical, dental and behavioral health services and treatment. CCHP offers BadgerCare Plus in 21 counties, covering more than 129,000 children and families. In addition, CCHP offers Together with CCHP on the Marketplace in six counties in southeastern Wisconsin, providing more than 27,000 individuals and families with a health insurance plan with a wide array of providers.
American Heart Association awards state legislators with Friend of Heart awards
The American Heart Association honored many state elected officials this summer with their annual awards. Among the recipients were State Senators Jerry Petrowski, Jennifer Shilling, State Representative Trieg Pronschinske, Evan Goyke and John Spiros for their efforts on passing the dispatcher-assisted CPR legislation that will help ensure Wisconsin callers receive life-saving instructions during an emergency. State Senator Alberta Darling was also recognized for working to pass legislation that would create a pilot program that offers FoodShare participants point-of-sale discounts on fresh produce and other healthy foods. Children's is proud to partner with the American Heart Association!
Members of Wisconsin Legislature learn about Children's dental care and services
Children's was pleased to share the work of our Dental Centers, and specifically our Dental Clinic and Operating Room at our Milwaukee campus, with a number of stakeholders. Children's Dental Centers serve over 15,000 unique patients annually, and approximately 40 percent of these patients have a special health care need. We also serve young adults with special health care needs. More than 90 percent of Children's dental patients are covered by Medicaid or Medicaid HMO. Thanks to State Representatives Mary Felzkowski and Paul Tittl, as well as staff from the offices of Speaker Vos, Senator Taylor, and Representatives Felzkowski, Sanfelippo, VanderMeer and Gundrum.
Visit our page to learn more about Children's dental and oral health care.
---
Children's Wisconsin license plate now available
When you put the blue kids on your bumper, you are helping spread the word about Children's and supporting the life-changing care we provide to kids and families. By getting your Children's license plate, you join a committed group of families, providers, community supporters and employees who help make possible the Children's vision of having Wisconsin kids be the healthiest in the nation.
Trauma-Informed Care Day visit with the Walkers
Children's was honored to host First Lady Tonette Walker and Governor Scott Walker at our Walworth Child Advocacy Center in recognition of Trauma-Informed Care Day on May 22.
Children's staff is proud to serve on the First Lady's Fostering Futures coalition working to change the way children and families who have experienced trauma are recognized and treated statewide. We know that children who experienced trauma and multiple adverse childhood experiences (ACEs) need help, support and understanding to feel safe, heal and grow. Children's is proud to implement trauma-informed care principles throughout our system and in our care for kids and families in our communities. Children's supports seven Child Advocacy Centers throughout Wisconsin, making it one of the largest networks of child advocacy centers in the country.
Elected officials visit Children's as part of Experience the Mission
Children's was glad to host Representatives David Bowen and David Crowley at Children's Wisconsin's campus, along with representatives from the Wisconsin Hospital Association. Attendees learned about Children's mission and followed the journey of a patient from transport and admission to treatment and rehabilitation. Representatives Bowen and Crowley experienced firsthand the Flight for Life gear and what it's like to be in a pediatric trauma room, among many other stops on the journey. Thanks for joining us!
Children's proud to host Governor Walker and legislators at Wausau Community Services to sign bipartisan Speaker's Task Force legislation
Governor Scott Walker visited our Wausau Community Services office to sign bipartisan legislation from the Speaker's Task Force on Foster Care into law. Children's testified in support of bills to improve the process for children to find safe and permanent homes, to increase funding for home visiting and prevention services, to allow foster parents to have access to important information in the child's mental health record, and to better define dental care so children in out-of-home care receive adequate services.
Read Milwaukee Journal Sentinel's article >>>
---
Kids in Crisis town hall scheduled May 2 in Milwaukee
Children's vision is that Wisconsin's kids will be the healthiest in the nation and a significant component of a child's health is their mental health and well-being. We support kids' mental and behavioral health through our work in clinics and communities across the state. Explore more about Children's services >>
We have shared stories from the Kids in Crisis series - a set of reports from the USA Today Network - Wisconsin, which explore various mental health themes and challenges the community to help find solutions. A Kids in Crisis Town Hall is taking place on Wednesday May 2 at the Milwaukee Public Library - Central Library Building from 7:00-8:30pm. This will feature youth and adults sharing stories about their personal experiences with mental health challenges in order to break the stigma around mental illness and advocate for change.
Visit Milwaukee Journal Sentinel to read the Kids in Crisis series.
Children's visits with lawmakers as part of Child Abuse Prevention month
April is National Child Abuse Prevention Month and members of Children's team met with lawmakers to focus on preventing child abuse and neglect and building awareness. We all have a role to play in creating safe, nurturing relationships and environments for kids. Thanks to Majority Leader Fitzgerald, Representative Taylor and staff from the offices of Minority Leader Shilling and Representatives Krug and Kooyenga for the meetings!
---
Dispatcher CPR legislation signed into law
Children's was glad to join the American Heart Association and many other partners as Governor Scott Walker signed 2017 Wisconsin Act 296 into law in April. This will help ensure that all dispatchers in Wisconsin are able to coach 911 callers through how to perform CPR while EMS and first responders are en route. Every minute counts for someone experiencing sudden cardiac arrest. We applaud our C.A.N. members for raising their voices on this important issue.
Children's advocates join Wisconsin Hospital Association's Advocacy Day
Nearly 100 Children's Wisconsin staff, patient families and board members joined other hospital advocates from across the state at the 2018 Wisconsin Hospital Association's Advocacy Day in Madison. Following a morning filled with informative programming and messaging, advocates headed to the State Capitol to meet with their lawmakers about important health care issues impacting Wisconsin kids and families.
Visit our WI Hospital Association's Advocacy Day page.
Representatives Rohrkaste and Crowley honored with sixth annual Children's Champion Policy Awards
Children's Wisconsin proudly honored Representative Mike Rohrkaste (R-Neenah) and Representative David Crowley (D-Milwaukee) with the sixth annual Children's Champion Policy Awards. The Children's Champion Policy Awards honor public policy leaders in Wisconsin who strive to make a positive impact in the lives of Wisconsin children and families by working to advance child health and well-being policy.
Children's Wisconsin stands with kids
Peggy Troy, president and CEO of Children's writes: "Students all across our country, including in Wisconsin, observed the one-month anniversary of the senseless and heartbreaking deaths of 17 students and staff at Stoneman Douglas High School in Parkland, Florida in various ways. I am deeply moved by the bravery and passion of the students organizing these efforts and by the strength of their voices in advocating for change."
To read more, visit our blog page - NewsHub >>
---
Visitors from Milwaukee Sister City - Irpin, Ukraine - visit Children's Wisconsin
Milwaukee and Irpin, Ukraine recently signed a Sister City agreement to encourage friendship, collaboration and exploration of mutual cultural and economic issues. Visitors from Irpin visited Milwaukee and toured a variety of community institutions, including Children's Wisconsin.
State Senator LaTonya Johnson visits Next Door
State Senator LaTonya Johnson visited Next Door Early Childhood Education Center and Clinic on January 29 to participate in a literacy event with Reach Out & Read Wisconsin, a Children's Health Alliance of Wisconsin initiative. Reach Out & Read partners with primary care providers to encourage reading with young children and families to increase language development and early literacy skills.
Dispatcher CPR bill moves through Wisconsin legislature
A bill that would ensure that 9-1-1 dispatchers are trained to talk callers through performing life-saving CPR is moving through the Wisconsin Legislature. It has passed the Assembly Committee on Criminal Justice & Public Safety and we are glad that it recently had a hearing in the Senate Judiciary & Public Safety Committee. On January 30, Children's Wisconsin staff joined the American Heart Association for a Lobby Day at the State Capitol to encourage our elected officials to support the measure.
State Legislature: Children's testifies on Speaker's Task Force on Foster Care legislation
Children's Wisconsin testified in support of four bills that originated from Speaker Robin Vos' Task Force on Foster Care. These included bills to improve the process for children to find safe and permanent homes, increasing funding for home visiting and prevention services, allowing foster parents to best support their child's mental health care, and ensuring children in out-of-home care receive adequate dental care. We appreciate our staff, David Whelan, Kristin Kopcha, Dr. Colleen Greene and Rachael Wolfe for testifying in Madison in support of this legislation. We were especially grateful to foster parent, Cathi Foster, for sharing her powerful story of how she and her family advocate for their son.
---
Children's Wisconsin focuses on future physician advocates
Each semester, Medical College of Wisconsin residents at Children's Wisconsin spend a rotation in the State Capitol. They learn about the importance of pediatric advocacy, partnerships and contacting and meeting with their elected officials. Dr. Amanda Scheuermann recently met with her legislators - Representative Jonathon Brostoff and Senator Chris Larson. It's important for legislators to hear from you - their constituents - on issues that matter to you.
If you'd like to learn more about your advocacy work and easily contact your elected officials, Learn more about our Children's Advocacy Network!
Children's Health Insurance Program reauthorized for six years
Funding for the Children's Health Insurance Program (CHIP) is a critical source of funding for BadgerCare in Wisconsin, which helps provide health care coverage for children living in low-income and working families. In Wisconsin, a combination of federal Medicaid, CHIP and state match funds help cover approximately 450,000 kids in Wisconsin - with CHIP specifically helping cover approximately 118,000 children annually. This funding expired on September 30 last year, however Congress approved and President Trump signed a short-term government funding bill, which included a six-year extension of CHIP funding. This bill maintained important provisions to protect high quality health care for kids. It's clear that CHIP funding was extended due to a strong collective advocacy effort across the nation - thank you advocates!