Advocacy news
Our advocacy efforts help make a positive impact on legislation that affects the health of children and families in Wisconsin and nationwide.
2022
Children's Wisconsin is training more therapists and helping kids like Mariska
In the summer of 2021, 8-year-old Mariska from Greenfield, Wisc. started showing signs of anxiety. She had issues falling asleep and staying asleep. She would get a tummy ache every time she got in a vehicle, and she was constantly worried about going into public areas with lots of people. Her parents feared the pandemic had taken its toll. Mindi received recommendations for therapists but they had waitlists that were months long. Mindi decided to call Children's Wisconsin's scheduling department and was able to make an appointment with Jessica Kotsakis, APSW, right away. Mariska met Jessica that September and the two quickly bonded over their love of soccer. Jessica made Mariska feel at ease and provided useful tools that helped Mariska manage her anxiety. They did exercises to help Mariska control her breathing and practiced positive affirmations that Mariska could repeat to herself at any time. She has gained so much confidence in herself, learned ways to cope with her feelings and is her quick-witted self again.
For a therapist to become licensed, they must complete 3,000 hours of clinical training, which takes a significant amount of time and money. Through the Therapist Fellowship Program, which receives funding from many sources, including the state, Children's Wisconsin supports post-graduate qualified therapists with pay and benefits as they complete those hours. While licensure typically takes upwards of five years to complete, therapists in the Fellowship Program typically earn their licenses in less than two years. "I would absolutely not be where I am today if it weren't for this program," said Jessica. "As a mother with a family to support, the time commitment alone would have made it impossible to pursue further licensure. This simply would not be an option for me without the Children's Wisconsin Therapist Fellowship Program." By March of 2022, eight therapists had completed the training and received their licenses — 14 more are currently enrolled. Since the program was launched in 2019 more than 1,285 families have been supported with more than 16,000 sessions. Read more.
At Every Turn: Victoria's drive to thrive
Shortly after Victoria, from Milwaukee, Wisc. was born in 2019, she was diagnosed with Down syndrome. Often kids with Down syndrome have low muscle tone — and that was the case for Victoria. In her life, she struggled to learn to crawl and walk, but, now, nothing is slowing her down. Victoria's physical therapist at Children's Wisconsin connected her with Go Baby Go!, a partnership between Children's Wisconsin and Marquette University that builds specially designed cars that help kids with special needs become independent. Watch Victoria's story to learn how her Children's Wisconsin physical and occupational therapists have been there for her...at every turn...to help her become the thriving, active child she is today.
$1 million commitment from Delta Dental to expand Children's Wisconsin services
Children's Wisconsin is excited to announce a $1 million commitment from Delta Dental of Wisconsin Foundation to support the expansion of its dental program, which will increase access to oral health care for some of the state's most vulnerable. The Children's Wisconsin dental program specializes in providing comprehensive care to kids of all ages, as well as kids with physical, developmental or intellectual disabilities, complex medical histories, sensory impairment and/or behavioral issues. More than 90 percent of those who receive dental care at Children's Wisconsin are covered through Medicaid.
Children's Wisconsin is one of the largest providers of pediatric dental care in Wisconsin, serving approximately 22,000 patients every year across four locations, as well as in its inpatient and outpatient operating rooms. The Children's Wisconsin dental program is recognized for its expertise in special care dentistry, with about 35 percent of all patients having a disability. Children's Wisconsin is also the state's only pediatric dental residency program serving as the sole training ground for pediatric dentists. "Funding from Delta Dental to expand our space will allow us to provide more training and experience in special care dentistry to Marquette University dental students and our professional dental colleagues. Familiarizing them with the needs of patients with disabilities and providing them with the opportunity to feel the rewards of serving this population, is a critical first step in improving much-needed access," said Lori Barbeau, DDS, medical director of the Children's Wisconsin dental program. " Read more.
Milwaukee Market Match program funding approved unanimously by County Board
The Milwaukee Market Match program is a nutrition incentive program that provides matching dollars for families receiving FoodShare, Wisconsin's version of the Supplemental Nutrition Assistance program (SNAP). For every dollar a family spends on healthy fruits and vegetables, they receive matching dollars to purchase additional produce at participating local farmers' markets. The Milwaukee Market Match program also acts as an engine for the local economy—participating farmers reap the benefit from higher sales of produce and SNAP dollars remain local. In fact, every $1 invested generates up to $2 in economic activity. Supporting families in purchasing more healthy food options through the Milwaukee Market Match Program provides an opportunity to address key health inequities in our community. We're all familiar with the benefits of a healthy diet – especially for children – to grow, develop, learn and thrive. Healthy meals can reduce risks of obesity, heart disease, diabetes, cancer, stress and mental illness. However, fresh vegetables and fruit are often expensive, putting healthier options out of reach for many. That's why efforts, like the Milwaukee Market Match Program, are critical to extending families' dollars further to support healthy food purchases.
Thanks to grassroots advocates and our partners, the County Board approved $1.1 million of American Rescue Plan Act funds to support the program at nearly a dozen markets across Milwaukee County. That means many more families who use FoodShare at the markets will be able to receive matching funds to purchase additional healthy fruits and vegetables. Children's is grateful for the collaboration and hard work of many partner organizations who helped make this advocacy effort possible. Read more at Milwaukee Neighborhood News Service.
Kids in the crossfire: The lifelong impact of violence and trauma
One summer day, a mother left her house to go to a doctor's appointment while her son went to the local park to play basketball with friends. It was a typical day, until she got a phone call. Her son had been shot at the basketball court. Mom knew her son needed physical help, so she got him out of the shower and rushed him to Children's Wisconsin. But that was only the start. Mom said, "Never in a million years did I think this would happen to my kids. In the moment, I couldn't think of anything else besides, is he alive? Some kids make it out, some kids don't. I was just so glad my son was alive." She noted that, at first, he wanted to retaliate. He spoke of finding the people who did this and paying them back. But sitting down and talking to him, and a referral to Project Ujima, helped.

Project Ujima works to stop the cycle of violent crimes through crisis intervention, social and emotional support, youth development and mentoring, mental health, and medical services. Children's Wisconsin launched Project Ujima in 1996 in response to a growing number of victims showing up in the Children's Wisconsin Emergency Department with gunshot and stab wounds. With violence on the rise, the Project Ujima team is supporting more kids and families than ever with the tools needed to heal. The number of people the team has worked with over the last three years has nearly doubled. While Project Ujima can work with anyone, at any age, who has experienced violence, the team specifically worked with 140 victims of firearm injuries under the age of 18 in 2021. In 2018, they worked with 55.

According to studies, among children with firearm injuries, the chances of them ending up back in an emergency department within the next year is 22.4 percent. Among the patients Project Ujima has worked with, only 4 percent have had that experience.

When asked what helped her son most after he was shot at the basketball court, Mom listed Project Ujima, his family's support and guidance, and positive activities like a summer job. And when asked what she wants people to know about gun violence, she said, "Kids are being killed. As parents, our relationship with our kids plays a big part. The more we can talk to them and be active with them, learn about their friends, and be a part of their everyday lives, the more we can steer them in the right direction." Read more about Project Ujima and healing and support resources.
Children's Wisconsin crisis response team is seeing more children for mental health issues since the start of the pandemic
When the crisis response team at Children's Wisconsin began in 2020, it was estimated the team would see about 800 children each year. The team includes a psychiatrist and mental health social workers who care for children and adolescents who may have attempted suicide or who have a self-inflicted injury, among other similar mental health concerns. But by the time 2020 was over, the team had seen close to 1,000 children. That number increased in 2021, as nearly 1,400 kids were helped by the crisis response team that year. From 2020-21, the Children's Wisconsin emergency department saw a 60% increase in patients who attempted suicide, according to a spokesperson from the hospital.

The crisis response team sees patients who may be experiencing suicidal or homicidal ideation, psychosis, mania or other similar issue. When children arrive, the team makes sure the patient is stable. They perform assessments and discuss next best steps with their families. Team members put together a safety plan, which focuses on identifying warning signs or coping skills. They also help connect them with a therapist, psychiatrist or other outpatient programs for follow-up care. The navigator follows up with families to ensure recommendations are being followed and provide resources for follow-up care. The work of the team is funded through a three-year, $2.5 million grant from the United Health Foundation. Funding from the United Health Foundation grant also supported de-escalation training and trauma-informed education for all emergency department nurses and medical staff. Read more in Milwaukee Journal Sentinel. Read Children's NewsHub.
Children's Wisconsin & Bellin Health partner on new Ashwaubenon clinic for kids
Bellin Health plans to build a new clinic for children and teens that will combine primary and specialty care on Ashland Avenue in Ashwaubenon. Construction will begin in December and is expected to be completed in early 2024. Bellin primary care providers and specialists will staff the clinic alongside specialists from Children's Wisconsin. The project is part of a partnership that the two health systems and ThedaCare debuted late last year to expand access to pediatric services in northeast Wisconsin. Dr. Matt Buelow, a pediatric specialist at Children's Wisconsin, said having primary and specialty services in one building will be a "tremendous asset." "This is a really unique design; it's a unique model," Buelow said. "It's going to be a game-changer in terms of the patient experience." Read more in the Appleton Post Crescent.
At Every Turn: Saving Ayden's smile
Ayden's pain was so severe that he was unable to sleep or eat. The cause? Cavities that turned into infections. For months, his mom tried everything she could to get him into a dentist, but with no success. The pain got so severe his mom did the only thing she could think of and brought him to Children's Wisconsin Emergency Department. Many parents don't realize dental disease is the most common childhood ailment and the number one reason kids miss school. Watch Ayden's story to learn how Children's Wisconsin was able to get him the help he needed, and is there for all families…at every turn.
"60 Minutes" features innovative Children's Wisconsin mental health programs
On May 8, "60 Minutes" featured the innovative approaches Children's Wisconsin is taking to address the mental health crisis facing our kids — kids like Austin, Abby, Mary, Neenah, Sophia and so many more. Those incredible and brave young people shared their own mental health struggles and how Children's Wisconsin has helped them cope, recover and flourish. CBS journalist Sharyn Alfonsi sat down with several Children's Wisconsin staff and providers to learn the unique ways they are proving mental and behavioral health care for children who need it most. You can view the 60 Minutes segment here.
Children's Wisconsin hosts kids' mental & behavioral health roundtable for policymakers
Children's Wisconsin hosted more than 30 federal, state and local lawmakers for a roundtable on kids' mental & behavioral health to kick off Mental Health Awareness Month on May 3. Policymakers heard from Children's staff firsthand on what we and the children and families we care for are experiencing. We also shared how Children's is transforming the way we care for kids to offer mental & behavioral health services at more touch points for families.
Children's Wisconsin partners with Department of Defense's SkillBridge program
Children's Wisconsin is proud and excited to announce our participation in the Department of Defense's SkillBridge program. SkillBridge provides service men and women the opportunity to gain valuable work experience during their last 180 days of service, and helps them bridge the gap between their military commitment and the beginning of their civilian careers. Service members participating in the SkillBridge program receive their compensation and benefits from the U.S. military, while Children's Wisconsin provides the training and work experience to enhance their skillset. "At Children's Wisconsin, we know that the military is skilled — and we know that they bring those skills to the workplace," said Julie Okoro, manager of Workforce Development at Children's Wisconsin. "Supporting our military members is something that we're excited to do." Read about some of Children's participants.
Children's physician, Dave Margolis, MD, acknowledged by Governor Evers & City of Milwaukee Mayor Johnson
Milwaukee Mayor Cavalier Johnson declared Sunday, May 1, 2022 as Dr. David Margolis Day. Margolis is a doctor at Children's Wisconsin, the interim chair for the Department of Pediatrics at Children's Wisconsin, Program Director of Bone Marrow Transplant, and a professor at the Medical College of Wisconsin. With this proclamation, everyone in our city will know what so many of Dr. Dave's friends, colleagues and patients have long known — that his dedication to and love for kids, the Milwaukee Bucks and the city of Milwaukee knows no bounds. But Dr. Dave's impact is hardly limited just to Milwaukee. His shining light stretches all across Wisconsin. To recognize that, Governor Tony Evers has also honored Dr. Dave with an official Certificate of Achievement recognizing his lifetime of service. Read NBC, FOX and Children's NewsHub.
Lead: How to prevent this invisible danger from hiding in your home
Lead is a dangerous metal found in the environment. It can be found in dirt and dust, some things we eat, paint in old houses and contaminated water. Even very small amounts of lead are not safe for children. Children younger than 6 years old are especially vulnerable to lead poisoning, which can severely affect mental and physical development. Learn about the signs and symptoms of lead poisoning (some children do not look or act sick) and some tips for preventing lead poisoning in your home. Read more.
Change the Checkup Challenge exceeded - mental & behavioral health progress update
The $5 million Change the Checkup Challenge was started in July of 2021 as part of a $20 million commitment from The Yabuki Family Foundation to help Children's Wisconsin transform the response to pediatric mental and behavioral health. We're proud to announce that the funds from this challenge have been met; funds raised will bring mental and behavioral health care teams — including at least 36 full-time master's-trained therapists — into every Children's Wisconsin primary care office and urgent care location, as part of the largest-scale implementation in any pediatric setting in the nation. 675 supporters from 29 states and one Canadian province, including 197 first-time donors, helped raise more than $5.2 million. Learn more about Children's progress on integrating mental and behavioral health into physical health settings, universal mental health screening, school-based mental and behavioral health, urgent and emergent mental health care offerings, early childhood mental health, partnerships with other providers, and our therapist fellowship program. Read more.
Craig Yabuki Walk-In Clinic now officially open
Children's Wisconsin is excited to announce the official opening of the Craig Yabuki Mental Health Walk-In Clinic. Located on the second level of the Clinics Building at the Children's Wisconsin Milwaukee campus, this clinic is a first-of-its-kind in the state and fills a critical gap in care for kids experiencing a mental health crisis. Along with a guardian, children and teens ages 5-18 are welcome to walk in and receive access to care immediately, with no appointment or referral required. Licensed therapists, social workers, and clinic assistants are available to see patients from 3-9:30pm. services provided, families should visit the clinic website at childrenswi.org/mentalhealthwalkin. Our staff will provide evaluations and determine any immediate safety concerns, and then communicate with a child's existing doctors and therapists to ensure continuing resources are available after the visit. The purpose of the clinic is to provide immediate, temporary support, and is not a replacement for ongoing therapy or care by a mental health provider. Learn more.
Dr. Chris Spahr testifies on medication insurance policy
Dr. Chris Spahr, Children's physician and as Children's Chief Quality Safety Officer, testified before Wisconsin lawmakers on legislation that would improve care for those needing specialty medications administered in the clinic setting. Read more.
Children's Wisconsin to open walk-in clinic for kids with urgent mental and behavioral health needs
The Craig Yabuki Mental Health Walk-In Clinic will be located within the Clinics Building of Children's Wisconsin Hospital-Milwaukee. It will serve children and teens ages 5-18 and provide services seven days a week from 3-11 p.m. The clinic's opening date will be based on when staff are hired and trained, with a goal of opening in early 2022. Children's Wisconsin continues to actively recruit licensed therapists, social workers and clinic assistants who are familiar with community resources and have experience or want to support kids with urgent needs. Staff will provide evaluations and determine any immediate safety concerns, and they will communicate with a child's existing doctors and therapists to ensure continuing resources are available after the visit. When needed, the clinic team will have access to a psychiatrist. The purpose of the clinic is to provide immediate, temporary support, and is not a replacement for ongoing therapy or care by a mental health provider. Read more.
2021

First Lady Jill Biden, Second Gentleman and U.S. Surgeon General visit Children's Wisconsin
Children's Wisconsin made local and national news on Wednesday, Dec. 15, when First Lady Jill Biden, Ed.D., visited our Milwaukee campus to meet with some of the victims of the Waukesha Christmas Parade tragedy and the Children's Wisconsin staff who cared for them, as well as with kids who received their COVID-19 vaccine. She brought with her Second Gentleman Douglas Emhoff and U.S. Surgeon General Vivek Murthy, MD, along with a message of gratitude and hope. While Children's Wisconsin has welcomed dignitaries of all political parties throughout its history, this was the first ever visit by a First Lady.The First Lady learned more about our comprehensive vaccination efforts, which included a vaccination clinic on the Milwaukee campus, and she even played games with kids who had just received their shot. Her message focused on the resiliency of our Children's Wisconsin staff, the parade victims, and the entire Waukesha community, as well as encouraging families to get the COVID-19 vaccine. Read more.
Children's Wisconsin, Bellin Health and ThedaCare announce new pediatric partnership
Three leading healthcare organizations – Bellin Health, Children's Wisconsin and ThedaCare — are announcing a new pediatric joint venture with a shared focus on improving the health and well-being of children and adolescents in Northeast and Central Wisconsin, as well as the Upper Peninsula of Michigan. Through focused coordination, closer alignment, and resource investments, the partnership will make a meaningful impact on the lives of children, adolescents, their families, and the region's communities. Read more.
Children's Wisconsin Notable Heroes in Health Care
Children's Wisconsin is honored to have several colleagues recognized as 2021 "Notable Heroes in Health Care" by BizTimes Milwaukee. These awards honor individuals and teams in health care who are making a difference in the lives of our patients and families. In addition to being well-deserved, these recognitions speak to the breadth of care and services Children's Wisconsin provides to our communities and families: COVID-19 response; diversity, inclusion and equity; mental and behavioral health; innovation and research; collaboration. As you look at the list of the winners, you will see our entire system reflected back. See the half dozen Children's awardees.
How the Children's Wisconsin Positive Parenting Program helped one family find peace
Triple P is a parenting program for kids up to age 12 who have been experiencing moderate to severe behavior issues. It offers free seminars, workshops and virtual discussion groups — but it doesn't tell parents how to be a parent. It's like a toolbox of ideas. Parents choose from strategies that fit their own unique needs, and then they choose how to use them. When Zohan would get upset or had big emotions, his mom Patricia would calmly talk to him and have him slowly count with her. 1, 2, 3….his focus would slowly shift and he'd begin to relax. There is also deep, slow, purposeful breathing in and out that helps the child center themselves and regulate their emotions. Learn about 3-year-old Zohan from Milwaukee and their family's experience with Triple P.
Waukesha Christmas parade tragedy
On Sunday, Nov. 21, 18 kids and families started a journey with Children's Wisconsin due to the tragedy at the Waukesha Christmas Parade. We're excited to share the last child remaining in our care at Children's Wisconsin Hospital-Milwaukee from that incident was discharged on Jan. 1. While one child sadly did not survive, we are thankful that the medical conditions of the others involved have improved. Though they are home now, we know this is a journey and many face a long recovery as a result of serious injuries, both physical and mental. They will continue to need the love, support and dedication of the community. Read more.
Addressing fears of the COVID-19 vaccine and kids
We know that parents want to make the best decisions for their kids. While many families are eager to have their children vaccinated, we know some parents have questions and may not know what information to trust or how to evaluate what they are reading or hearing from friends and family members. Read answers to common questions.
Dr. Louella Amos, Dr. Christina Diaz testify to raise tobacco, vaping age from 18 to 21
Dr. Louella Amos, pediatric pulmonologist at Children's Wisconsin and Associate Professor of Pediatrics for the Division of Pulmonary and Sleep Medicine with the Medical College of Wisconsin and Dr. Christina Diaz, pediatric anesthesiologist at Children's Wisconsin and professor of anesthesiology with the Medical College of Wisconsin shared their perspectives before the Assembly Substance Abuse and Prevention Committee. Raising the age to purchase tobacco and e-cigarette products is an important component of addressing this public health crisis among our youth. Stakeholders who receive their authority from state law, including law enforcement and retail partners, need this legislation to ensure they can help keep these harmful products out of the hands of our young people and out of our high schools. Strong, adequate compliance and enforcement is essential to limiting youth access to these products.
Children's Wisconsin's pediatric trends related to COVID-19, RSV and hospital census data
Each week, Children's Wisconsin will provide hospital census information to help our community better understand how respiratory illnesses, including COVID-19 and respiratory syncytial virus (RSV), are impacting kids. Check every Wednesday for updated data.
Hunger is health: How a Children's Wisconsin partnership gives families security and stability
A collaborative and cooperative effort, known as the Food Insecurity Program, was first conceived in 2016, after a study of the families coming to the Children's Emergency Department revealed that about half of all the kids were facing food insecurities. In December 2020, the program expanded dramatically, ensuring that families with food insecurity are given a $15 gift card for Children's cafeteria and cafes, information about food resources in Milwaukee County, and receive a follow-up call from an information and referral specialist at the Children's Wisconsin Family Resource Center. To date, the Family Resource Center has received more than 1,360 referrals from the Children's Wisconsin Emergency Department. Information and referral specialists were able to reach 80 percent of those families, and 70 percent reported positive outcomes, including being connected to at least one resource. Even though food insecurity is the initial trigger, when a referral specialist from the Family Resource Center connects with the family, they often identify additional needs — such as employment, transportation or mental and behavioral health — and they're able to connect them to other resources the family never knew existed. Read more.
National effort to "Sound the alarm for kids" facing mental health crisis
Children's Wisconsin is taking another step in our efforts to raise awareness about the mental and behavioral health crisis facing kids. We're joining Children's Hospital Association, American Academy of Pediatrics (AAP), and American Academy of Child and Adolescent Psychiatry (AACAP) to "Sound the Alarm for Kids" to not only raise awareness, but to urge Congress to enact legislation and increase funding to address the issue. "The crisis is significant. About one in five kids in Wisconsin is struggling with a mental illness. Our kids have high rates of anxiety, depression and suicide and not enough access to care," said Amy Herbst, MSSW, APSW, vice president, Mental and Behavioral Health, Children's Wisconsin. Read more.
Children's Wisconsin opening new clinic in Appleton
Children's Wisconsin will open a new clinic location in Appleton in 2023 conveniently located off Interstate 41. "Children's Wisconsin provides health care to all kids who need the specialized services in a way only Children's Wisconsin can. This new location will allow us to expand existing services and add new specialties," said Gail Ostrander, vice president of northeast regional services, Children's Wisconsin. "Expanding services at locations that are closer to where families live supports our efforts to provide more personalized and integrated care." Annually, Children's Wisconsin supports 50,000 visits of kids who live in the northeast region. But due to existing clinical space, only about 20,000 of those visits happen at clinics in the area. Families travel to a location in the Milwaukee region for the other 30,000 visits. The new state-of-the art building, designed for kids, will have the potential to support up to 70,000 visits a year, reducing the need for families to travel to Milwaukee for appointments. Read more.
Wisconsin pediatric health experts release statement on keeping kids in school and safe from COVID-19
Children's Wisconsin, UW Health Kids and the Wisconsin Chapter of the American Academy of Pediatrics made a plea to Wisconsin communities: Keep kids safe and keep schools open. How? Follow public health measures to prevent the spread of COVID-19. Kids are back in school and we strongly support efforts to ensure Wisconsin kids can be in school safely. In-person instruction, sports and other extracurricular activities are essential to kids' overall health and well-being, including their mental health. It is essential we protect our children from unnecessary exposure to COVID-19 and avoidable school closures due to workforce illnesses. We all have a role to play in limiting the spread of COVID-19. Following public health protocols, especially wearing masks, can reduce the spread of illness and the need for quarantine and isolation from work, school and other activities. Read more.
Milwaukee Health Emergency Center hosts beam signing ceremony
Milwaukee County, Advocate Aurora Health, Ascension Wisconsin, Children's Wisconsin and Froedtert Health hosted a beam signing ceremony where policy makers and community members gathered to sign a beam that will be used in the new building. The beam was painted green, the color of the ribbon used to promote mental health awareness. Milwaukee County's new Mental Health Emergency Center will replace the current facility in suburban Wauwatosa. The facility is designed to help those needing short-term mental health care and serve as a connection point to more long-term support. It will be available to all county residents, regardless of their ability to pay. Read more.
Children's Wisconsin joins Milwaukee Anchor Collaborative to boost workforce diversity
Children's Wisconsin has joined the Milwaukee Anchor Collaborative which has the goal of increasing hiring and corporate spending in Milwaukee's zip codes with high proportions of residents with lower incomes. The collaborative is comprised of major health care and educational institutions in the region who have all pledged to hire more people of color and spend more with businesses owned by those with marginalized identities in targeted zip codes. The anchors are currently setting goals to significantly increase employment and spending and will share more details this fall. Read more in BizTimes and Milwaukee Business Journal.
Healthy Baby, Happy Parent podcast launches
New parents have a lot of questions. Healthy Baby, Happy Parent from Children's Wisconsin is the podcast that answers those questions and more. In each episode, we talk to different pediatricians to get the answers to your most challenging parenting questions. We will tackle everything from feeding your baby to tracking development, to worrying about that first cold. We'll equip you with current evidence-based information, as well as "been there, done that" ideas and advice from our knowledgeable team of pediatric experts. Learn more and listen wherever you get your podcasts.
Turning tragedy to hope: Yabuki Family gives $20 million to transform response to pediatric mental and behavioral health crisis
The Yabuki Family Foundation and Children's Wisconsin announced a $20 million gift to transform the delivery of integrated mental and behavioral health care at every Children's Wisconsin primary care and urgent care location. This is the largest single gift in Children's Wisconsin history.Through the Yabuki family's generosity, the program will expand to at least 36 full-time, master's-prepared therapists who will work alongside pediatricians in every Children's Wisconsin primary care ofice and urgent care location. More than 175,000 kids are seen by Children's Wisconsin pediatricians during routine checkups or at an urgent care visit. This holistic integration of mental and behavioral health creates a new standard for evaluation, treatment and access to services for children. The Yabuki family's gift also supports the creation of an endowed mental and behavioral health research chair and analytics team to monitor program efficacy, improve and evolve the initiative and ultimately, to share best practices with pediatricians and pediatric health systems locally, regionally and nationally. Other funds will help expand research efforts, including a dedicated focus on understanding and reducing the increasing rate of suicide among kids. Read more and learn about Jeff Yabuki's personal connection to improving mental and behavioral health care for kids.
Kids in the crossfire series continues
This is the second post in the Kids in the Crossfire series — a series of blog posts that will explore the complexity of violence. With a shocking and record-breaking increase in violence in 2020 and now 2021, that experience is happening to more and more people. As the trend continues, violence and trauma approaches every one of us. A group of crime victim advocates, community navigators, nurses and therapists are facing the rise in violence head on. They're a part of the Community Health team at Children's Wisconsin. The team helping those who have experienced violence is Project Ujima. Project Ujima, which operates under the overarching Community Health team, works to stop the cycle of violent crimes through crisis intervention and case management, social and emotional support, youth development and mentoring, mental health, and medical services. The Project Ujima team worked with families from more than 201 homicides in 2020. And 2021 isn't looking any better. In fact, so far, it's worse. Read more.
U.S. News & World Report ranks Children's Wisconsin in six specialties
The 15th annual Best Children's Hospitals rankings recognize the top pediatric facilities across the United States. The new list was shared Tuesday, June 15, and places the Wauwatosa-based hospital among the best in six specific categories: Cancer; Cardiology & Heart Surgery; Gastroenterology & GI Surgery; Neurology & Neurosurgery; Orthopedics; and Pulmonology. "At Children's Wisconsin, we have built one of the most prestigious pediatric hospitals in the country and continue to provide an unmatched depth and breadth of care in our state," said Mike Gutzeit, MD, chief medical officer at Children's Wisconsin. "We could not do what we do without all of our dedicated, talented providers and staff, and the support of the community. All of Wisconsin should be proud to have access to some of the best pediatric care in the country." Read more.
Children's Wisconsin virtual care for kids during the pandemic
Children's was awarded a Milwaukee Business Journal Business Tech award for "Innovative Use of Emerging Technologies" for ensuring Wisconsin kids had access to mental and behavioral health care during the COVID-19 pandemic. Children's quickly created a telehealth mental and behavioral health program going from zero virtual visits for mental health before April 2020 to more than 30,000 visits since. Children's has tailored its offerings to meet kids' needs, using technology to help families feel comfortable during their visits, meet their therapy goals between sessions and connect with other families. From creating different-themed virtual Zoom rooms, leveraging the Manatee app that empowers kids and families to integrate therapy goals into everyday life, and launching virtual group therapy and telepsychiatry, the progress and achievements that have been made in mental and behavioral health this past year have been remarkable.
2021 Miracle Marathon raises more than $800,000 for Children's Wisconsin
Visit WKLH 96.5 to watch some of the powerful stories shared during our annual radiothon.
Pediatricians deal with vaccine hesitancy all the time. Here's how they are talking to parents about the COVID vaccine.
Pediatricians have more experience than other doctors in talking to people who have questions about what goes into their bodies or their children's bodies, particularly vaccines. And they are often trusted resources for parents, comfortable in sharing their expertise in an effective manner. "I ask parents if they've thought about getting vaccinated and we talk about their concerns," said Kristin Bencik-Boudreau, a Children's Wisconsin primary care pediatrician at Bayshore Pediatrics. "It opens the conversation, and even if they're hesitant, they are listening because I'm someone they trust with their child." "This pandemic has caused anxiety for everyone, and a common reaction to anything anxiety-provoking is to go into denial," said Paul Veldhouse, a Children's Wisconsin primary care pediatrician at Forest View Pediatrics. "That's caused a lot of people to go to the wrong places on the internet and get a lot of wrong information." Read more.
Children's Bob Duncan appointed to federal Medicaid commission
Bob Duncan, executive vice president of Children's Wisconsin and president of Children's Community Health Plan, was appointed to the Medicaid and CHIP Payment and Access Commission (MACPAC). MACPAC reviews Medicaid and CHIP access and payment policies and advises Congress on issues affecting Medicaid and CHIP. His term will end in 2024. Read more.
Children's named Top Workplace in southeastern Wisconsin
Children's is one of only nine companies who have been honored as Top Workplaces for southeastern Wisconsin in the 12 years that the Journal Sentinel has published the list. Children's Wisconsin placed 11th in the large business division. Read more.
Children's mental health funding critical in state budget
The COVID-19 pandemic has been a threat to the well-being of many of Wisconsin's children and families. While the focus over the past 12 months has been on flattening the curve of the spread of the virus, and we've made progress, we can't overlook what is proving to be the next wave of concern. Influenced by the pandemic, there is growing evidence of declining mental health for children and youth. As Wisconsin considers priorities in the upcoming state budget process and the uses of federal CARES Act funding, it is critically important to invest in the mental health of Wisconsin's children and families. Read more from Amy Herbst, vice president of mental and behavioral health at Children's Wisconsin, and Ann Leinfelder Grove, president & CEO at SaintA.
Children's Wisconsin, Rogers Behavioral Health collaborate to care for kids with chronic pain
Rogers Behavioral Health and Children's Wisconsin will collaborate on a new service model to better serve teens suffering from chronic pain and mental or behavioral health challenges. The Integrated Healing Program is the first collaboration of its kind in Wisconsin. Services will begin in late spring 2021 at Rogers Behavioral Health's Brown Deer campus. Teens who are managing the impact of chronic health conditions such as debilitating headaches, musculoskeletal pain, complex regional pain syndrome, and abdominal pain will be supported by child and adolescent psychiatrists and behavioral health staff from Rogers, as well as health psychologists, physical therapists and pain medicine experts from Children's Wisconsin. When a child is suffering from chronic pain, a comprehensive approach that supports the whole child and family is needed. The end goal is for these children to have the strategies and skills that allow them to manage their conditions so they can live healthy and thriving lives," said Peggy Troy, president and CEO, Children's Wisconsin. Read more.
$15 million challenge to support mental health initiatives at Children's Wisconsin is met
Children's Wisconsin is proud to share the $15 million dollar-for-dollar challenge from the Reiman Foundation has been met. The more than $30 million raised supports Children's $150 million, five-year vision to address the growing mental and behavioral health crisis facing Wisconsin kids. Children's recent efforts include screening kids ages 12+ for mental and behavioral health concerns, implementing early childhood mental health, increasing our presence in school-based settings across the state, integrating behavioral health care into the primary and specialty care setting, developing a pipeline of trained post-graduate therapists, implementing a 24-7 crisis response team in our emergency department, as well as enhancing our partnerships with inpatient and residential mental health providers in our community, including a new psychiatric emergency department in Milwaukee. Read more.
Shine Through videos to help address kids' mental and behavioral needs
Kids in Wisconsin are experiencing a mental & behavioral health crisis, and many families are unsure how to address it with their children. That's why Children's Wisconsin is committed to helping parents and caregivers get the answers they need One of the newest additions to our Shine Through webpage is a series of brief, helpful videos for parents and caregivers to help care for and support their child. Videos and resources focus on kids by age group as well as address frequently asked questions, common concerns, and how to talk to your child, pediatrician, schools about their child's mental and behavioral health.
Children's Wisconsin partners to offer COVID-19 community vaccine clinics
Listen to Mike Gutzeit, MD, chief medical officer at Children's Wisconsin, and colleagues at the Medical College of Wisconsin and the City of Milwaukee Health Department announce a partnership to help vaccinate Milwaukee educators and child care staff. Hundreds of employees and medical students from Children's Wisconsin and the Medical College of Wisconsin plan to help the Milwaukee Health Department deliver the COVID-19 vaccine to all education and child care staff who live or work in Milwaukee. Watch the press conference and read more details in the Milwaukee Journal Sentinel. Anyone looking to sign up for a vaccine appointment through the City of Milwaukee can visit the city's website milwaukee.gov/CovidVax or call 414-286-6800.
Kids in the crossfire
This is the first in a series of blog posts that will share pieces of the puzzle of violence. A puzzle with many pieces, violence doesn't have one perspective or solution, but instead is a complex issue that will require many people and a lot of work to combat. The series will explore different perspectives of individuals who respond to the call to serve victims and are impacted by violence, and different interventions to help break the cycle of violence. The goal for everyone is to prevent another record year of children being harmed. Children's Wisconsin treated 79 victims who sustained gunshot wounds in 2020 in isolated incidents. 79 children with gunshot wounds. More than double the kids seen in 2019 — 38. Six of those 79 children didn't survive. The team at Children's Wisconsin has never treated that many deaths from gunshot wounds in one year. Read more. Fox 6 recently featured Kristin Braun, Children's Wisconsin's Trauma Program Manager, to discuss this blog post.
Facebook Live Q&As about COVID-19 vaccine questions and myths
We have heard from many families who have questions about the vaccines. When will the vaccines be approved for kids? Will some kids be eligible before others? What about parents and guardians with underlying health conditions or someone who is the sole caregiver to a child with complex medical needs? Our experts also answered questions like: Was the vaccine developed too quickly? Are there long-term side effects? Do I need the vaccine if I already had COVID-19? Will the vaccine alter my DNA? Watch the videos here.
Children's Wisconsin COVID-19 vaccine recipients
The first wave of Children's providers and care staff were back last week to get their second doses of the COVID-19 vaccine. At Children's Wisconsin, the vaccine roll-out has been going smoothly. As of January 20, more than 3,700 doctors, nurses, therapists, social workers and other frontline care staff have received their first dose of the vaccine and nearly 2,000 have received the second dose. While some have experienced mild side-effects, Children's has not had any reports of people they vaccinated who weren't able to return to work and care for patients. Hear from frontline workers on their experience receiving the vaccine.
Home sweet home: CCHP housing navigators program transforms families' lives
A dispute with a relative left Aminata and her family homeless and desperate, struggling to find a shelter or landlord willing to accommodate her and nine children. When Children's Community Health Plan (CCHP) learned of the family's living conditions, they quickly mobilized to find a temporary place to stay. Carly Mikkila, a community intervention specialist, then began her nearly year-long odyssey to find the family a more permanent home they could finally call their own. Carly worked with Aminata to apply for a Section 8 voucher through the Housing Authority of the City of Milwaukee. With Carly's help, Aminata and her kids finally found a five-bedroom home and moved in September 2020. Read more.
2019
We are now Children's Wisconsin
The new name reflects that its flagship hospital in Wauwatosa is just one part of its operations. Our story includes care for kids in so many different ways: in the hospital and in primary care, in the emergency department and in a therapist's office, through a digital health offering or at a school nurse's office, through our child advocacy efforts or our health insurance plans. It includes the parents who work alongside us and the donors and advocates who support our work. More than a hospital and health system, we are a community of caregivers dedicated to making Wisconsin's kids the healthiest in the nation.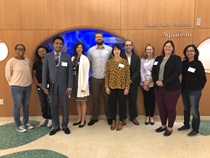 Watch and learn more on our blog - NewsHub
Federal & state legislators & staff visit Children's: Experience the Mission
We appreciate staff from Senator Ron Johnson, Senator Tammy Baldwin, Congressman Pocan, Congressman Grothman, State Representative Marisabel Cabrera, and staff from Senator Jon Erpenbach, Representative Adam Neylon, Representative LaKeshia Myers and Representative Haywood for visiting Children's to learn more about the work we do within our hospitals and clinics and reaching beyond into our schools, homes, and communities.
Senator Baldwin & Children's doctors discuss vaping-related illnesses
The number of vape-related lung injuries has increased – reaching almost every state across the country. New statistics continue to come out, as Children's doctors discuss the epidemic with lawmakers. Since mid-June, Children's Wisconsin has seen 17 patients with suspected vape-related illnesses. On October 10, doctors met with Senator Tammy Baldwin to discuss the cases – and what happens next.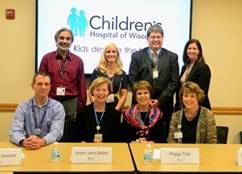 ---
In danger of addicting a new generation: How Wisconsin can protect its youth
After years of declining rates of teenagers smoking cigarettes, we are witnessing an alarming increase in the use of the next generation of nicotine products: e-cigarettes. In Wisconsin in 2018, 1 in 5 high-schoolers use e-cigarettes - a 154% increase from 2014. E-cigarettes not only contain highly addictive nicotine - which affects the developing adolescent brain and body and increases the risk of lifelong addiction to tobacco products - they also can contain harmful toxic chemicals. Right now, there is a bill in the state Capitol that will raise the minimum sale age of all tobacco products from 18 to 21 years old. Known as Tobacco 21, this policy will reduce the number of high school kids who can legally purchase these products for themselves and their younger friends.
Read our NewsHub article by Dr. Anoop Singh, Director of Cardiac Electrophysiology.
The Therapist Fellowship Program is helping train future therapists
Learn more about one of the programs Children's advocated for during the Wisconsin state budget. Growing the workforce of professionals adequately trained to care for kids' mental and behavioral health needs is crucial to increasing mental and behavioral health care access.
Children's advocates for updated child transportation safety legislation
Libbe Slavin, Safe Kids Coordinator Wisconsin, helps raise awareness of important updates to Wisconsin law to reflect best and safest practices for kids in car and booster seats.
---
Congressional briefing on trauma-informed care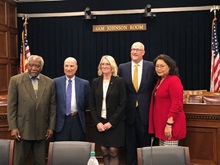 On September 17, Wisconsin Congressman Mike Gallagher and Illinois Congressman Danny K. Davis hosted a congressional briefing on trauma-informed care in Washi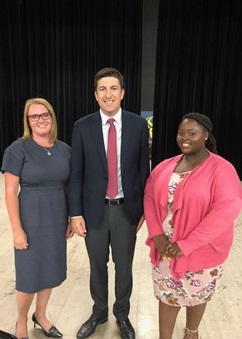 ngton D.C. The "Success of Trauma-Focused Interventions" briefing featured speakers from leaders in the field of child trauma, mental health and safety, as well as senior officials from the Department of Health & Human Services. Bob Duncan, Executive Vice President of Children's Wisconsin and President of Children's Community Health Plan, shared our efforts in developing a trauma-informed workforce and implementing trauma-informed care principles and practices across our health system.
Racine Children's Mental Heath Forum
On August 1, Wisconsin Congressman Bryan Steil (R-1) hosted a "Children's Mental Health Forum" at Case High School in Racine. Policy experts from the national Departments of Health & Human Services, Education, along with officials from Racine County, discussed the importance of improving mental and behavioral health care access for kids. Amy Herbst, vice president of mental and behavioral health, and Lakeisha Russell, school-based child and family therapist, (both of Children's Wisconsin), participated on the panel and discussed Children's priorities and work in Racine elementary schools, as well as highlighted tips for parents.
---
Children's presents at Congressman Gallagher's trauma-informed care event
On July 30, Wisconsin Congressman Mike Gallagher (R-8) hosted a trauma-informed care event at Northeast Wisconsin Technical College in Green Bay. Leaders in crisis response, child welfare systems and community organizations shared their experiences with trauma-informed care and how to improve
services for youth and families. David Whelan, Children's Wisconsin vice president of child well-being, shared Children's trauma-informed care principles and highlighted Community Services' work on SELF staffing and working to improve out-of-home care placement stability.
Teens hospitalized at Children's with lung damage after reportedly vaping
As you may have seen in hundreds of local and national news stories, Children's Wisconsin reported eight cases of hospitalized teens with seriously damaged lungs to the Wisconsin Department of Health Services who is investigating the possible causes of these illnesses. All patients reported vaping in the weeks and months prior to being hospitalized. "The popularity of vaping is obviously skyrocketing among our kids and its dangers are still relatively unknown. We don't have a lot of information about the long-term effects or even the short-term effects," said Mike Gutzeit, MD,chief medical officer of Children's. "What we do know is vaping is dangerous. It's especially dangerous in teenagers and young adults."
Learn more from our NewsHub article about teen vaping.
Ensure you are signed up for CAN to receive future opportunities to engage in grassroots advocacy on this topic!
Governor Evers signs Wisconsin state budget
On July 3, Governor Tony Evers signed the 2019-21 Wisconsin state budget. You can read more about some of the provisions related to child and family health and we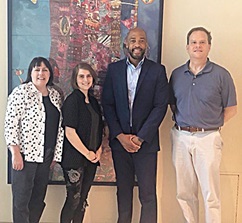 ll-being.
Lieutenant Governor Barnes visits Children's, hears from patient advocate on mental and behavioral health
Lieutenant Governor Mandela Barnes stopped by Children's to learn more about our care and services. While here, he met with 17-year-old Cady and her parents who shared how important it is for young people to be able to access mental and behavioral health care. Way to be a great advocate, Cady!
Children's patient travels to Washington, D.C. to advocate for mental and behavioral health care
Each year, Children's hosts a patient family in Washington, D.C. as part of the annual Children's Wisconsin Association Family Advocacy Day. This year, nine-year-old Derell and his mom Etta from Milwaukee traveled to our nation's capital to share Derell's story about the importance of accessing mental and behavioral health care.
---
Governor Evers & DHS Secretary-designee Palm visit Children's, discuss mental and behavioral health and child well-being
Governor Tony Evers stopped by Children's to learn about the unique care we provide kids and families both inside and outside of the hospital. While here, he met with baby Jaxx and his family. Jaxx was just one week old and was receiving care at our cardiac intensive care unit before he had heart surgery at our Herma Heart Institute. He also learned about our Community Services and mental and behavioral health care services. Educating lawmakers about our work and the services kids and families need to be healthy and well is important to helping our work to advance policies that best support kids' health and well-being.
With too few mental health care providers to go around, kids often wait to get help
Wisconsin has a total of 148 practicing child psychiatrists, or 12 for every 100,000 residents younger than 10, according to the American Academy of Child & Adolescent Psychiatry. That's about a quarter of the academy's recommended amount. "Every day we have families calling us all around the state attempting to get an appointment with a therapist," said Amy Herbst, vice president of mental and behavioral health at Children's; though the wait could be weeks or even months. Children's has a behavioral health specialist in 19 of its 26 clinics across the state and they're shared amongst the rest of the sites. "Still, it's hard not to feel inadequate as a health care provider when you're unable to get a patient the help they need right away," said Smriti Khare, MD, president of Children's Primary Care.
Read more from the Milwaukee Journal Sentinel Kids in Crisis series.
Racine schools, in partnership with Children's Wisconsin, implement full-time mental health therapists for students
As parents and school leaders recognize the growing need for mental health professionals in schools, one southeast Wisconsin school district is making it happen. Racine Unified School District partnered with Children's to bring full-time therapists to several of its elementary schools. Jackie Willms, from Raci, said the program changed her daughter's life.
Read more from NBC 4.
---
Children's advocates attend 2019 WHA Advocacy Day and honor staff and legislators with awards
On April 17, nearly 100 Children's Wisconsin advocates, including Children's staff and patient families, traveled to Madison to take part in the Wisconsin Hospital Association's annual Advocacy Day. Read Children's NewsHub blog on two patient families who attended the event!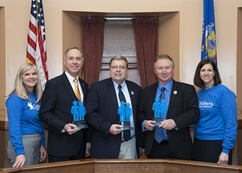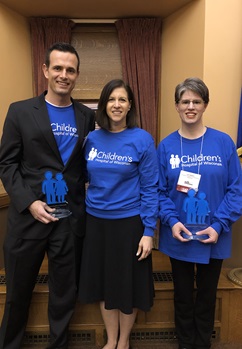 Children's honored the seventh annual Children's Champion Policy Awards to Speaker Robin Vos, Representative Steve Doyle and Representative Pat Synder for their work on the bipartisan Speaker's Task Force on Foster Care. The Task Force championed numerous policies to improve the health and well-being for our most vulnerable children and youth. For the first time, Children's also honored two of our staff for their dedication and passion for advocacy on behalf of Wisconsin kids and families. Congratulations to Lori Albers, Children & Youth with Special Health Care Needs Project Manager, and Aaron Kinney, Executive Director of the Herma Heart Institute!
Kohl's donates $5 million to Children's Wisconsin to enhance mental health services
Kohl's announced a $5 million gift to Children's to help launch a multi-year mental health strategy to improve mental health services for Wisconsin kids and their families. The grant will directly address the state's need for greater access to mental health services for children and generate awareness about the impact a child's mental health has on his or her holistic well-being. "This incredibly generous gift will jump start numerous initiatives and expand programs that strengthen our mental health strategy," said Peggy Troy, president and CEO of Children's. "We are so thankful that Kohl's believes in our vision that Wisconsin kids will be the healthiest in the nation — physically, mentally and socially. Sadly, Wisconsin ranks extremely low in meeting the mental health needs of our kids."
Watch and read this powerful story on our Racine school-based mental health providers, featured on NBC 4.
Children's doctor discusses lead exposure in kids at Milwaukee Common Council
Heather Paradis, MD, medical director of Children's Community Services, participated in a Public Safety and Health Committee session at Milwaukee's City Hall on the effects of lead exposure on Milwaukee's children. Dr. Paradis pointed out that the number of children being hospitalized with severe lead poisoning in Milwaukee continues to increase and she stressed the importance of early testing.
Visit our legislative work page to read her testimony.
---
New infant abuse prevention bill based on work of Children's Wisconsin doctor
According to the National Child Abuse and Neglect Data System, an estimated 1,720 children died from abuse or neglect in the United States in fiscal year 2017. Seventy-two percent of child fatalities involved children younger than 3, and 50 percent involved infants younger than 1. Multiple studies have found that relatively minor, visible injuries in young infants, including bruising and intraoral injuries, are often indicators of abuse. Such injuries in infants are commonly overlooked by medical providers, caregivers and child welfare professionals because they seem trivial. Without early intervention, physical abuse can escalate, resulting in severe injuries or even fatalities. U.S. Senator Tammy Baldwin announced a new bill on April — the Early Detection to Stop Infant Abuse and Prevent Fatalities Act — which is inspired by and based on the work of Lynn Sheets, MD, medical director of child advocacy and protective services at Children's that would help reduce cases of infant abuse in the United States.
"Keeping kids healthy and safe needs to be our aim, not treating injuries after they happen or mourning the loss of a life taken too soon. This bill would help us do that. This legislation could significantly improve early recognition and intervention efforts to protect vulnerable infants and will help prevent many cases of abuse and related fatalities," said Dr. Lynn Sheets, medical director of child advocacy and protective services, Children's. "Unfortunately, after decades of evaluating abused infants, I have found there were reports of minor suspicious injuries before more serious harm was done. We have used this information in Wisconsin to help prevent further tragedies and applaud Senator Baldwin's leadership to expand these efforts."
Abbott Family: The power of advocacy
Aidan, a 14-year-old from Slinger loves physical education class and enjoys playing basketball. But he's no ordinary 14-year-old; he's working to make a big impact on public policy affecting kids across the country. Read on to hear from Becky, Aidan's mom about the importance of sharing your story!
Children's statement on Governor Evers' 2019-21 state budget
"Governor Evers' proposed budget includes encouraging support for an array of programs, services and partnerships to enhance access to care for kids, and especially important are increased payments to hospitals, like Children's, that serve a high volume of patients covered by Medicaid. These proposals will help us strive towards Children's vision of Wisconsin's kids being the healthiest in the nation," said Peggy Troy, president and CEO of Children's. "Access to health care and child safety are important bipartisan priorities. As the Legislature now begins its work on the state budget, we look forward to working with lawmakers and the Governor to ensure adequate funding for the health and well-being for Wisconsin's children."
---
Lawmakers visit Children's
We were glad to host many lawmakers in early 2019 to learn more about the care and services we provide to kids and families from all across Wisconsin. Thank you Commissioner Kowalik, Secretary-designee Palm, Assistant Deputy Secretary-designee Safar, Representative Haywood, Representative Myers, Representative Vining, Congressman Gallagher, Congressman Steil, Speaker Vos and Governor Evers!
Children's pediatricians host press conference on importance of vaccinations
On February 19, doctors at Children's held a press conference urging people to get vaccinated, if you have't already, because influenza in Wisconsin hasn't peaked yet. Lyn Ranta, MD, Children's director of physician affairs, recommends that all children over six months receive vaccinations. She notes that the influenza vaccine is particularly helpful in preventing severe infection and hospitalization.
Watch the press conference
For young survivors of violence, Project Ujima uses art to help them heal
For more than two decades, Project Ujima has worked to stop the cycle of violent crimes that takes a toll on far too many of Milwaukee's children, families and neighborhoods. In 2018, Project Ujima began collaborating with University of Wisconsin-Milwaukee's (UWM) Peck School of the Arts. 15 teens works closely with Project Ujima staff and UWM art students and faculty on a peace banner and a series of survivor portraits. One 15-year-old participant wrote that "I can finally talk to people, not with violence or with words."
---
Providers across Wisconsin working to prevent child abuse and neglect
On average across Wisconsin, maltreatment is blamed for approximately 27 child deaths per year. Lynn Sheets, MD, medical director of Children's Child Advocacy & Protection Services, says that children who are part of families that are under high levels of stress – where there are financial problems, social isolation, mental health issues, abuse and more – are more likely to be abused. The Wisconsin Department of Children & Families recorded 806 substantiated reports of physical child abuse in 2017 and Child Protective Services investigated more than 42,000 reports in the same time. Hospitals across Wisconsin are beginning to implement a curriculum called Period of PURPLE Crying, which teaches new parents what type of crying is okay and to be expected and how to cope with it.
Read Oshkosh Northwestern's article >>
Children's ranks among best hospitals for children with congenital heart disease
Children's Wisconsin was named among the top 24 best hospitals for children with congenital heart disease. Studies show that the more experience a hospital and its surgical team have in performing high-risk operations, the better outcomes they tend to have. On average, Children's provides more than 600 cardiothoracic surgeries each year. See the rankings.
Learn more about Children's Herma Heart Institute.
Children's Kenosha Clinic opened February 4
Children's opened its new Kenosha Clinic on February 4 with expanded services, including urgent care seven days a week. The clinic will consolidate specialty and primary care services with convenient on-site lab, imaging and community services into one multipurpose location. Read Patch.com's article.
How Integrated Behavioral Health is bringing pediatric psychologists into the pediatrician's office
Eight-year-old Derell, from Milwaukee had trouble focusing in school and following rules. At the Midtown Clinic and three other primary care clinics, Children's is piloting the Integrated Behavioral Health program, which brings behavioral health therapists and pediatric psychologists into the primary care setting. Once he was receiving treatment, Derell's behavior transformed rapidly, including an improvement in his grades and getting along with other kids.
Read our NewsHub's post about Derell and integrated behavioral health at Children's.