Appleton Clinic-Children's Wisconsin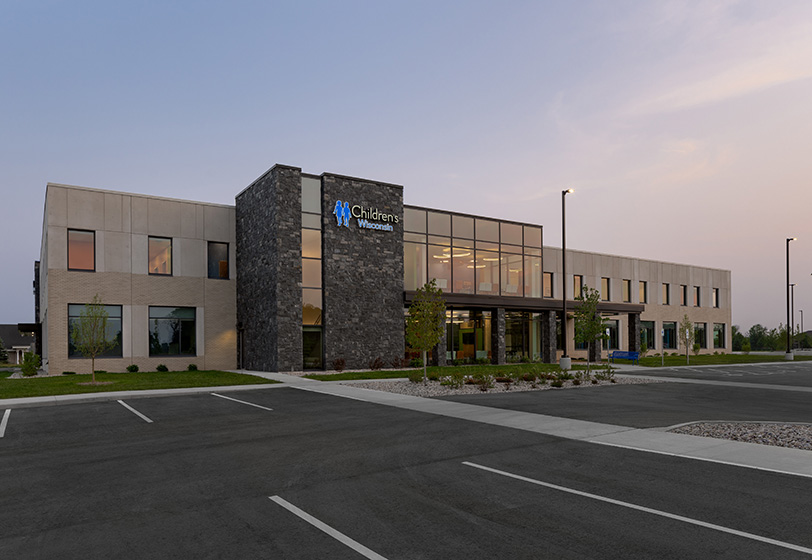 Top pediatric specialty care in Northeast Wisconsin
We are pleased to offer the care that you've come to trust from Children's Wisconsin at our new Appleton Clinic. Our Appleton location gives families in Northeast and Central Wisconsin convenient access to the state's only health system dedicated solely to the health and well-being of children and teens. There are more than 60 providers from more than 20 specialties at the clinic.
Our Appleton Clinic also offers imaging & lab services including a stress test lab. The clinic's 3,000 square-foot therapy gym is equipped with a sensory room, fort and climbing area, adaptive tricycles and different equipment and activities to assist our patients with motor planning, coordination, balance, etc.
The following services are provided at our new Appleton Clinic:
State-of-the-art technology
The Appleton Clinic is the first Children's Wisconsin regional clinic outside of the Milwaukee hospital to offer stress tests, comprehensive cardiopulmonary exercise testing for kids and adults with congenital heart disease.
The clinic includes advanced hearing test equipment designed for kids 6 months to 2.5 years old who are too young for normal tests. The testing uses sound and visual cues to understand hearing issues in a child and allow for more effective diagnoses and treatments. To date, Appleton is the only regional Children's Wisconsin clinic that has this technology.
Imaging and lab services
Our Imaging Program has been recognized as a Center of Excellence by the American College of Radiology 3 times consecutively and all radiologists, technologists and nurses are pediatric trained. Our experienced staff and kid-friendly technology allows us to obtain the highest quality images while taking fewer pictures. This keeps the radiology dose nearly 3 times lower than standards used at adult facilities.
The Appleton Clinic offers scheduled lab and imaging services including ultrasound and X-ray.
Imaging open 7:30 a.m. to 5:00 p.m., Monday through Friday
Lab open 7:30 a.m. to 5:00 p.m., Monday through Friday
Closed on weekends and holidays
Request an appointment
To request an appointment at the Appleton Clinic, use our online form or call (877) 607-5280.
Our Staff
John Aiken

MD

Pediatric Surgery, Surgery - General

Matthew Armstrong

APNP

Pediatric Nurse Practitioner

Elsa Arocho-Quinones

MD

Heather Bancroft

MS

CCC-SLP

Speech and language pathology

Daniel Beacher

MD

Pediatric Cardiology, Pediatrics

Hannah Belknap

APNP

Pediatric Nurse Practitioner

Julie Bertram

OTR/L

Joseph Block

MD

Pediatric Cardiology

Becky Buelow

MD

Allergy Immunology

Matthew Buelow

MD

Internal Medicine, Pediatric Cardiology

Jose Cabrera

MD

Pediatric Gastroenterology, Pediatrics

Casey Calkins

MD

Pediatric Surgery, Surgery

Sara Creighton

MD

Pediatric Cardiology, Pediatrics

Samantha Czerniak

OD

Jacqueline Dake

APNP

Pediatric Nurse Practitioner

John Densmore

MD

Pediatric Surgery, Surgery - General

Abdul Aziz Elkadri

MD

Pediatric Gastroenterology, Pediatrics

Jonathan Ellison

MD

Pediatric Urology, Urology

Benjamin Escott

MD

Orthopaedic Surgery

Danielle Fair

MD

Pediatric Rheumatology, Pediatrics

Raymond Fedderly

MD

Pediatric Cardiology

Aaryn Feile

PT

CNT

NTMTC

Kaylene Fiala

MD

Neurology with Special Qualifications in Child Neurology

Andrew Foy

MD

Neurological Surgery, Pediatric Neurological Surgery

Karin Goodfriend

MD

Brain Injury Medicine, Physical Medicine Rehabilitation

David Gourlay

MD

Pediatric Surgery, Surgery - General

Alexis Gumm

MD

Pediatric Gastroenterology, Pediatrics - General

Kathleen Hallett

BS

Amy Handler

MS

OTR/L

Occupational therapy

Matthew Harmelink

MD

Neurology with Special Qualifications in Child Neurology, Neuromuscular Medicine

Andrea Hilgenberg

APNP

Pediatric Nurse Practitioner

Cristin Kaspar

MD

Pediatric Nephrology, Pediatrics - General

Katelin Keck

DPT

Physical therapist

Kilah Kichura

PAC

Physician Assistant

Irene Kim

MD

Neurosurgery

Steven Kindel

MD

Pediatric Cardiology, Pediatrics - General

Michelle Konz

MOTR/L

Occupational therapist

John Kryger

MD

Pediatric Urology, Urology

Kimberly Seeger Langlais

MD

Neonatal-Perinatal Medicine, Pediatrics

Sean Lew

MD

Neurological Surgery, Pediatric Neurological Surgery

Shari Liesch

APNP

Pediatric Nurse Practitioner

Danielle Linskens

DPT

Physical therapist

Anna Lopas

DPT

Physical therapy

Lynn Malec

MD

Internal Medicine, Pediatric Hematology-Oncology, Pediatrics

Nicole Martin

RD

CD

CSP

Certified Specialist in Pediatric Nutrition

Laura McCauley

MD

Pediatric Pulmonology, Pediatrics

Megan McNally

APNP

Pediatric Nurse Practitioner

James Nocton

MD

Pediatric Rheumatology

Hope Orvold

APNP

Pediatric Nurse Practitioner

Paola Palma Sisto

MD

Pediatric Endocrinology

Laura Pierre

APNP

Pediatric Primary Care Nurse Practitioner

Cassandra Piette

DPT

Physical therapy

Shannon Pollock

MD

Epilepsy, Neurology with Special Qualifications in Child Neurology

Erika Pyzik

PAC

Physician Assistant

Lucy Woerfel Reising

AuD

Audiology

Elizabeth Roth

MD

Urology

Juan Ruiz

MD

Pediatrics

Anoop Singh

MD

Electrophysiology - Pediatrics, Pediatric Cardiology

Avantika Singh

MD

Neurology with Special Qualifications in Child Neurology

Laura Spychalla

PAC

Physician Assistant

Cecille Sulman

MD

Complex Pediatric Otolaryngology, Otolaryngology - Head and Neck Surgery, Sleep Medicine

Christa Thalacker

APNP

Pediatric Nurse Practitioner

Kendall Thiry

MS

OTR/L

Physical and occupational therapy

Jenna Weber

DPT

Physical therapy

Amanda Wenzel

MD

Pediatric Gastroenterology, Pediatrics

Douglas Zabrowski

MD

Pediatric Gastroenterology, Pediatrics

Kimberley Zvara

MD

Brain Injury Medicine, Physical Medicine Rehabilitation