Patient Stories
Feb 09, 2023
How one mom's fight to protect kids from lead poisoning got her invited to the White House
---
In 2015, when Deanna Branch's son Aidan was 2 years old she had a feeling something wasn't right. He wasn't developing the way he should and was having behavioral issues.
"He was my second child so I had a feeling this wasn't the 'terrible 2s.' This was different. I just knew something was off," Deanna said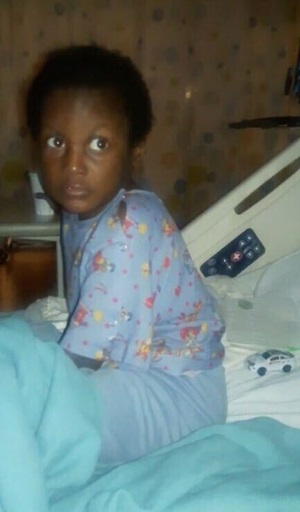 Aidan's lead levels got so high he needed to be admitted to Children's Wisconsin Milwaukee Hospital. Twice. But after leaving the hospital, with no other realistic options, the family returned to their rental home, the source of the lead.
"The landlord agreed to fix the windows, but that was it. We know lead was also in the soil, it's in the pipes. He kept getting sick and had to be readmitted," Deanna said.
Because the other sources were never fixed, Deanna and her children were eventually forced to leave. She was now homeless with Aidan and his older brother, Jaidyn. Plus, she spent so much time in the hospital with Aidan that she lost her job, too. Sadly, it is not an unusual scenario for families coping with the effects of lead poisoning.
That frustration and fight for a safe home would begin Deanna's advocacy to protect her son and thousands of children just like him, particularly in Milwaukee's poorest neighborhoods on the north side. In 2021, a report from the Wisconsin Department of Health Services showed that 6.7 percent of children tested in Milwaukee County had blood lead levels at or above 5 micrograms per deciliter compared to 3.7 percent statewide.
Becoming an advocate and finding an advocate
In 2018, Deanna found Lisa Chowdhury, MD, a Children's Wisconsin pediatrician at Next Door Pediatrics primary care office. Deanna was incredibly grateful to have found a physician who took Aidan's illness seriously and would make sure he was getting the testing and care he needed.
"I refer other families to Dr. Chowdhury all the time because she is on top of the problem and has done so much to help me be a better parent," Deanna said.
Aidan was one of Dr. Chowdhury's first patients at Next Door and her first patient with lead levels as high as his. But she says it's Deanna and Aidan who have been the best advocates and teachers.
"None of my training and previous experience had prepared me for the lead crisis that exists in our community, particularly in these targeted zip codes in Milwaukee. And Next Door is right in the middle of it," Dr. Chowdhury said. "Deanna and Aidan have taught me so much, they inspire me every time I see them."
Thanks in part to Dr. Chowdhury's care and support, Aidan is now living in a safe home and his lead levels have dropped, but there are long term effects of lead poisoning that will never go away.
That's why Deanna began working with her church, Hephatha Lutheran Church, to start the organization Coalition on Lead Emergency (COLE) whose mission is to create a sustainable, lead-safe environment for Milwaukee children. Children's Wisconsin is proud to work with COLE as their clinical partner, which means it has a network of pediatricians that parents can be referred to who will support them in lead testing and ensure their children get proper treatment and care. This partnership has been an important component of the efforts by Children's Wisconsin to bring community stakeholders together in the fight against lead poisoning.
"Children's Wisconsin has been a great partner to us," said Deanna. "It's so good to know I'm not in this fight alone."
Deanna takes her fight to the White House
Deanna and COLE have block parties in Milwaukee neighborhoods known to have high lead levels. They educate families and hand out lead safe kits that provide testing. Because of her tireless commitment, Deanna was invited by Vice President Kamala Harris to speak at the White House Lead Pipe Summit in January 2023. She asked leaders to act with a sense of urgency to prioritize removing every single lead service line. Watch her speech here.
"In the words of Aidan, 'You are all lead free superheroes and together we will defeat the evil lead monster in water, paint and soil,'" she said, as Aidan stood proudly by her side. That sentiment was the heart of a children's book Deanna wrote and presented to Vice President Harris called "Aidan: The Lead-Free Superhero."
Deanna and COLE are currently advocating for Milwaukee to use $5 million in federal funds from the American Rescue Plan Act for lead-abatement programs and support. It is yet another battlefield in her fight to protect kids from an entirely preventable illness. 
"Despite everything they've been through, Aidan is pure love and joy and Deanna is nothing short of an icon," said Dr. Chowdhury. "I'm so proud to know them."