Patient Stories
Aug 05, 2017
Dance/movement therapy promotes mobility while lifting spirits
---
To 17-year-old Kira Klinkhardt of Brookfield, her IV pole was a hindrance.
It was something she felt chained to every day at Children's Wisconsin while undergoing cancer treatment.
Yet, for just a few moments, it became her dance partner.
"I'd do some relevés, where I'd go up on one foot and use it as my partner," Kira said.
This act is one of the many transformative experiences the dance/movement therapy service at Children's Wisconsin gives to patients.
"Dance/movement therapy encourages our patients to get out of bed and move," said Jennifer Hoag, a psychologist who refers patients to dance/movement therapist Jenna Maltby. "It's been nice to collaborate with Jenna to find fun ways to encourage activity and coping."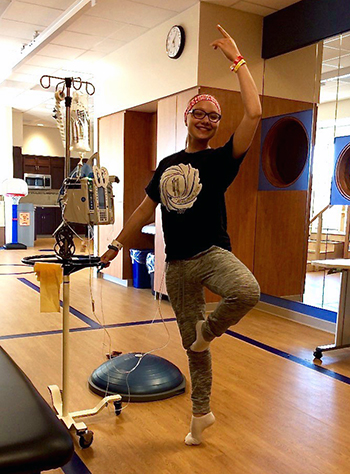 Dance/movement therapy was added to the Expressive Therapy Program at Children's Wisconsin in 2015, adding to art and music therapy.
These therapies, which are made possible due to donor support, help patients to process their situation, to express their feelings related to it, and to find ways to cope with it. Dance/movement therapy, however, uses the body as a tool to achieve that goal.
"Some are very excited about it, and others are like, 'You want me to do what?'" said Maltby.
One common misconception to dance/movement therapy is that she teaches patients tap or jazz.
Since Kira happens to be a ballet dancer, Maltby did practice steps with her and worked to keep up her endurance. Most times, however, Maltby uses more unconventional methods of moving.
"We'll go on walks, and I'll spice it up by having us walk like elephants or soldiers or models on our tippy toes," she said.
Other times she'll follow patients around and mirror their movements to make them feel validated. She's also been known to engage in lightsaber battles and to show a boy how to explore the feeling of paint on his feet.
"Jenna's very creative," said Laura Rohde of Muskego, whose 9-year-old daughter, Ashley, did dance/movement therapy while receiving cancer treatment at Children's Wisconsin. "She thought of everything."
For instance, Ashley and Maltby tossed scarves, marched down the hall and caught bubbles they blew.
A graduate of Columbia College Chicago's dance/movement therapy and counseling master's program, Maltby doesn't like to go into a room with too much of a plan.
"I like to give the kids the choice and control," she said.
The biggest challenge to her work is showing patients that, despite being hooked up to IVs and monitors or stuck in bed, they still have the ability to move.
"Staying in a hospital receiving chemo meant a lot of time lying in bed," said Anna Snopek, an 18-year-old from Waukesha who was treated at Children's Wisconsin for osteosarcoma, a type of bone cancer. "It was nice to have someone there to walk me through some fun exercises I could do to maintain strength such as bed yoga, which is just like it sounds: yoga that you can do while lying in bed. It was the perfect exercise for a person like me who was often times feeling tired from the effects of treatment."
In addition to bed yoga, Maltby led Anna through guided meditation, helping her to imagine relaxing scenes like the beach while concentrating on her breathing. Another form of guided meditation included talking Anna through relaxing her muscles from head to toe.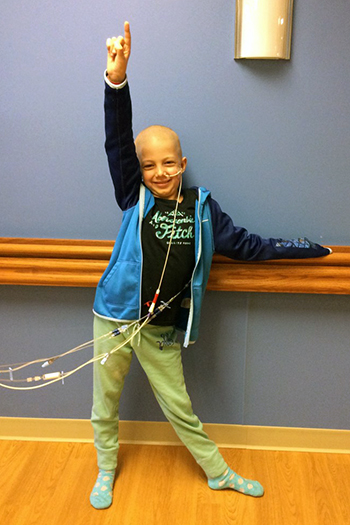 "All of these activities were enjoyable and relaxing, which I found very helpful, as staying in the hospital for extended periods of time and being a cancer patient can be very stressful," Anna said.
Maltby covers all inpatient units, with the MACC Fund Center that treats cancer and blood disorders the most in-demand.
In a typical day, she conducts about four or five individual sessions and sees patients of both genders and all ages, including ones as young as 3 months. They all come referred to her by providers like nurses, psychologists and child life staff members, but patients do always have the option to decline receiving dance/movement therapy.
Providers like Hoag and Laurie Good, an advanced practice nurse in the palliative care department, refer patients to dance/movement therapy because they believe it is a beneficial alternative care method.
"It helps children cope with their illnesses through other means than just verbal," Good said. "It provides an excellent quality of life opportunity for patients who are in-house for a long time."
With the exception of toddlers, most kids tend to stay in their rooms, and Good said that leads to deconditioning, more aches and pains, and decreased mood. While physical therapy also improves and restores mobility, Maltby said dance/movement therapy is considered a creative alternative to get patients moving and to increase their range of motion.
"It also focuses more on the mental health side of being hospitalized," Maltby said. "I'm aware of what they're thinking and feeling, and I tailor my work to meet their needs and what they're interested in."
For 10-year-old Elysia Mireles of Oconto, who was treated for neuroblastoma, a form of cancer that affects nerve tissue, that was the Rachel Platten hit "Fight Song." She and her older sister choreographed a dance to the song for a family celebration.
Her mother, Malisa, said it became a comfort song for Elysia after her diagnosis, and she and Maltby performed the routine with their hands while Elysia was in bed. A recording of Elysia's routine even led to her classmates learning it and sending her back a video of them performing it to show her she wasn't fighting her cancer alone.
"Elysia didn't always feel good, and she was away from home and family," Malisa said. "Dance/movement therapy was just a bright spot in her day; it was a fun way to take her mind off of what was going on in the hospital."