Patient Stories
Nov 11, 2022
Inspired by her childhood, one Children's Wisconsin dentist is on a mission
---
Tooth decay is one of the most common chronic diseases of childhood. When untreated, it can affect a child's ability to eat, speak, sleep and learn. The good news is, tooth decay can be prevented with routine dental care. However, far too many kids — especially those on Medicaid — don't have a regular dentist.
Growing up, Colleen Greene, DMD, MPH, a pediatric dentist at Children's Wisconsin, was one such kid. She didn't have a regular dentist. Her family was insured through Medicaid and many clinics won't take Medicaid patients due to lower reimbursement rates. As a result, their options for dental providers were limited
"It was very difficult for my mom to establish care with any one office," said Dr. Greene. "Thankfully, we never experienced things like dental pain from untreated cavities because ultimately my mom was able to piecemeal together sufficient preventive and restorative care." 
The care Dr. Greene received as a child at a nearby dental school clinic opened her eyes to a career in dentistry. Now section chief of the Children's Wisconsin Dental Center, Dr. Greene has made it her mission to care for kids whose needs sometimes go unmet. 
"I became most interested in serving families like mine who did not have an adequate ongoing dental home," she said. "And the Children's Wisconsin Dental Center is the best place to do that."
Not your average dental program
At the Children's Wisconsin Dental Center, patients span from newborns to adults with special needs. The center's four locations are designed with all in mind. 
"We can position our rooms to accommodate wheelchairs or patient care equipment, and we also have spaces that can protect patients who are immunocompromised," said Dr. Greene. "Because we're part of a hospital system, patients can trust that we are truly holding infection control standards at a much higher level than would be necessary in the community. And that requires a huge investment of equipment and time to keep it as safe as possible."
There also isn't the pressure to maximize profits the way you might find in other settings. "We are so supported by Children's Wisconsin and the community that it allows for the patients who need the most time and expertise to get what they need, regardless of insurance status," said Dr. Greene. "We are really focused on achieving optimal oral health above any other metric."
Creating space to serve more patients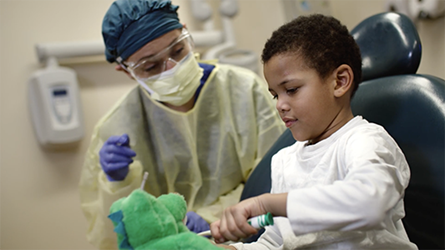 Not surprisingly, appointments with the Children's Wisconsin Dental Center are in high demand. "We have a long wait list in part because we really hope that people established with us are getting everything they need," said Dr. Greene. "We seek to deliver world-class care and to give patients our undivided attention." 
To meet the immense need, Children's Wisconsin is working to redesign and expand its Dental Center on the Milwaukee campus, which will allow it to see 4,000 more patient visits every year. In June 2022, the Delta Dental of Wisconsin Foundation committed $1 million to support the expansion, including a $500,000 dollar-for-dollar matching opportunity — the Healthy Smiles Healthy Kids Challenge. To receive the matching funds from Delta Dental, Children's Wisconsin must raise $500,000 before Dec. 31, 2022.
"We're pretty protective of our existing patient families, and I hope they know how much we appreciate that they stay with us," said Dr. Greene. "And for all the hopeful patients out there, efforts like the Healthy Smiles Healthy Kids Challenge to expand our space are critical. We will not be able to otherwise meaningfully impact our wait list without more space."
The facility improvements will also make it possible to expand the Children's Wisconsin Craniofacial Orthodontic Program. "That is a massive community need — maybe one of the most underserved parts of dentistry for young people and especially people with special health care needs," said Dr. Greene. "Helping a young person with special needs get the braces they need sets them up for a healthier mouth because their teeth are easier to clean and they're less prone to trauma. And it helps improve quality of life, especially for kids with cleft lip and palate."
Preparing future dentists
Training the next generation of dentists is also a key part of the center's mission. The facility upgrades will include additional space for pediatric and special care dentistry training for Marquette University dental students, Children's Wisconsin pediatric dental residents and other practicing professionals. 
"Ultimately, to be a great provider for people with special health care needs, you really need hands-on experience to help patients reach their own potential, and to help you learn that this community is really much more resilient in a dental setting than they are fragile," said Dr. Greene.
Children's Wisconsin is home to the state's only pediatric dentistry residency program, which produces four residents per year. While residency training isn't required to practice as a dentist, the two-year program allows residents to learn the intricacies of pediatric dentistry, including how to care for patients with a variety of special needs.
"One of the really rewarding parts about working in the residency program is helping to strengthen the state's pediatric dental workforce," she said.
But what Dr. Greene cherishes most are the patient connections and providing the regular dental home she herself lacked as a child.
"I'm so grateful for the amount of time and trust patient families put in us," she said. "Being able to follow families for years affords a really rich relationship with so many people." 
You can help us increase access for our most vulnerable patients by making a gift to the Healthy Smiles Healthy Kids Challenge. Donate online here or contact Development Director Paula Hocking at phocking@childrenswi.org or (414) 226-7225.