Patient Stories
May 23, 2022
Kids in the crossfire: The lifelong impact of violence and trauma
---
One summer day, a mother left her house to go to a doctor's appointment while her son went to the local park to play basketball with friends. It was a typical day, until she got a phone call. Her son had been shot at the basketball court. Still on the phone, she rushed out the door and asked, "Where'd you take him? Which hospital?" Friends with him responded, "He's at home in the shower. He wanted to wash it off."

This is what gun violence and trauma look like. It's a teenager being so distraught that he thinks he can wash off a gunshot wound in the shower. 

It also looks like his mother who hates guns and the impact they've had on her family and community…and buying one for her house anyway because she feels like she has no other option to protect herself and her family.

"When it comes to gun violence in our community, my biggest concern is how I feel now. I never ever felt like I needed a gun. I don't even like weapons. But now I feel like I need one in my home just for protection."

This is the vicious cycle of violence. 

The harm gun violence inflicts goes beyond those injured or killed, and ripples across the families, friends and the community where kids and parents live afraid. 

Afraid and anxious because of the gun shots they hear. 

Afraid and anxious because someone they know has already been shot, and they don't know who will be next. 
This type of violence isn't just a single moment or act, it's a disease — an epidemic.
Last year, we began a blog series, Kids in the crossfire (part 1 and part 2), to help explain the growing impact and complexity of violence. The series was born out of a desire to pursue interventions as the teams at Children's Wisconsin watched more and more kids be impacted. The hope was that this was a horrible spike in the number of gunshot wounds and homicides. A blip on the broader line graph. But as quickly as spikes rise, they're supposed to fall. This spike didn't fall. Not in 2021. 

In fact, according to the Milwaukee Homicide Review Commission, the number of kids under the age of 17 who were nonfatal shooting victims nearly doubled from 2019 to 2020. The number of kids who died from homicide also doubled in that timeframe. 
A vicious cycle of trauma and retaliation

Mom knew her son needed physical help, so she got him out of the shower and rushed him to Children's Wisconsin. But that was only the start. Mom said, "Never in a million years did I think this would happen to my kids. In the moment, I couldn't think of anything else besides, is he alive? Some kids make it out, some kids don't. I was just so glad my son was alive."

She noted that, at first, he wanted to retaliate. He spoke of finding the people who did this and paying them back. But sitting down and talking to him, and a referral to Project Ujima, helped.

Project Ujima works to stop the cycle of violent crimes through crisis intervention, social and emotional support, youth development and mentoring, mental health, and medical services. Children's Wisconsin launched Project Ujima in 1996 in response to a growing number of victims showing up in the Children's Wisconsin Emergency Department with gunshot and stab wounds.

With violence on the rise, the Project Ujima team is supporting more kids and families than ever with the tools needed to heal. The number of people the team has worked with over the last three years has nearly doubled. While Project Ujima can work with anyone, at any age, who has experienced violence, the team specifically worked with 140 victims of firearm injuries under the age of 18 in 2021. In 2018, they worked with 55.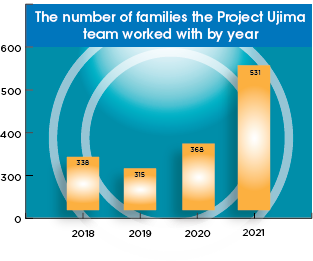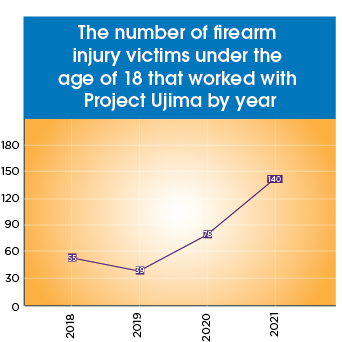 A focus of the team at Project Ujima is decreasing retaliation immediately. The cycle of violence is propelled by retaliation. Anger is an early emotion associated with grief, and anger can make people want to retaliate, or get back at those that caused them or their loved one pain.

One teen's death in 2019 has been identified as the catalyst for 50 retaliatory shootings in Milwaukee since then, WTMJ-TV (Channel 4) reported. With every act of violence in the community, the web of who is involved and why it happened becomes more interwoven and complex. And it becomes harder to break through. 
Psychology and the struggle to heal

While Project Ujima has successfully worked with families to prevent retaliation, victims' long-term healing and breaking that cycle requires many people and support systems. When someone is living in an environment where guns or violence are prevalent, it's dangerous. But not always for the obvious reasons. This is an environment that is stressful and people can't get away from it. It's where they live and work. When you can't escape that kind of environment, a few things happen: 
Your brain goes into survival mode prompting a stress response in your body. This response is also commonly called fight or flight. It provides the body with a burst of energy so it can respond to danger.


While everyone has heard of fight or flight, there is an additional response to trauma. Freeze. The freeze response can apply to someone responding to trauma in the moment, as well as months and years later, hindering their ability to reflect on what happened.


When you're always in fight, flight or freeze mode, you're unable to restore a sense of personal safety and you're unable to complete a stress response cycle. Simply put, because you never feel safe, you're unable to come out of that mode, which leads to chronic stress. 


You experience chronic stress, which is exhausting. Chronic stress causes a consistent and ongoing increase in heart rate and blood pressure, among other physical changes in your body. Over time, this leads to an increased risk for heart attacks and strokes, as well as other chronic health issues.


Chronic stress and fear also lead to physiological changes. Research suggests that chronic stress causes brain changes that may contribute to anxiety, depression and addiction.
This is exceptionally challenging for children who are still in development. Stress early in life can not only cause those brain changes, but can also change the development of the nervous systems and how the body reacts to stress. It means they may face a lifelong impact and will need to work extra hard and get extra support in order to heal. 

"Right now, we see the immediate effects of trauma and violence on kids at Children's Wisconsin and through the work of the Project Ujima team," said Shanna Sullivan, LCSW, RPT-S, a child and family counseling training supervisor at Children's Wisconsin who spent years working with families who were referred to Project Ujima. "However, what we often forget is that children impacted by trauma grow up and become parents themselves."

She explained that when parents have limited choices and access to resources, and face chronic stress, it's much more difficult to parent. Without the skills needed to recover from trauma, parents and caregivers often end up unable to protect or prevent their children from more harm. Your physical and psychological well-being impacts your ability to raise a healthy child. If you don't have access to equitable health care, or are afraid to ask for help, your child may end up facing the same stressors and end up in a similar situation. The cycle doesn't end until someone gets the right care they need. Improved medical, psychological, and social care is needed to interrupt this cycle. Conversely, once interrupted, the cycle can be reversed and both children and their caregivers can heal. With the right tools and support, people can heal from chronic stress and reverse the physiological and psychological changes it caused.
With the right tools and support, people can heal from chronic stress and reverse the physiological and psychological changes it caused.
Dominique Kelsey, a crime victim advocate with Project Ujima, sees this firsthand in his day-to-day work. Project Ujima and other programs like it are voluntary, meaning that victims and their families have to recognize they need help in healing. But once they do, they begin healing. Dominique explained that his number one priority when first speaking with a family is to identify their needs. Then, it's about showing empathy and action quickly to keep the family engaged. 

"If I don't engage the family quickly and show them some results in how we're going to help them, I lose them," said Dominique. "If we can't help them heal now, we can't help them heal long-term and prevent this cycle from continuing." 

He continued, "Reoccurance and reinjury are what really get to me. When we've helped someone, and for whatever reason — sometimes they didn't want the help or they're in situations they can't get out of — three months later, they're back in our Emergency Department with another gunshot wound."

According to studies, among children with firearm injuries, the chances of them ending up back in an emergency department within the next year is 22.4 percent. Among the patients Project Ujima has worked with, only 4 percent have had that experience. Dominique and his team's work are making a change. It is helping to break that cycle, but it's not the only way.

Dominique feels whether or not someone ends up back in an emergency department has a lot to do with the area they live in. "So many people think that if you live in an area with a lot of violence, you can just move. You can just get away from it easily and everything will be better," said Dominique. "But that's not the case. There are so many barriers to moving. Housing resources were slim to begin with and the pandemic only made it worse. Sometimes it can take five months or more to help a family move."

This brings back the importance of community. An article in The New York Times put it plainly, "In the hardest-hit communities, gun violence is so common that it's become a part of life." But it doesn't have to stay that way. What can be done to break that cycle and help communities heal.
Healing takes a village and a desire 
Support and guidance from family and community is key to healing. Shanna, with her years of experience working with families who were referred to Project Ujima, said, "The strongest predictor of healing for kids in these situations is the presence of a caring caregiver. Often, the caregiver is going through unbearable levels of this as well, so it needs to be a family approach. Moving through healing can't be done in isolation. Victims and their families need social connection and other people to heal.
 
"Immediately following a traumatic event, people need community. Mental health treatment is important, but so is support and connection," said Shanna. "Sometimes people have trouble returning to their daily life. They can't remember to eat or shower because their body is so focused on surviving minute to minute. Connecting to other people in safe, loving, and supportive ways is the antidote."

Dominique agrees, "In my experience working directly with families after experiencing violence, so much of their success depends on the support system. If their family and community surround them and support them, their work with us is quicker." 

When asked what helped her son most after he was shot at the basketball court, Mom listed Project Ujima, his family's support and guidance, and positive activities like a summer job. And when asked what she wants people to know about gun violence, she said, "Kids are being killed. As parents, our relationship with our kids plays a big part. The more we can talk to them and be active with them, learn about their friends, and be a part of their everyday lives, the more we can steer them in the right direction."

Breaking the cycle of gun violence is not a problem that needs to be solved by just parents, or Project Ujima. It's a complex issue that needs to be worked on by everyone. The interventions needed by one family won't be the same for the next. But all together, making sure all of these interventions are available to communities can help break the cycle of violence for many.


Helping kids early on in their lives. In order to be the most impactful, intervention must start early on. While babies are too little to remember what has happened to them or around them, violence is already impacting them. 


Education for parents and caregivers. When it comes to the ongoing cycle of violence, parents and caregivers are key in helping stop it. Educating them on their options and how to help their kids will 


Mental and behavioral health care. Trauma isn't just physical. It's emotional, psychological, behavioral — and cyclical. Children who are exposed to violence are more likely to develop mental and behavioral problems, and in the worst cases, this can lead them to resort to violence as well. Integrated mental and behavioral health care can prevent this.


Healthy outlets like jobs and after-school activities. These allow kids to be in safer environments after school, and put their energy into something productive, leading to better decision making.


Mentoring in the community. Seeing others who have proven that a different path is available can help kids recognize there are options. Mentoring can be done through many different organizations. 


Grief support and other groups. These groups can provide the community that someone needs when trying to heal. Knowing others who are you can relate to and who are working together to heal is life changing, especially for kids.


Programs like Project Ujima to support victims. Once violence has happened, the trauma has to be addressed and continued violence has to be prevented. Programs like Project Ujima have a huge impact on helping victims heal and preventing ongoing violence.


Resources. Housing, food, health care, education. Resources for these essentials can help ensure families don't face chronic stress and all of the ongoing health problems that come with it.
Ideally, all of these interventions and more would be recognized for how important they are, supported with sufficient and sustainable funding, and have the resources to be effective in preventing violence in the first place. The ultimate goal is prevention. 

Throughout Children's Wisconsin, there are doctors, therapists, administrators, staff and others who understand it is not enough to be exceedingly good at treating the immediate result of the violence — the physical wound or psychological trauma. That is just a small sliver of that child's whole experience with violence. It's our vision for Wisconsin's kids to be the healthiest in the nation, and to reach that goal we must help keep kids protected from violence in the first place. We will continue talking about, looking for, and implementing interventions to help prevent kids from having to experience violence.

If you are looking for help, call Project Ujima at (414) 266-2557.
Milwaukee's Office of Violence Prevention also recommends these resources for free support:
Sojourner Family Peace Center's domestic violence shelter and support: (414) 933-2722. 


414Life outreach and conflict mediation support: (414) 439-5398.


Milwaukee County's 24-Hour Mental Health Crisis Line: (414) 257-7222.


Milwaukee's Child Mobile Crisis and Trauma Response Team: (414) 257-7621.


National crisis text line: text HOPELINE to 741741 to text with a trained crisis counselor.


National Suicide Prevention Hotline: (800) 273-8255.