Patient Stories
Nov 01, 2018
New virtual reality brings pediatric heart defects to life
---
As you slip the virtual reality headset on, you are suddenly transported.
At first it's exhilarating, even overwhelming, and you're not sure how to maneuver through this foreign, virtual world. But it doesn't take long for the weight of the controllers in your hands or the pressure on your temples from the headset to melt away. And then you're just there. In that room. Alone.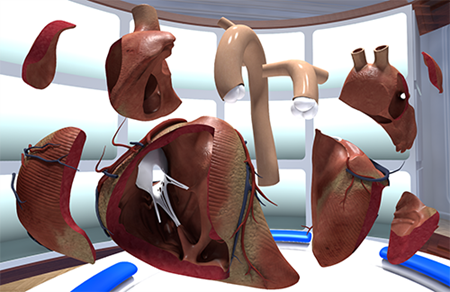 Large picture windows surround you as dusty clouds float by. Before you stands a large shelf, upon which sits row after row of human hearts, each representing a different congenital heart defect. Simply point to one and it lights up. Hold a button and it'll fly toward you. As you hold it in your hand, you're able to manipulate it in three-dimensions, just as if you were holding and spinning a basketball.
With the flick of a lever the heart bursts apart into its distinct pieces, each able to be picked up and examined. Select one and hold down another button and you're suddenly standing inside a heart, able to see and hear the walls pulsating and pushing the blood through valves, between chambers and out veins.
Depending on which defect you're exploring, you may see how a hole in the heart's wall is causing red and blue blood cells to mix (ventricular septal defect) — you can even hear the whooshing of the murmur. Or you see how the blood flow is impeded by a pinch in one of the arteries (coarctation of the aorta). Or you see where the left ventricle, mitral valves and aortic valves should be, there's simply nothing (hypoplastic left-heart syndrome). Slowly this endlessly complex, tangled web of an organ starts to make sense.
This is The Stanford Virtual Heart.
The future of learning
"The Stanford Virtual Heart is a cutting-edge virtual reality education tool. When you're trying to explain the complex anatomy of a heart, this immersive technology and the ability to take it apart on such a detailed level is unlike anything else we have," said Francis Kim, MD, pediatric critical care medicine. He, along with Stephanie Handler, MD, a pediatric cardiologist, oversee The Stanford Virtual Heart at Children's Wisconsin.
As its name suggests, The Stanford Virtual Heart was created by David M. Axelrod, MD, a pediatric cardiologist at Lucile Packard Children's Wisconsin Stanford. Children's Wisconsin's Herma Heart Institute is currently one of more than 20 Children's Wisconsins (and 30 pilot sites overall) to have The Stanford Virtual Heart.
"They're very generous with the technology," said Dr. Kim. "They really want to encourage people to develop uses for it and gather feedback on how it's working."
One use that Children's Wisconsin is pioneering is 3D projection. Right now The Stanford Virtual Heart is limited to a single user at a time. But what Dr. Kim and Dr. Handler — with the help of John LaDisa, PhD, at Marquette University's Biomedical Engineering Department, and Nick Peterson of Children's Wisconsin's Herma Heart Institute — have been able to realize is a real-time 3D broadcast of the virtual heart. Now, for example, a classroom full of medical students can put on 3D glasses and benefit from the virtual learning environment without donning the headset.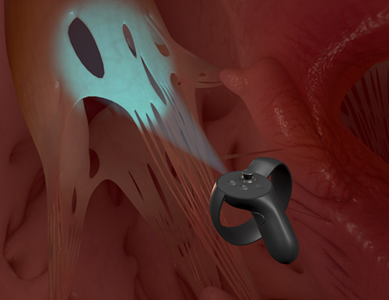 "The ability to show this in 3D will greatly expand our abilities to use it," said Dr. Handler.
Education is really The Stanford Virtual Heart's primary purpose — both for providers and patients. Beyond plastic models or 3D diagrams, the immersive virtual environment allows for an unparalleled level of understanding. If a picture is worth a thousand words, then virtual reality has to be worth ten times that. The program's catalogue currently includes seven congenital heart defects — which represent the majority of common defects — with hopes to expand in the future.
"We feel adolescents are the perfect target for the education component. We've only had one patient use it so far and he was 9 years old. But he put it on and he was a pro," said Dr. Handler. "We're also looking to do teaching sessions with pre-surgical families. They already do that with drawings and movies but a more immersive experience would be very helpful. And the 3D aspect might be especially useful for that so you could show multiple family members at once."
The technology is still very new — The Stanford Virtual Heart was first unveiled in 2016 and Children's Wisconsin has only had it since January 2018 — so its ultimate impact and utility is very much unknown. But with many of the best hospitals in the country currently exploring The Stanford Virtual Heart, there's no telling what those world-class medical minds will come up with.



The Stanford Virtual Heart was created by Lighthaus Inc. with the support of The Betty Irene Moore Children's Heart Center at Stanford and Oculus VR (a Facebook subsidiary).