Glenn procedure
The Glenn procedure is the second of three congenital heart surgeries performed to correct hypoplastic left heart syndrome (HLHS) and other single ventricle heart defects. It is usually performed about six months after birth.
About the Glenn procedure
During the Glenn procedure, congenital heart surgeons finish rerouting the baby's blood flow from the upper body to the lungs. They do this by disconnecting the superior vena cava – the large vein that carries the oxygen-poor blood from the upper body to the heart – and attaching it to the pulmonary artery. As a result, the blood will go directly to the lungs without circulating through the heart at all. The temporary shunt placed during the Norwood procedure is no longer needed, so is removed.
The Glenn procedure requires open heart surgery and will take about three hours to complete. During that time your baby will be on a heart-lung machine to temporarily take over breathing and blood circulation. Babies usually stay in the hospital a week after surgery, initially recovering in the cardiac intensive care unit (CICU). Learn more about postoperative care following surgeries for hypoplastic left heart syndrome.
Excellent Glenn procedure surgery outcomes
Get a second opinion from the Herma Heart Institute.
The Glenn procedure is much less complicated than the multi-step first (Norwood) surgery, but still requires the expertise of highly experienced congenital surgeons to build successfully on the previous procedure. Children's Wisconsin offers survival rates exceeding 96 percent – among the best in the world. Our pediatric congenital heart surgery program is recognized nationally for consistently achieving outstanding outcomes for even the most complex types of heart disease. Learn more about our heart surgery outcomes.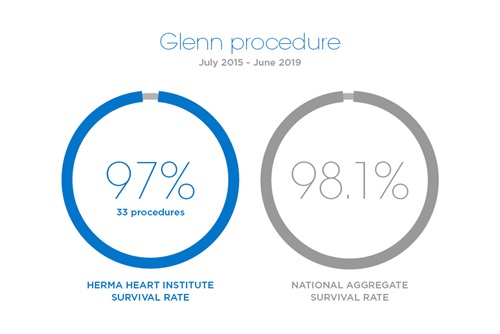 Brandon's story
Brandon underwent surgery for hypoplastic left heart syndrome, but his heart was too fragile. It became clear he needed a transplant.
See more patient stories
.
Coming from out of town?
Traveling with a sick child to a new city can be stressful. We can make your visit to our hospital as easy as possible.
Traveling here locally?
Contact us for more information about the Herma Heart Institute. Request an appointment online or call (414) 607-5280 or toll-free (877) 607-5280.
Among the nation's best
U.S. News & World Report has once again ranked the Herma Heart Institute at Children's Wisconsin among the top programs in the nation for pediatric cardiology and heart surgery. This ranking reflects the excellent outcomes and care we provide for even the most complex heart conditions. Families travel from across the country, and even around the world, to receive care from our specialists who are experienced in treating congenital heart disease from before birth and into adulthood.
Read the Report