Sinus venosus atrial septal defect
Provided by "Pediatric Heart Surgery — a reference for professionals"
Patient families can visit our atrial septal defect page for more information and answers to common questions.
Pathophysiology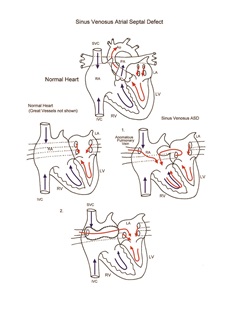 Sinus venosus atrial septal defect is a congenital cardiac anomaly in which there is an abnormal communication between the left and right atria located near the mouth of the superior vena cava. This defect is often associated with partial anomalous pulmonary venous drainage of the right upper pulmonary veins. Patients with sinus venosus atrial septal defect have left-to-right shunting of blood at the atrial level. Left-to-right atrial level shunting results in right ventricular and right atrial dilatation. With prolonged dilatation, right ventricular dysfunction and atrial arrhythmias can occur. In addition, long standing pulmonary overcirculation can eventually lead to pulmonary vascular obstructive disease. Repair is undertaken in early childhood to avoid these potential complications.


Surgical technique
Repair of sinus venosus atrial septal defect requires cardiopulmonary bypass and aortic cross-clamping. The right atrium is opened, and the defect is identified. A synthetic patch or pericardium is used to close the atrial septal defect, redirecting the mouth of the anomalous pulmonary vein(s) through the atrial septal defect. This patch acts as a closure for the ASD and as a baffle to redirect the anomalous pulmonary venous drainage to the left atrium. Cardiopulmonary bypass time and aortic cross-clamp time required to complete repair are usually short.


Postoperative considerations
The postoperative course following closure of sinus venosus atrial septal defect is usually benign. Invasive monitors used include arterial and central venous lines. Vasoactive infusions are rarely required for hemodynamic management. Extubation is usually accomplished early in the postoperative course. Hospital stay required following repair averages 4 to 6 days.