School-based mental health
The mental health therapists at Children's are committed to providing mental health services not only in the hospital and clinics, but now also in schools. School based mental health services are most appropriate for families who have difficulty bringing their child to a clinic due to some of the following reasons: transportation issues, childcare issues, other mental health concerns in the family, and financial stressors. Mental health services in schools allows, with a signed release, our therapists to communicate with school staff, providing consultation to your child's teacher(s) about your child's mental health diagnosis and ways the school staff can best support your child to maximize learning in the classroom. It is also a main goal of the therapist to support your child's healthy development in an educational setting. 
Therapists work with children and their families who are experiencing a range of emotional and behavioral problems. Some areas of concern that mental health services in schools can address may include:
Attention-Deficit / Hyperactivity Disorder (ADHD)
Depression
Anxiety (worrying)
Trauma and Post Traumatic Stress Disorder (PTSD)
Behavior problems
Adjustment issues due to stress or changes in the child's life
Grief and loss issues
Separation of family when the child is not living with his/her parents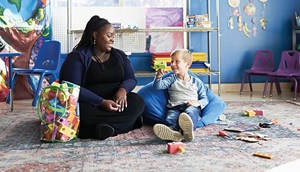 Once your child is referred, you will attend an intake appointment with or without your child (depending on the child's age and therapist's preference). Prior to or during this appointment, you will be asked to complete paperwork allowing for mental health treatment for your child and giving the therapist permission to exchange information with your child's teacher and school staff. In the intake appointment, the therapist will gather historical information about your child's strengths, development, family history, and information about the presenting problem.
A diagnosis is then given based upon your child's symptoms; recommendations will be provided to you at the intake appointment, along with how ongoing therapy sessions can best support your child's course of therapy at their school. In some instances, clinicians may make referrals to other programs when more specialized services are needed.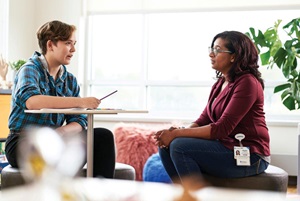 You will work with the therapist to develop treatment goals which will be regularly reviewed with your input. School based mental health therapists utilize evidence-based treatment strategies, meaning the work the therapist does with your child has been shown by researchers to be effective for the identified diagnosis/problem. Therapists strongly encourage your participation in your child's therapy despite the services taking place in the school; however, depending on your child's diagnosis and age, your level of participation may vary. School-based mental health therapists understand that parents know their child best and parental involvement is crucial to meet treatment goals.
You may speak with your child's principal, school social worker, or school psychologist to find out if school based mental health services are offered and may be beneficial for your child.
Additional resources: