Patient Stories
Jul 01, 2022
Baby's first ride: How the Children's Wisconsin Transport Team brings specialized care to kids all over the country
---
During her entire pregnancy, Kay Ann Veltus was perfectly healthy…but her twins were not. 
When Kay Ann was 24 weeks pregnant, doctors discovered her twin girls, Elliot and Aurora, shared one placenta with two amniotic sacs (a condition known as monochorionic diamniotic). As a result, Elliot was suffering from selective intrauterine growth restriction — she was not receiving enough nourishment through the placenta to grow at a normal rate. The condition can be life-threatening for the smaller twin. To help prolong the pregnancy as long as possible, Kay Ann was admitted to a hospital near her home in Green Bay and put on bed rest. 
Kay Ann knew an early delivery was in her future, but she hoped to make it to 34 weeks of pregnancy. Daily ultrasounds to monitor the twins' growth and assess how well blood was flowing through their umbilical cords began to show Elliot in increasing distress. Kay Ann moved her goal to 30 weeks of pregnancy and did her best to stay calm and mindful.
"I knew any anxiety the mom has increases the stress hormones for the babies," said Kay Ann. "They were already not doing great, so I tried really, really hard not to get in my head about it. I would allow myself to face the scary thing, let myself feel what I was going to feel, and then let it go so I could be calm again."
Nearly a month after being admitted, Elliot's condition took a serious turn. An ultrasound showed reversed blood flow in her umbilical cord — a potentially fatal development — and doctors made the decision to deliver the twins three months early. Elliot was born on Nov. 13, 2021 weighing 2 pounds 2 ounces. One minute later, Aurora was born, weighing 2 pounds 5 ounces.
While the additional time in utero increased the twins' survivability to 90 percent, Kay Ann and her husband, Jim, knew the girls might have complications due to their prematurity. Still, they were taken aback when doctors noticed blood in Elliot's stool 13 days after birth.
"I would get daily updates from the doctor. But one day I got the call earlier than normal so I knew something was up," said Kay Ann. "Elliot had been doing so well, so when they told us they discovered necrotizing enterocolitis, we were shocked. It just wasn't on our radar."
Necrotizing enterocolitis (NEC) is a condition that causes intestinal tissue to die and may result in a hole in the intestine, allowing bacteria to leak into the abdomen causing serious infection. Premature babies are at a higher risk for NEC. Elliot's doctors immediately made the decision to transport her to Children's Wisconsin for surgery to remove the damaged tissue.
"Elliot's doctor told us the situation was urgent and very serious, and the transport team was already on its way," said Kay Ann. "Everything was very scary and we felt like we didn't know what was going on."
Putting families at ease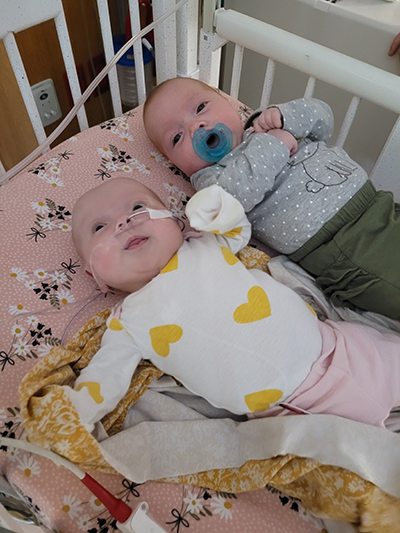 Kay Ann and Jim were put at ease by the Children's Wisconsin Transport Team who acknowledged the stress of the situation, explained what was happening and what to expect next, and reassured them that Elliot's condition was very treatable.
"A big part of the transport team's job is to look at the parent and reassure them that their child is in good hands, and that was so helpful," said Kay Ann.
Not only did the Transport Team comfort Kay Ann and Jim, but they also suggested getting a picture of Elliot's "first car ride" in the ambulance before they left.
"It was really kind of cute," said Kay Ann. "I don't think we would have had the presence of mind to get that picture, but the Transport Team did."
Elliot's twin, Aurora, also took an ambulance ride with the Children's Wisconsin Transport Team from Green Bay in February 2022 under much less urgent circumstances. Aurora came for feeding and ophthalmology evaluations.
"When the Transport Team picked up Aurora, it was much less intimidating and less of an emergent situation," said Kay Ann, "but they were still very reassuring and comforting."
Specialized care in a box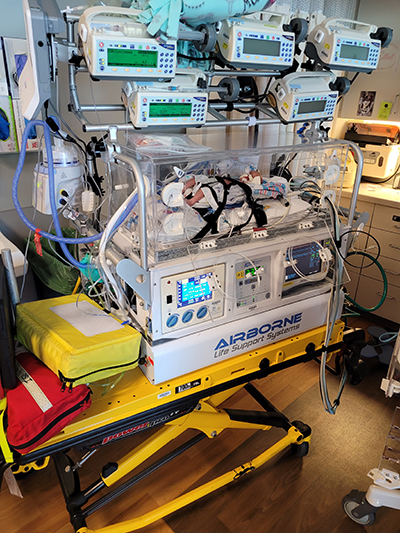 Imagine taking all of Children's Wisconsin — the very specialized care, the pediatric-sized equipment, and the highly-trained providers — and putting it all in a box and traveling with it. That's what you experience with the Children's Wisconsin Transport Team.
Children's Wisconsin provides transport — by ambulance, helicopter or fixed-wing airplane — from referring hospitals across Wisconsin, northern Illinois, Michigan and even the continental United States, to its Milwaukee campus.
When an infant or child at another hospital or health center needs specialized pediatric care beyond what that facility can offer, their physician will call the Children's Wisconsin Transport and Provider Consult Center. A Children's Wisconsin clinical staff member or transport communication specialist (TCS) will consult with the referring doctor, arrange transport if necessary, and make a plan of care prior to the Transport Team's arrival. Within as little as 25 minutes, the Transport Team is on the move with their mobile emergency department.
"We take everything with us on the transport to provide the same level of ICU-level care that's provided within the four walls of Children's Wisconsin," said Scott Mannebach, transport respiratory therapist. "We have more supplies in three bags than most hospitals have for pediatric patients in their entire hospital."
The Children's Wisconsin Transport Team has been in service for more than 30 years and makes more than 1,000 transports a year. Two teams operate every day. The Transport and Provider Consult Center fields an average of 9,000 calls per year. The Children's Wisconsin Transport Team is the only neonatal and pediatrics-focused inter-facility team in the region, providing medical transport by three modes of transport, air or ground.
The Transport Team consists of specially trained nurse clinicians and respiratory care practitioners who are capable of performing high-risk procedures. A critical care doctor oversees all transports as medical control back at the hospital, and a doctor trained in neonatal or pediatric critical care travels with the team when needed. A Flight For Life pilot or fixed-wing pilot flies the team when a helicopter or plane is needed.
"We don't have ancillary departments to help us on the road so we are trained to do the job of multiple people in highly stressful situations," said Scott. "The nurse will do drug calculations en route so medications are prepared by the time we get to the outside hospital. Respiratory therapists will intubate patients. We wear many hats so we need to be at the top of our game at all times."
The Transport Team will go anywhere from a rural hospital that delivered a premature baby to another city where a 17-year-old has just been diagnosed with cancer. Sometimes, the Transport Team is the first experience a patient or family ever has with Children's Wisconsin.
"Normally, patients come to our doors, but on transport, we take Children's Wisconsin to the patients," said Scott. "We are the face of Children's Wisconsin out in the community and every single one of us on the team is passionate about delivering the best care."
More than "just" going on calls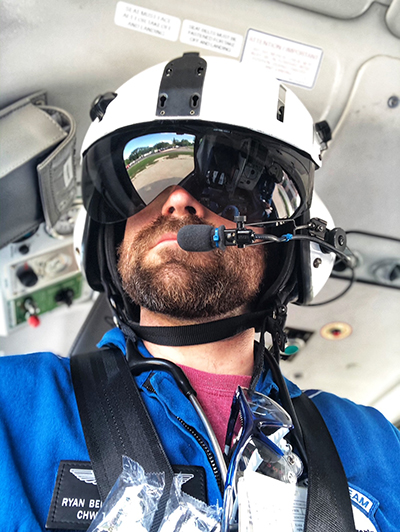 Since the Transport Team is so skilled in emergency situations, they often assist in the Children's Wisconsin Emergency Department responding to codes and traumas and helping manage patients when they're not out on a call. The Transport Team is the primary response team for a Rapid Response request anywhere in the hospital.
In addition, transport team members have such a high competency in placing IVs under the most difficult of circumstances, that they will often help place IVs for patients on the floors, including ultrasound-guided IVs.
"Some special needs parents will request the Transport Team to place an IV for their child because they know we can get the IV in with less pokes," said Scott.
Rigorous training and higher competencies required
Transport Team members are required to have a minimum of three years of pediatric or neonatal critical care experience, or three years of experience in a Level 1 emergency department or trauma center. In addition, they must complete 16 weeks of additional rigorous training in neonatal and pediatric intensive care, emergency and transport medicine, flight physiology and trauma.
The Transport Team has its own onsite team educator who provides hands-on education, as well ongoing education about new treatment plans and disease conditions.
Transport Team members regularly complete competency checks to demonstrate they can still complete the necessary skills efficiently.
"We have the Dairy Cares of Wisconsin Simulation Lab, a robust center where our team members will run through scenarios and demonstrate skills to complete competency check-offs," said Sunita Hermon, RN, MSM, director of Transport and Respiratory Care Services. "For example, our team members must complete a minimum of 10 intubations per year to meet the competency requirement. They can do that in the operating room, the Emergency Department, in simulation, or on transport."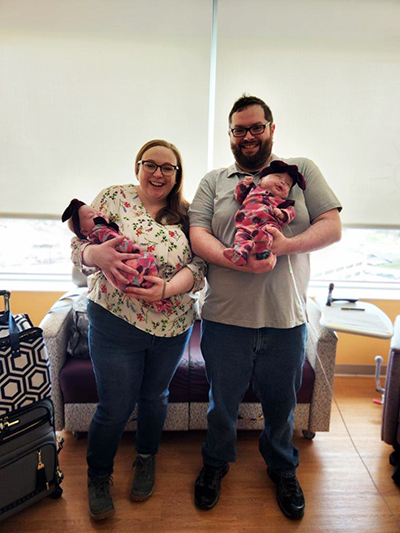 Not only do the Transport Team members need to be highly trained in critical care, but they must also know how to care for the entire patient family.
"We're with families on some of their most difficult days," said Sunita. "All of our team members are extremely compassionate and able to relate to the families. Our top concern is for the patient, but we balance that with addressing the concerns of parents, reassuring them, and keeping them informed about what to expect."
That was certainly true for Kay Ann and Jim.
Once they arrived at Children's Wisconsin, Aurora and Elliot were admitted to the NICU. While doctors discovered and treated some additional conditions, both twins recovered and grew nicely. Aurora was discharged in March and Elliot followed her home soon after in April.
"All the staff was very reassuring and very comforting," said Kay Ann. "This entire experience has really taught us patience and acceptance of what is. The girls are in the driver's seat and we're just along for the ride."