Patient Stories
Sep 24, 2020
Turning life to normal with a flip of a switch
---
Danielle was so excited when her very active and very stubborn toddler, Nika, was almost completely potty trained before she was 2 years old. But then suddenly, she began having accidents throughout the day.
"It was like, 'There goes all my hard work down the drain,'" Danielle said. "We still don't know what caused the sudden change."
Potty accidents continued to be a consistent problem for Nika over the next few years. She would often go to the bathroom only to rush back to the toilet a few minutes later or have an accident.
"It didn't make sense because she had just gone to the bathroom," Danielle said. "I thought maybe she wasn't emptying her bladder all the way or was rushing."
The accidents began affecting Nika in social situations and she became self-conscious.
"Nika joined gymnastics when she was 3 years old and in the 45-minute session she was having at least one accident," said Danielle. "Her coaches would tell me to have her go potty before she got there, but it just didn't work. She wasn't getting a signal from her body that she needed to go."
In gymnastics, Nika was the only child wearing a pull-up, and if she had an accident, she would hide in the bathroom and cry.
"It was a rough life for her," Danielle said.
Finding answers
As time went on and Nika became closer to school age, Danielle began to suspect that the potty accidents were beyond that of typical development.
"Nika was having accidents every day, and she was also embarrassed about them, so many times she wouldn't tell me," said Danielle. "When Nika was 5 years old, we did motility testing at Children's Wisconsin and discovered that 30-40 percent of Nika's bowels were not functioning properly."
A motility disorder is a condition where the nerves and muscles in the gastrointestinal tract are not working together properly, which can cause the accidental loss of urine or fecal material. Children's Wisconsin has one of the largest and most comprehensive motility labs in the country.
Initially, the doctors recommended surgery. In November 2011, Nika underwent placement of a cecostomy by Casey Calkins, MD, a pediatric surgeon at Children's Wisconsin and a member of the team caring for patients like Nika. A cecostomy surgery involves placing a small tube at the top of the large intestine so that parents or a caregiver can flush the stool from the colon with a water and salt solution every day.
While the surgery gave Nika more control over her bowel movements, her urinary incontinence increased significantly. Nika could have taken medication to help the urinary incontinence, but that would have worsened her bowel incontinence. After consultation with multiple specialists at Children's Wisconsin, including Manu Sood, MD, medical director of the Children's Wisconsin Gastroenterology, Liver, and Nutrition Program and Hrair-George Mesrobian, MD, a pediatric urologist, Danielle decided to pursue a new treatment for Nika called sacral neuromodulation.
A shocking new treatment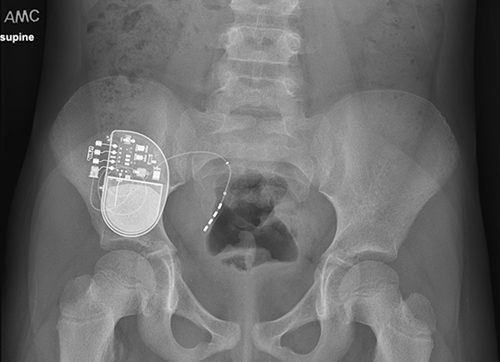 Sacral neuromodulation is a minimally-invasive surgery where a device the size of a watch is placed in the upper portion of the buttock. The device, known as an InterStim, is connected to an implanted wire near the sacral nerves. The sacral nerves are what regulate the function of the bladder and bowel.
"The patients who see me and Dr. Sood usually have failed all types of standard treatment," said Dr. Mesrobian. "When we evaluate them, we usually do not find any structural anomalies, but rather poor communication and syncing between the organs and the spinal cord all the way up to the brain."
The InterStim device sends mild electrical impulses to the sacral nerves to help normalize their function and achieve better communication, thereby normalizing the function of the bladder and colon. 
"The impact of urinary and fecal incontinence on the child and family is significant — much worse than what you would see in children with other chronic disorders," said Dr. Sood. "It's very difficult to be discreet about this condition. If you have an accident at school, everyone knows. Many of these kids are picked on and socially ostracized, or they self-limit their social interactions. It has an even greater impact on middle and high school students."
Previously, sacral neuromodulation was a procedure only done for adults. However, Dr. Sood and Dr. Mesrobian introduced this procedure in children for management of urine and stool incontinence.
When Dr. Sood came to Children's Wisconsin, he was motivated to not only help kids manage constipation and fecal incontinence, but to help kids achieve social acceptance so they could attend school and function in society.
"For kids who had tried and failed all other treatments, I wanted to give them a management plan so they could feel comfortable and confident going to school, swimming, and participating in sports and camps," said Dr. Sood.
Early adopters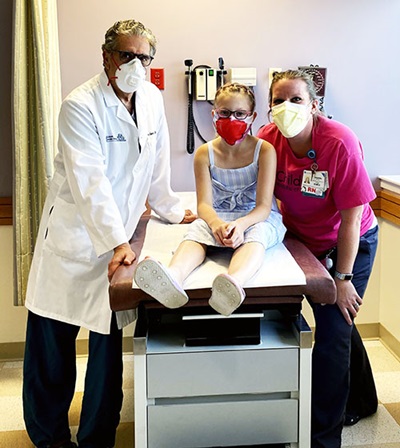 In 2015, Dr. Sood approached Dr. Mesrobian about collaborating to offer sacral neuromodulation for children when standard therapies had failed. Children's Wisconsin became one of the earliest adopters of this treatment, with children from across the country seeking it out. In the past four years, Children's Wisconsin has treated 70 patients with sacral neuromodulation and achieved an 87 percent success rate in children who are experiencing both bladder and bowel incontinence. Success is defined as a 50 percent or better improvement in symptoms. 
Both Dr. Sood and Dr. Mesrobian believe sacral neuromodulation will become a first-line treatment for a subset of patients, even before cecostomy, because it is less invasive, offers better function, is more widely acceptable to the child and family, and has the potential to condition the child's body to work in a more normal way so that eventually the device can be removed.
Dr. Sood and Dr. Mesrobian credit the multidisciplinary approach and collaborative environment of Children's Wisconsin to the treatment's high success rate.
"We have a dedicated team that manages the cases, including gastroenterology, urology, anesthesia, radiology and psychology. We all work together to provide personalized health care to the whole child," said Dr. Mesrobian. "I feel very strongly that a great portion of our success is dependent on this team effort. The members of our team are highly dedicated and committed."
Patients like Nika have benefited greatly from the procedure and the expertise of the Children's Wisconsin team.
"The InterStim has been a lifesaver. Nika can feel when she has to go to the bathroom now, whereas before she couldn't tell, or her body wouldn't signal her until she was in the danger zone," said Danielle. "I always kept spare clothes and underwear in the car. It's now been 11 months since the surgery, and we haven't had any accidents in eight months."
Danielle believes that Nika's life is 100 times better after the procedure.
"My child is no longer embarrassed that she can't control her urinary and bowel movements. She has independence. She has confidence. She can fully participate on her gymnastics team without having to worry," said Danielle. "It has truly changed our lives."
According to Dr. Mesrobian, "life-changing" is a sentiment he hears often from families.
"When these patients undergo this procedure and it's successful, it's like you turned their life to 'normal' just like that," said Dr. Mesrobian. "I have to tell you that I haven't received as many hugs from patients and their parents as I have from this group. They are very grateful. They are no longer hampered from participating in sleepovers and school trips. They can grow up just like all the other kids."
And that's exactly what Nika and Danielle are looking forward to.