Patient Stories
Aug 18, 2022
Sammy's mysterious illness: How Children's Wisconsin specializes in the unusual
---
It was a Tuesday during the fall of 2021 and 11-year-old Sammy Cruz had just scored several touchdowns in what his mom calls the "best game of his life." But Sammy went from the game of his life to, just one day later, total agony. 
"It was like, BOOM. He's down," said Teresa, Sammy's mom. 
Sammy started having terrible stomach pains. Those pains were soon followed by extreme fatigue. Sammy was sleeping around 15 hours a day and was in pain from the minute he woke up. Teresa took him to his doctor and a Sheboygan-area hospital several times. Doctors couldn't figure out what was wrong, but after about ten days, they finally decided it had something to do with his appendix. Sammy was scheduled for an appendectomy.
"He was just minutes from being wheeled away into surgery," said Teresa. "Then, by the grace of God, the surgeon came in and said Sammy was about 5 pounds under what he was comfortable operating on, and he sent Sammy to Children's Wisconsin."
Doctors at Children's Wisconsin Hospital Milwaukee did a series of tests and scans and discovered that Sammy's appendix was fine, but he had a mass attached to his colon. They told Teresa that because the mass was behind his vital organs, surgery was actually a last resort. They knew Sammy had a mass growing inside of him, but what was it?
Team of experts assemble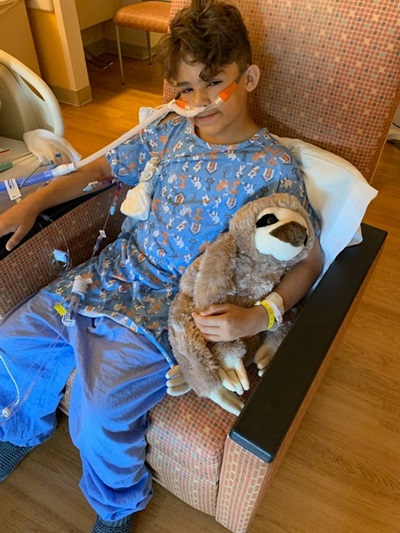 Sammy was admitted to the hospital and a team of pediatric experts began to provide care. A biopsy was ordered to determine if the mass was cancer. 
For Teresa, the waiting was the hardest part. "I told everyone at Children's Wisconsin, I will give you all my money, please just figure out what is wrong with him," said Teresa. "I was just feeling so desperate."
During the wait, Sammy's condition began to deteriorate. Fluid was building up on his lungs, making it hard for him to breathe. He was transferred to the Pediatric Intensive Care Unit (PICU). He needed a blood transfusion and his organs were swelling. His body was shutting down.
It was at this time that Sammy remembers looking at his grandma and asking, "Am I going to die?"
Because Sammy didn't have a diagnosis, James Verbsky, MD, a pediatric specialist in the Children's Wisconsin Rheumatology Clinic, claimed Sammy as his patient.
"The immune system can do a lot of strange things and patients don't always fit into a specific box," said Dr. Verbsky. "We knew he had an abdominal inflammatory mass. As long as we're convinced it's not cancer or infectious, they often come to us and we try treatment."
Test results showed the mass was not cancer. It was, in fact, a cluster of Sammy's own lymph nodes that had become swollen and bonded together. Sammy was put on steroids and he began to improve. 
While Sammy was in the PICU, two nurses from the 10th floor, where Sammy was originally admitted, kept coming down to check on him. They were Richard Haasch, RN, and Jacob Tetzmann, RN, and their kindness meant the world to Sammy.
"We would talk about video games," said Sammy. "They were really good people, it meant a lot that someone actually cared about me."
"Right away when we got to Children's Wisconsin, it was clear Sammy wasn't just a number. He was a child and he mattered," said Teresa. "I will never forget Richard and Jacob for the rest of my days." 
Mystery solved?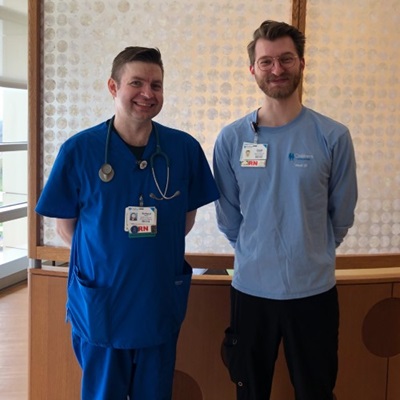 The steroids did their job and the mass began to shrink. Sammy spent more than three weeks at Children's Wisconsin and needed a lot of physical therapy before he was released. He now comes back to the hospital once a month to check in with Dr. Verbsky, who wishes he could provide a specific diagnosis.
"We see a lot of weird immune reactions in rheumatology and we don't always have the answers," said Dr. Verbsky. "But Children's Wisconsin specializes in the unusual. That's the advantage of being at a pediatric facility with lots of specialists who are used to dealing with the unusual."
It's not just the facility and the experience that Teresa is grateful for, it's also the incredible compassion that was shown to Sammy when he needed it most
"I thank God for sending us to Children's Wisconsin," she said. "They did so much for us, we love them."