Patient Stories
Jan 21, 2022
Graduation day: Transitioning to adult care brings celebration and challenges
---
When you're born with a rare kidney and liver disease, undergo a kidney transplant, and experience more than 27 surgeries and countless hospitalizations, what happens when the doctors and health care providers do their jobs well?
For Claire Bevec it means she's alive, thriving and getting ready to transition to adult care.
Claire was born in 2001 with pulmonary hypoplasia (incomplete development of the lungs) and a cleft lip and palate. A few days later, she was later diagnosed with ARPKD/CHF (autosomal recessive polycystic kidney disease and congenital hepatic fibrosis), a chronic and progressive disease affecting her kidneys and liver.
Claire was not expected to survive for more than a few weeks, and yet she has continued to defy those odds for the last 20 years. She became a Children's Wisconsin patient in 2009 when her family moved to Kenosha from Indiana and Claire was in need of a kidney transplant. For the last 12 years, Claire has been a patient in 10 specialty clinics at Children's Wisconsin: renal/transplant, liver/GI, cardiology, plastic surgery/cleft lip and palate, speech/audiology, orthopedics, dermatology, infectious disease, adolescent medicine, and urology. But now she is ready to move on.
"You don't hear a lot about transitioning to adult care, especially for patients with rare diseases," said Linda Bevec, Claire's mom. "When children with complex conditions live long enough to transition to adult providers, it means they've received excellent pediatric care. Transition is something to recognize, share, explain and celebrate."
And yet, transitioning care for complex youth can be a challenging and emotional time for both parents and kids.
"How do you say goodbye to the people who kept you alive for the last 12 years," said Claire. "It's not easy to say goodbye to your family."
Linda echoes that sentiment, "Pediatric care is very family-centered and you become so close to your care team. There is this sense of 'this person has known me for more than a decade and now you want me to go see someone who doesn't know me at all?'"
Not only is it emotionally challenging, but it can be logistically difficult as well. There are specialties and diseases that exist on the pediatric side that don't exist on the adult care side. In addition, pediatric institutions like Children's Wisconsin have Complex Care Clinics where children with more than one disease or chronic condition can receive care from a coordinated, comprehensive team. There is no equivalent on the adult side.
For kids like Claire who have complex conditions, she is not simply switching from a pediatrician to an adult family doctor — all of those specialty care pieces need to fall into place.
"There is uncertainty when making the switch because there are limited physicians in adult care who have an understanding of this rare pediatric disease," said Linda. "There's also less of a multi-disciplinary focus on the adult side, and fear that adult care will be less warm and fuzzy."
A helping hand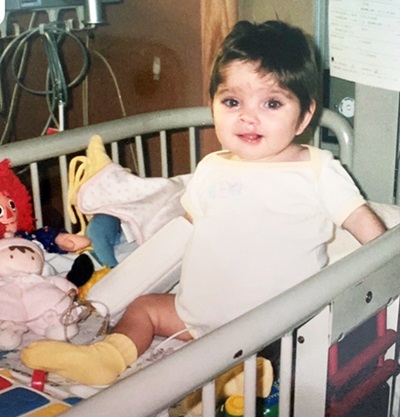 The Southeast Regional Center, located within the Daniel M. Soref Family Resource Center at Children's Wisconsin Hospital-Milwaukee, provides free and confidential services for families of children with long-term physical, developmental, behavioral or emotional conditions, including assistance with transitioning to adult care.
"Many families are not necessarily aware of how to make this jump with their youth into the adult world," said Lori Albers, CRS, project manager of Family Engagement with Children's Wisconsin. "Even fewer are aware of the great resources that Children's Wisconsin provides to help families step through the process."
Lori points to training sessions at the Southeast Regional Center as an excellent place for families to start if they're unsure of where to begin the transition process. 
"Families are often so wrapped up in their day-to-day lives that they don't know where to begin or what questions to ask so then they just don't ask at all," said Lori. "Families should not be afraid to ask questions."
In addition to a training session, Lori recommends families tap all their connections for advice or information on transitioning to adult care.
"Have you had a conversation with your primary care doctor to see if they could take on your child," asked Lori. "Talk with your child's school and other families at school. Talk with other families in your support groups who have children with similar conditions. How did they handle it? Talk with your pediatric providers and find out if they have recommendations for adult care doctors."
Children's Wisconsin patients will find a transition checklist in their child's electronic medical record and can request to speak with a social worker at a clinic appointment to review it. In addition, Got Transition is a national organization aimed at helping youth and young adults move from pediatric to adult health care and offers helpful resources and FAQs about healthcare transition.
Start early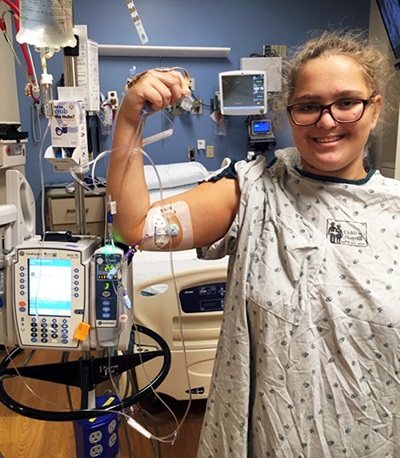 At Children's Wisconsin, there is no set age when a child must transition to adult care. Some doctors may stop seeing a child as soon as they turn 18, whereas other clinics will keep them a few years longer. Kids who are seen at the Children's Wisconsin Herma Heart Institute will never transition and will continue to be seen as adults as part of the Adult Congenital Heart Disease Program.
While it's each doctor's discretion on when to transition, Lori's greatest piece of advice is to start early.
"12 years old is when we recommend kids start learning the skills they'll need to manage their condition on their own," said Lori. "It's a very long process and small tasks can take months to master. If they can begin at age 12, they'll hopefully be in a position to take the lead at age 18 or 21."
At age 12, kids can begin practicing how to measure out their medication and take it at the correct time, explain their health care needs to providers, and ask questions if they don't understand something. Over time, they will progress to making their own doctor's appointments, filling out their own forms, knowing how to get a referral if they need it, and where to seek emergency care.
Claire's transition began when she was 12 and has been led by her transplant team because it's the team she sees the most.
"We asked a lot of questions and took a lot of notes," said Linda. "It's been a long process of gaining personal independence, knowing her disease and how to explain it, understanding what sepsis feels like, and knowing what medications she's taking and what she's allergic to."
Linda agrees with Lori that it's important not to hold off on the transition process.
"It really does take several years to make sure you and your child are ready," said Linda. "Transition is not something you do all at once. You introduce the concept, you prepare, and finally you make the transition."
Claire worked with her nurse Shelly to develop a progressive plan.
"I started by measuring my own medicine at the beginning of every week and put it all in a medicine box. Then I moved to making my own appointments and refilling my own prescriptions. And then I moved on to controlling things in MyChart and messaging the doctors and nurses myself when I had questions instead of my mom doing it."
As a transplant recipient, managing her five medications, 13 pills a day is of dire importance. 
"The consequences and stakes are a lot higher for someone like Claire," said Lori. "It's not, 'If I forget to take my asthma medicine, I might have to use my inhaler.' It's, 'If I forget to take my meds, I might not be alive in three days.'"
A warm handoff
The final step of Claire's health care transition is right around the corner and she feels fully prepared. Her Children's Wisconsin kidney and liver team made connections with doctors at Froedtert Hospital. Her new Froedtert doctors even attended Claire's last pediatric appointment in November 2021 and will take over Claire's care in January 2022.
"My transplant team has done such a good job teaching me how to advocate for myself," said Claire. "I have a rare disease and I know there may be some medical professionals who may not know as much about it as I do, and I have the confidence to speak up and fill them in if I need to."
While Claire doesn't have any worries about being solely responsible for her health care as an adult, she knows the transition itself will break her heart a bit.
"You get used to the late-night ER visits and being in pain in a familiar place with people who know you, but my health care and transplant team was never a topic of worry," said Claire. "Having to say goodbye to my team and getting to know a new team is emotional and worrying no matter how prepared you are. I know I need to just sit in this moment, accept it and then move on."
Linda sees health care transition as an enormous thing to celebrate, similar to a graduation.
"Look at health care transition as a culmination of achievement and success," said Linda. "As I've told Claire, it's only hard to make this transition because of the excellent care we have received and the relationships we've formed with doctors, nurses and staff. The best medical care is based on providers who walk alongside their patients and develop genuine relationships and trust, something that all the medical expertise in the world cannot replace."
Claire continues to conquer adulting and is on track to graduate from Carthage College in 2023 with a degree in communication and creative writing. Her dream is to be a writer for National Geographic or a non-profit organization she's passionate about. She also shares her writing talent at Harmony 4 Hope, where she writes a regular column featuring people with rare diseases and facing insurmountable life experiences — something she knows just a little about. Both Claire and Linda are "rare storytellers" for Harmony 4 Hope and give talks at medical colleges about what it's like living with and raising a child with a rare disease in the hopes of raising awareness and funds for rare disease research.
Claire and Linda are committed to staying connected with Children's Wisconsin as advocates and volunteers.
"It's been a wonderful, amazing 11 years at Children's Wisconsin," said Claire. "We are really, really grateful. I haven't taken any of it for granted."