Patient Stories
Aug 07, 2019
After beating cancer, a triathlon was a walk in the park for these nine kids
---
It's a beautiful, early summer morning in Ottawa Lake State Park in Dousman and all is presently calm. Moms and dads, friends and supporters, are lined up along the edges of a grassy trail. They quietly mingle and chat while Queen's "Bohemian Rhapsody" crackles out of a nearby speaker.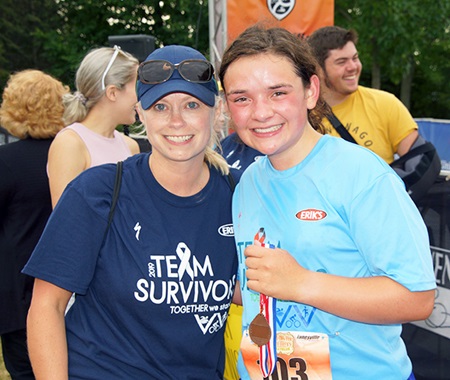 Around a not-too-distant bend, a kid appears: Corah Buth. Another trails not far behind. Cheers and rattling cow bells fill the air. The kids are exhausted, pushing through the last remaining steps on little other than adrenaline and the encouragement from the crowd.
As Corah crosses the finish line, she is quickly handed a medal and poses for some photographs. All told, more than 150 kids receive medals that morning. The race — a 200-yard swim, 6-mile bike ride and 1-mile run — was certainly difficult. But for Corah and eight of her teammates, they've conquered far worse.
This is the 2019 Janesville Subaru Tri-ing for Children's. But for those nine kids in particular, it's something far more significant. They make up Team Survivors, a group of kids who successfully beat cancer at the MACC Fund Center for Cancer and Blood Disorders at Children's Wisconsin.
Life after cancer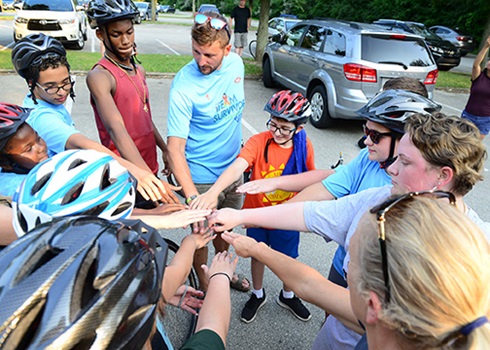 "It was so inspiring to witness their motivation, improvement, and perseverance throughout the program and on race day," said Jocelyn Morin, MPH, a community navigator with Children's Wisconsin's Next Steps Survivorship Program.
Life after cancer can often be difficult and uncertain, filled with follow-up care, potential long-term effects of treatment, maintaining a healthy lifestyle and the fear of recurrence. Connecting with other survivors helps and that's exactly the intent of Next Steps. Our team of experts helps these kids regain their life, one free from cancer.
Team Survivors builds upon that foundation of connection and adds athletic competition, which not only helps improve physical fitness but builds confidence, too. The team is a joint effort between our Orthopedics and Sports Medicine Programs, MACC Fund Center for Cancer and Blood Disorders and Next Steps. It was started by Trina Hoffmann, MS, a licensed athletic trainer at Children's Wisconsin, and born out of her own personal experience.
In 2015, at just 25 years old, Trina was diagnosed with breast cancer. After a year of treatment at an adult cancer program, she joined a group called Team Phoenix, a triathlon training program for women following cancer treatment.
"Team Phoenix was a life-changing experience for me. It got me moving again. But what it really did was give me a support group of amazing women who had similar experiences," said Trina. "Going through that and knowing how much cancer impacted my life, I wanted to really help other kids get active and gain confidence."
Trina took her idea to Kevin Walter, MD, program director of Sports Medicine at Children's Wisconsin. He loved it and connected her to the MACC Fund Center for Cancer and Blood Disorders and that's when Jocelyn got involved.
"Trina played a critical role in creating this program based off her experience," said Jocelyn. "She approached our survivorship team with the idea and a training protocol in place."
Building the team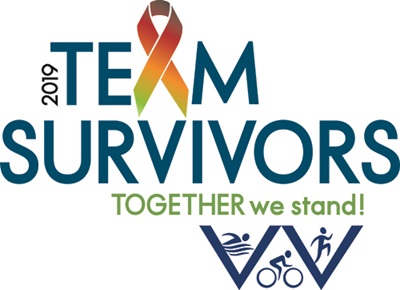 After about a year of planning and coordinating, Team Survivors was assembled in the spring of 2019.
"All we asked of them was to come and try — just participate and have fun and they all did that," said Trina. "Seeing them all at practice was definitely one of the highlights of my week. The smiles on their faces were awesome."
The team practiced twice a week for more than 14 weeks. It was a major commitment. All their hard work paid off at the big race on July 27, 2019. Granted the results weren't really the point, but every kid finished.
Children's Wisconsin relies on support from individuals, foundations and corporate partners to fund many programs and services like these that make a difference for families coping with difficult medical journeys. Team Survivor would not have been possible without a generous donation from Marissa's Legacy, a foundation dedicated to conquering childhood cancer and supporting children and their families. The foundation is named in honor of Marissa Jaye Lieblang, a precious girl who passed away in 2010 from a brain tumor at the age of 5. That gift allowed all the equipment necessary to complete a triathlon — bike, helmet, swim cap, water bottles — to be provided to the kids. Additionally, A3 Performance donated swimsuits and goggles and Performance Running Outfitters donated the running shoes.
"We also used the money to rent the pool, go to a state park for practice and pay the coaches," said Jocelyn. "This is a completely free program for the kids."
Competing and bonding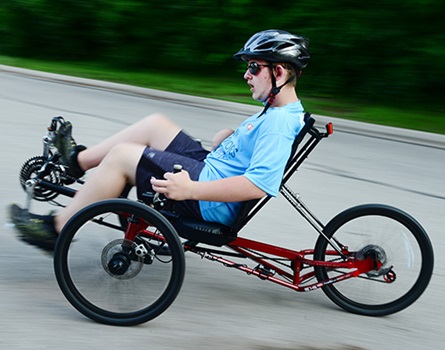 Team Survivors is made up of a diverse group of kids. Ages range from 11 to 18. One kid has been cancer-free for a little more than seven months. Another, Owen, is going on 13 years.
When Owen was 13 months old, he was diagnosed with a brain tumor called atypical teratoid rhabdoid tumor (ATRT). After more than seven months of chemotherapy and stem cell treatment, he was deemed cancer free. Then when he was 3 the seizures started. After more than a year of different medications offered only little relief, Owen's family finally opted for a hemispherectomy — the left side of his brain was removed. He's been cancer free and seizure free ever since.
"Owen loves it. I didn't think it would be his thing. He likes to be outside, he likes to go swimming but he doesn't have a competitive bone in his body," said Cyndi, Owen's mom. "He had an adult trike that he didn't really ride. It wasn't cool looking and a few kids at school were picking on him. Now he has a super cool recumbent bike that he loves to ride all the time."
"It's amazing to see their progress," said Jocelyn. "There are a couple of kids who were tentative to get in the water or didn't even really know how to ride a bike. It's been impressive to see their dedication."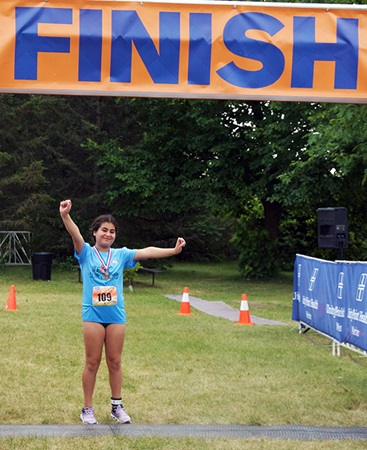 Before she started practice, 12-year-old Jolie couldn't even swim. She was also quite shy.
"I remember the first day she was upset because she said she couldn't swim. I just told her to try and every time she went back and it was a little better," said Jolie's mom, Olivia. "Now swimming is her favorite part. She's very happy and much more confident. I saw a lot of improvement in her."
The growth in confidence for the kids came from many factors. Competing and succeeding in athletics is a major boost, no doubt — pushing your body harder and farther than you ever thought you could. But the kids also gained self-esteem from meeting and bonding with other kids like themselves. Learning that they were not alone allowed them to be themselves without fear of judgment.
"He loved getting to know the kids," Cyndi said of Owen. "That's a big part of this, too. Kids don't run into a lot of cancer survivors so for him to meet and see how these other kids are doing has been great."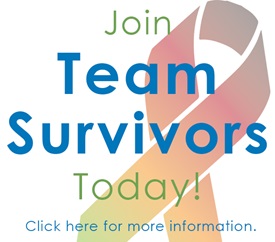 "It's been cool to see the older kids mentor some of the younger kids," said Trina. "They've taken them under their wings and helped bring them out of their shell."
At 18 years old, Corah is the oldest of the team. She successfully battled acute lymphocytic leukemia twice as a small child and has been cancer free for more than 10 years. As such, she took her role as a mentor very seriously.
I was really close with a lot of the kids on the team," said Corah. "If they didn't think they could do something I encouraged them to try. I always cheered them on."
While she's not sure if she'll be able to participate in the triathlon again next year because of her age, she would love to stay involved and help in any way she can.
"For all of us kids, no matter what level we were at, the triathlon was really empowering," said Corah. "It was cool to do it and finish it as a group, all together."