Patient Stories
Jun 28, 2023
One year later, the Forest Home Clinic is bringing coordinated care to its community
---
"I went everywhere. It was a whole week of going in and out of dentists but none of them actually knew what was happening." 
Worried about her daughter's swelling cheek and complaints of pain, Anahi Ortega drove her 5-year-old daughter, Aracely, all over Milwaukee trying to find her some relief. It wasn't until she arrived at urgent care at the Children's Wisconsin Forest Home Clinic that she found the relief she — and Aracely — was looking for.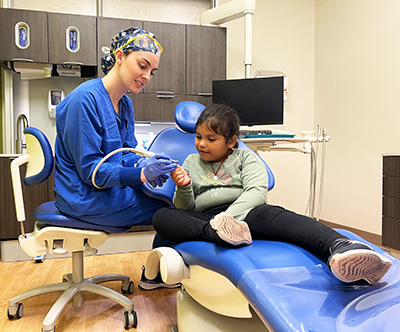 "I said, 'Anything you can do right now I would appreciate,'" said Anahi. 
From urgent care, Aracely was quickly referred to the Dental Center, which is also located in the Forest Home Clinic. Though it was fully booked for the day, staff were able to find room for Aracely and get her ailing tooth removed right away. Anahi said after the referral, they were quickly moved into a dental room to begin a tooth extraction. 
From there, the dentist made sure Aracely was comfortable and that all of Anahi's questions were answered. After quickly addressing Aracely's immediate issue by removing the tooth, the care team established a plan to address a few other cavities that needed tending to. 
Dental is only one of eight specialty care services offered at the Forest Home Clinic, which celebrates its one-year anniversary this month. The clinic, which saw a total of almost 28,000 visits since its opening in June 2022, provides pediatric services in primary care, urgent care, behavioral health, imaging, dental care, speech therapy, neurology, pulmonary medicine, dermatology and surgery. 
The impact of this new location has been significant. The Forest Home primary care office welcomed 1,476 new patient visits last year, in addition to 3,211 established patient visits. Urgent care alone completed 15,819 visits since June 2022 and the dental team completed 5,995 visits, helping patients on the south side of Milwaukee, like Aracely, quickly address medical concerns often times by connecting them with specialty care providers — many of whom are located within the building. 
Anahi said outside of the exceptional care her daughter received at the clinic, one of her favorite things about the clinic is the communication. 
"The communication is great in both English and Spanish — it's bilingual," said Anahi. "They were there to actually help me. I really appreciated it." Anahi said she had her two younger children with her during the visit, and though they were scared and crying, the clinic staff did what they could to help calm them down. 
"I really loved how gentle they were with the kids and how they talked with the kids," she said. "And they explained everything they had to do to Aracely so she wasn't scared."
Dentists at the Children's Wisconsin Dental Center specialize and train in pediatric dental care, according to MaryClaire Kiernan, DDS, the resident dentist who treated Aracely. Pediatric dentists are trained specifically in techniques to help care for children from infancy to the teenage years, including effective practices that help children navigate the dental experience as well as methods of sedation. Dr. Kiernan said keeping a child comfortable involves working with the child and their family to support their dental needs. 
"Our patients don't sit still perfectly, and they may have fear in the medical and dental setting," said Dr. Kiernan. "But it's about working with them, and we're working with their families, too. Our hygienists are very kid-friendly, too, which definitely improves the patient experience and helps keep kids calm and tolerate their treatments well."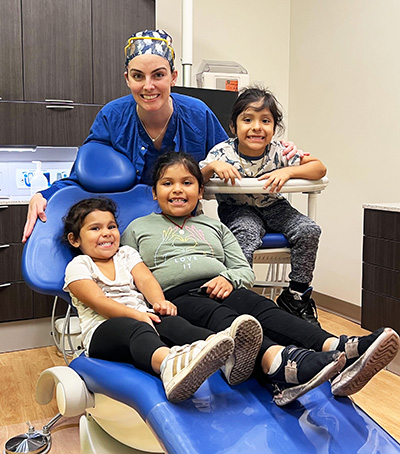 The Dental Center sees children from the time they get their first tooth until they are 15 years old. Dr. Kiernan said the clinic maximizes the opportunity for collaborative care by accommodating referrals from urgent care or the Children's Wisconsin Emergency Department. When families seek emergency care for a dental problem, the Emergency Department is able to help with pain management or treating infection, but often a dental clinic is the most appropriate place to get to the root of the issue, said Dr. Kiernan. 
The opening of the Forest Home Clinic one year ago brought services from routine cleanings and exams to filings, crowns and extractions to a large population of children who didn't previously have access to dental care. The clinic is located in a community with the largest number of kids in the state — kids that can now more easily access primary or specialty care, including dentistry. 
"Without them, Aracely's tooth would have still been hurting, and I would have been everywhere," said Anahi. Because her experience was so positive, Anahi established dental care at the clinic for Aracely and sought out referrals for her two younger children, 4-year-old Fabian and 3-year-old Alianna, as well. 
The Forest Home Clinic houses one of four Children's Wisconsin dental locations in the Milwaukee area, providing children on the south side of Milwaukee with access to an important component of a child's overall health and well-being. 
Dr. Kiernan emphasized the important role dental services can play in a child's health, adding that establishing care with a dental provider early can help a child get the preventative services they need to avoid cavities, learn how to clean their teeth properly and receive diet counseling. 
"If your kid doesn't have a dentist, don't wait," said Dr. Kiernan. "Finding and establishing routine dental care is an important component of overall health."