Patient Stories
Jun 04, 2020
Why a broken bone can be a big deal for kids
---
It was the first warm and sunny spring Saturday of April, and Hana Klepp fully intended to make the most of it. An active 8-year-old who loves to ride her bike and dance, Hana was jumping with her older sisters on the family's trampoline when she stopped jumping and started to cry. Her ankle hurt, and her mom, Sara, took her in the house to ice it. By early evening, Hana's ankle was really swollen. They drove to the closest emergency department, where Hana had X-rays that showed an ankle fracture. She was referred to an orthopedic specialist, and they had an appointment right away on Monday to lay out a plan for treatment.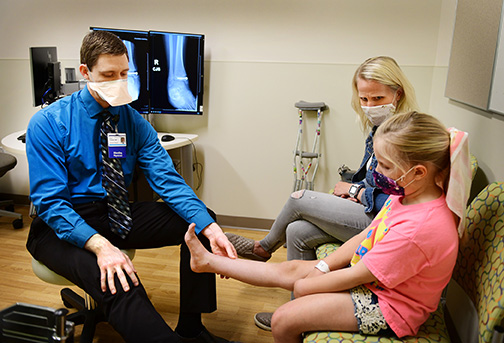 Sara is a physical education and health teacher, so she was familiar with growth plates and how they impacted her students' recovery from bone breaks. That coupled with the fact that Hana had open-heart surgery at Children's Wisconsin in 2018, caused her to pause before proceeding. She called Hana's cardiologist, Peter Bartz, MD, who confirmed that seeing a Children's Wisconsin specialist for a second opinion was a good idea, and an appointment was quickly scheduled.
Hana was seen at the Children's Wisconsin Greenfield Clinic by Adam Thiessen, MD, a pediatric orthopedic surgeon. Dr. Thiessen confirmed the original diagnosis but also noted that the fracture extended into Hana's growth plate and joint and would require surgery.
Up until the age of 16, kids have something that sits at the end of their bones called growth plates. The growth plate is the place where the bone grows longer.
"When a child breaks a bone, those growth plates can be fractured as well," said Dr. Thiessen. "When this happens, it's important for a pediatric specialist to help manage the repair because we are trained to provide the special care it needs to heal properly."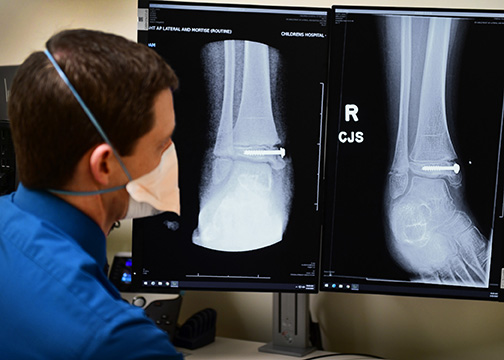 A damaged growth plate that isn't properly addressed can lead to real complications later in life, such as one leg shorter than the other, crooked bones or joints and even adult arthritis. These complications can lead to surgery later in life, or sometimes, sadly, they can't be repaired at all.
Surgery was not the news Hana and Sara wanted to hear. "We both cried," said Sara. "But Dr. Thiessen was amazing, and he spent a lot of time talking us through the entire process. He said the surgery would be very short – only about 45 minutes – and that because of Hana's heart history, they would make sure a cardiac anesthesiologist would be part of the surgical team as well."
The day of the surgery, April 10, Hana and Sara arrived early to Children's Wisconsin and were greeted at a welcome desk. COVID-19 procedures were explained to them, and they were provided masks. Because COVID-19 visitor restrictions that allow only one parent to accompany a child are in place, Hana's dad had to stay home. 
"The hospital was quieter than we had remembered when Hana had her heart surgery, and of course everyone was wearing protective masks and gowns. Aside from that, though, no one missed a beat," said Sara. "Hana was scared. She wanted me to be there when she woke up, and Dr. Thiessen made sure that happened. I didn't feel worried because every next step was explained to both of us."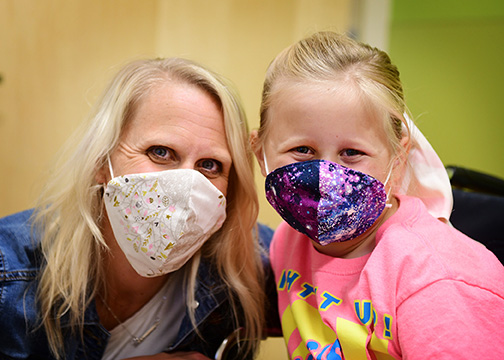 Hana was home the same day sporting a pink cast from her knee to her toes. It had an opening down one side to allow for any swelling after surgery. When she returned to Children's Wisconsin for a follow-up appointment five days later, she was thrilled when her original cast was replaced with a purple and blue one — this one with sparkles. 
"Dr. Thiessen laughed when he told us that they try to keep sparkles out of the operating room, but they are very popular on kids' casts," said Sara. 
Hana's cast was removed on May 20.  She will wear a boot for the next week while working out the stiffness in her ankle. Within two weeks, she should be back to wearing her regular shoes — and back to most of the activities she enjoys. She should have no long-term complications. In about six months, she will see Dr. Thiessen one more time for an X-ray to check that the growth plate looks healthy. 
"I'm thankful and relieved that we took the steps needed so that everything in this process ended up exactly as it should," said Sara. "Hana can't wait to get back to riding her bike, playing outside with her dogs and keeping up with her older sisters."